{"title":"Event: Montr\u00e9al en Lumi\u00e8re festival | Art Public Montr\u00e9al","thisUrl":"https:\/\/artpublicmontreal.ca\/en\/2016\/02\/event-montreal-en-lumiere-festival\/","body_class":"post-template-default single single-post postid-56985 single-format-standard apm lang-en apm-full-js nav-env-classic","query_hud":null,"active_filter":null,"alternate_language_url":"https:\/\/artpublicmontreal.ca\/2016\/02\/evenement-le-festival-montreal-en-lumiere\/","clear_filter_collection":"clear","clear_filter_tour":"clear","data_attributes":{"data-view-type":"post"},"filter_root_url":"\/collection\/"}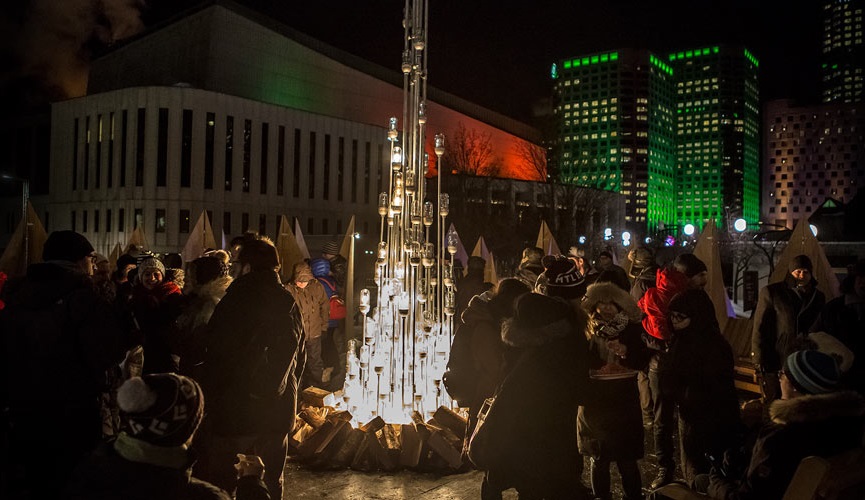 Event: Montréal en Lumière festival
February 18th 2016
The 17th edition of Montréal's festival of lights has been launched!
The Place des Festivals and the Esplanade de la Place des Arts have been transformed into a magnificent, dynamic playground with installations and activities for everyone in a zany winter atmosphere.  In addition to family activities, the free program on the outdoor site takes its inspiration from the performing arts, gourmet food and the digital arts. Among the many events available, we were attracted by two in particular.
Îlot de chaleur, Illuminart
Beginning in 2017, Montréal will assert its status as a smart, digital city thanks to a new event, Illuminart, a international collection of technological, illuminated, interactive and immersive art work. Visitors will get an exclusive taste of this programming with the interactive installation, Îlot de chaleur, created by Atomic 3. This unusual sculpture, analogous to a bonfire, is comprised of bulbs that come to life and respond to body heat. No matter how they dance or move, festival-goers will stir the embers and generate flames that will rise, pirouette and whirl, creating heat, light and music.
A must-see at the corner of boul. De Maisonneuve and rue Jeanne-Mance!

9 X [MTL], video screening network
Since May 2015, the facades of nine buildings in the Quartier des Spectacles have been used to screen videos that plunge the viewer into a surrealistic universe, typically Montréal. A creation of Gabriel Poirier-Galarneau and Vincent Bilodeau, the photomontages are animated by Montréal characters, places and iconic moments. They spotlight various buildings, including the Grande Bibliothèque, UQAM's Centre de Design and Pavillon Président-Kennedy and the Théâtre Maisonneuve. The Montréal en Lumière festival is the perfect time to discover the facades that form the world's largest permanent network for digital art presentations! Until September 30, 2016.
Public art walk
Continue your festival experience by discovering public artwork in the permanent collection along your route. Consult the Visit to the Cultural Heart of the Metropolis tour to learn about the art that provides animation, colour and warmth to the neighbourhood throughout the whole year!
The 17th edition of MONTRÉAL EN LUMIÈRE will be held from Thursday, February 18 to Saturday, March 5, 2016.
Photo credits: (top of page) Frédérique Ménard Aubin / (video screening) Martine Doyon