{"title":"New partner: McCord Museum | Art Public Montr\u00e9al","thisUrl":"https:\/\/artpublicmontreal.ca\/en\/2016\/04\/new-partner-mccord-museum\/","body_class":"post-template-default single single-post postid-57273 single-format-standard apm lang-en apm-full-js nav-env-classic","query_hud":null,"active_filter":null,"alternate_language_url":"https:\/\/artpublicmontreal.ca\/2016\/04\/nouveau-partenaire-le-musee-mccord\/","clear_filter_collection":"clear","clear_filter_tour":"clear","data_attributes":{"data-view-type":"post"},"filter_root_url":"\/collection\/"}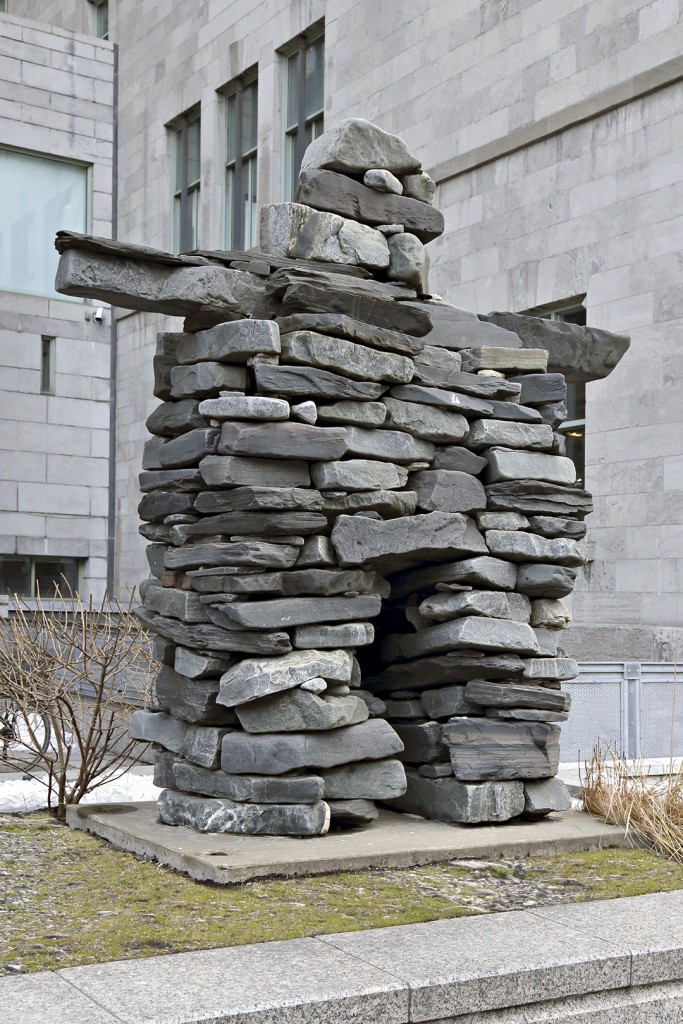 New partner: McCord Museum
April 28th 2016
The McCord Museum is now part of Art public Montréal, adding two artworks on the platform.
One of the most important historical museums in Canada, the Museum celebrates Montréal life past and present—its people, its artisans, its communities, its metropolitan area. Through a contemporary approach, it presents exciting exhibitions that appeal to people from here and elsewhere. It also offers educational and cultural activities and innovative Internet projects.
The artworks
With this installation, the Inuk artist Jusipi Naluktuk speaks of ancestral memory. An extension of the word inuk (man), inukshuk literally means "that which acts in man's place." Of various shapes and sizes, inuksuit (the plural form of inukshuk) consist of stacked un-sculpted stones. Sometimes guides, sometimes points of reference or markers, these messengers can be found by the hundreds in all the territories inhabited by the Inuit peoples. This one, with an anthropomorphic shape, is composed of some 200 stones and was first built on the island of Naqsaluk, off Inukjuak in Nunavik.
On view on Sherbrooke Street, near the museum entrance.
Pierre Granche, Totem urbain – Histoire en dentelles
This sculpture is installed in a niche on Victoria Street. The work is composed of four elements: a luminous base of glass plates evoking water, an island, or the earth's stratification; an "urban totem," an image-synthesis of the city and its history in three phases; a procession of figures recalling moments, legends and objects from our collective memory; and a communication tower rooted in a mountain of books, a reflection of the Museum's knowledge and of its role in research and diffusion.
Recently, the sculpture by Pierre Granche benefited from a restoration effort. One morning in March 2015, an impressive chunk of ice fell from the cornice of the museum building directly onto the sculpture, shattering its glass base. Restoration work, which was completed last October, allowed for improvements to the lighting system inside the pedestal, which now allows visitors and passersby to fully contemplate the artwork both at night and in the daytime.
Another public artwork which is the fruit of the Québec government's policy to integrate art into architecture and the environment, is also on display at the McCord Museum. Éclaircie, by Alain Paiement, is a photograph showing the city from the same vantage point on Mount-Royal at different times, several years apart. Located on the third floor of the museum, the image is accessible to those paying the admission fee.
We would also like to announce the return of The Urban Forest in summer 2016. New colours and a varied program will take over Victoria Street, which will become pedestrian-only during the summer season.
To learn more about the restoration of Pierre Granche's sculpture: http://www.mccord-museum.qc.ca/en/conservation/totem-urbain-histoire-en-dentelles/
For information about the Urban Forest program: http://www.musee-mccord.qc.ca/en/urban-forest/
Crédit photo : Musée McCord, Marilyn Aitken (2016)
© Jusipi Nalukturuk