{"title":"\u201c1.26\u201d returns to the Jardins Gamelin | Art Public Montr\u00e9al","thisUrl":"https:\/\/artpublicmontreal.ca\/en\/2016\/05\/1-26-returns-to-the-jardins-gamelin\/","body_class":"post-template-default single single-post postid-57835 single-format-standard apm lang-en apm-full-js nav-env-classic","query_hud":null,"active_filter":null,"alternate_language_url":"https:\/\/artpublicmontreal.ca\/2016\/05\/linstallation-1-26-est-de-retour-aux-jardins-gamelin\/","clear_filter_collection":"clear","clear_filter_tour":"clear","data_attributes":{"data-view-type":"post"},"filter_root_url":"\/collection\/"}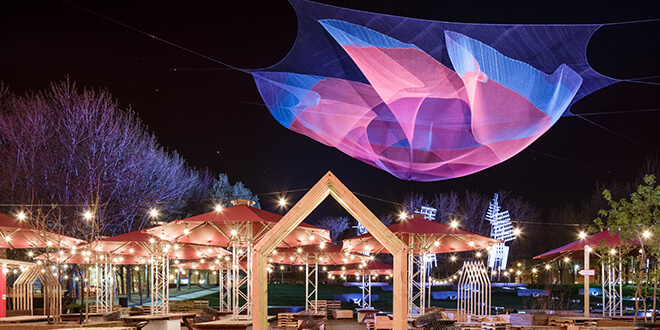 "1.26" returns to the Jardins Gamelin
May 10th 2016
As of May 12th, Place Émilie-Gamelin will be transformed for the summer into the Jardins Gamelin, and the suspended art, 1.26, by internationally acclaimed artist Janet Echelman, will once again animate the sky above this meeting place.
1.26 is the metaphor for an interconnection between living beings and natural forces: the memory of terrestrial geological movements and their impacts at the planetary scale. 1.26 is in remembrance of February 27, 2010, when a colossal magnitude 8.8 earthquake struck Chile. The Earth trembled so strongly that a tsunami struck the coastal region of Maule in Chile and our planet's rotation accelerated. As a result, that day ended 1.26 microseconds earlier than usual. 1.26 is a 3D model of the oceanic movement caused by this tsunami.
The 3D model is based on data from a simulation of the earthquake and tsunami created by the U.S. National Oceanic and Atmospheric Administration (NOAA). It is also the result of a team project: Janet Echelman conceived the forms of 1.26 in collaboration with specialists from several fields of expertise: engineers, lighting designers, computer experts and architects. The fruit of this collaborative effort is a floating piece, an immense net that reminds us of the links that unite us all, as well as the fluidity and continually renewing movements of nature's elements. The artwork is flexible, luminous and animated by its meteorological environment: its forms fluctuate with the wind. At night, 1.26 lights up and is transformed into a spectral, moving colourful nebula.
1.26 has been presented around the world: Denver, Amsterdam, Singapore, Durham, Prague and can be admired in Montréal, from May 12 to October 2, 2016.
Photo : Ulysse Lemerise / OSA