{"title":"Journ\u00e9e nationale des patriotes | Art Public Montr\u00e9al","thisUrl":"https:\/\/artpublicmontreal.ca\/en\/2016\/05\/journee-nationale-des-patriotes\/","body_class":"post-template-default single single-post postid-58635 single-format-standard apm lang-en apm-full-js nav-env-classic","query_hud":null,"active_filter":null,"alternate_language_url":"https:\/\/artpublicmontreal.ca\/2016\/05\/journee-nationale-des-patriotes\/","clear_filter_collection":"clear","clear_filter_tour":"clear","data_attributes":{"data-view-type":"post"},"filter_root_url":"\/collection\/"}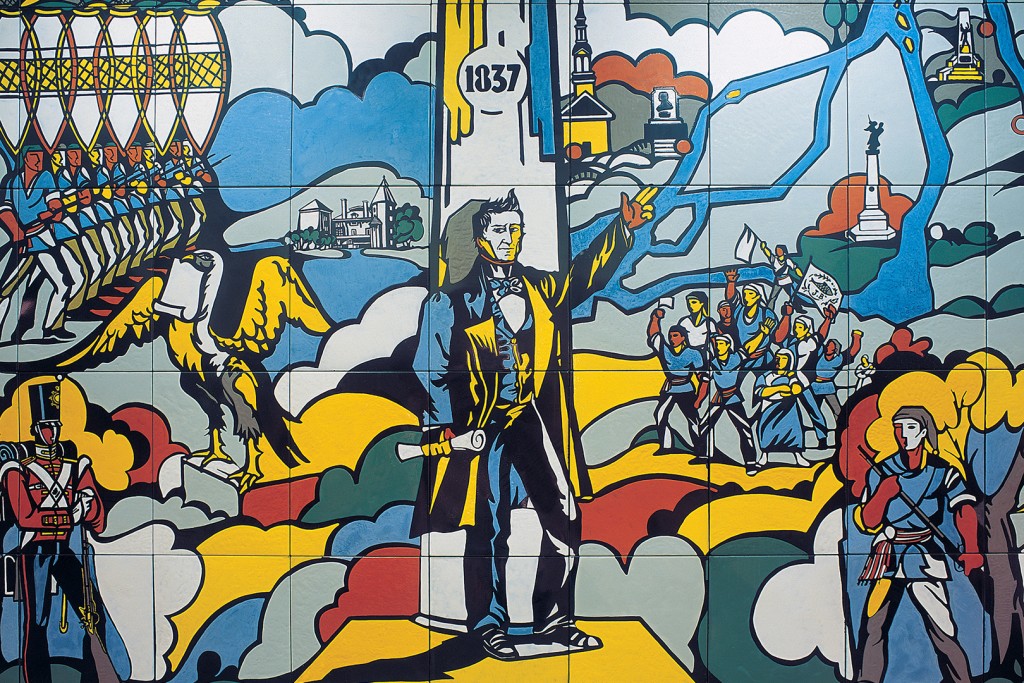 Journée nationale des patriotes
May 23rd 2016
The Journée nationale des patriotes (also known as Victoria Day) is more than just a day off. It is also a time to commemorate key elements in Québec history. You are invited to discover two public artworks that are associated with the people commemorated today: Les Patriotes de 1837–1838, three murals located in Papineau metro station; and Monument to Queen Victoria, a statue located in front of the Strathcona Music Building of McGill University.
Les Patriotes de 1837-1838 (1968)
Created in Stockholm by Jean Cartier and George Juhasz, these murals represent different events in the 1837–1838 Rebellions (which sought recognition of the Québec nation), as well as their leader, Louis-Joseph Papineau. An interesting fact, the latter piece includes a representation of another public artwork: Le Monument aux Patriotes  by Alfred Laliberté !
Did you know that… 
George Juhasz is a Hungarian artist known for his work in animation, including his contributions to the animation of Yellow Submarine.
Monument to Queen Victoria (1900)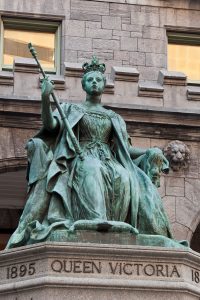 This statue of Queen Victoria was created by a woman artist, Princess Louise, the sixth of her nine children. The sculpture was presented to McGill's Royal Victoria College, at the time of its opening as a women's college. Up to last year, Victoria was the longest-reigning British queen, from 1837 to 1901, and was called the grandmother of Europe, because so many of her children married the royalty of other European countries.