{"title":"The STM, Art public Montr\u00e9al\u2019s featured partner in October | Art Public Montr\u00e9al","thisUrl":"https:\/\/artpublicmontreal.ca\/en\/2016\/10\/the-stm-art-public-montreals-featured-partner-in-october\/","body_class":"post-template-default single single-post postid-60813 single-format-standard apm lang-en apm-full-js nav-env-classic","query_hud":null,"active_filter":null,"alternate_language_url":"https:\/\/artpublicmontreal.ca\/2016\/10\/la-stm-partenaire-vedette-du-mois-doctobre\/","clear_filter_collection":"clear","clear_filter_tour":"clear","data_attributes":{"data-view-type":"post"},"filter_root_url":"\/collection\/"}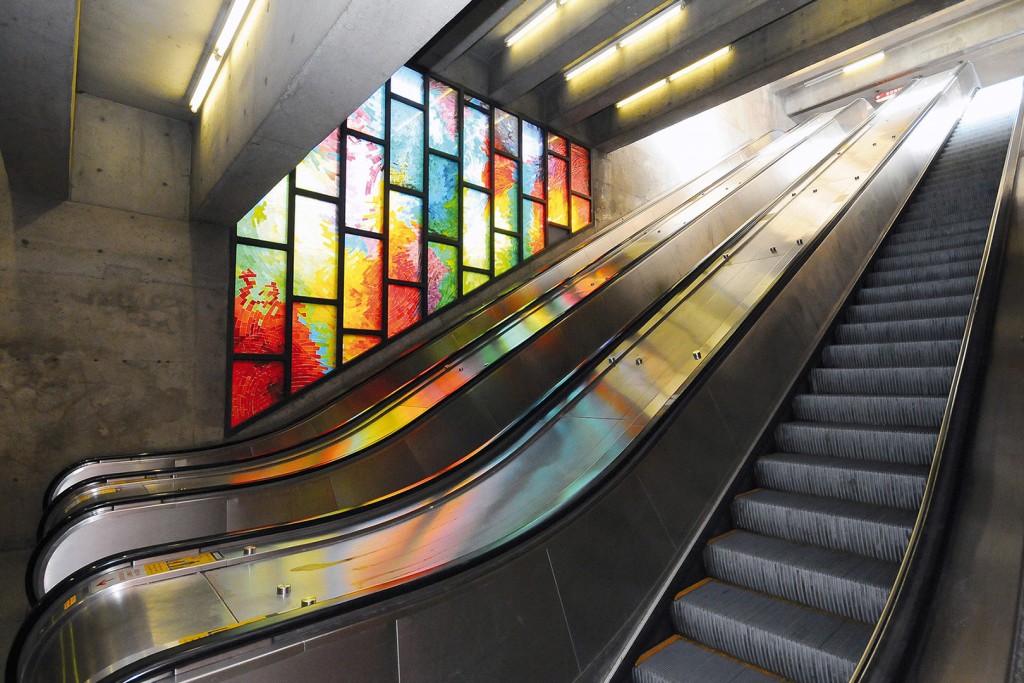 The STM, Art public Montréal's featured partner in October
October 3rd 2016
In honour of the 50th anniversary of the Montréal métro next October 14, Art public Montréal has made Société de transport de Montréal (STM) its featured partner for the month.
With nearly 90 artworks gracing some fifty stations, the Montréal métro is considered one of the world's most beautiful transit systems, and rightly so. After Moscow and Stockholm, it too was at the forefront of integrating art and underground architecture, to such an extent that most métro systems now feature works of art.
The Montréal métro's impact on the status of public art in Québec should not be overlooked. Long before the «one percent rule» was enacted, the men and women in charge of building the métro insisted on including works of art in virtually every station, for the benefit of transit users who take some 900,000 rides per weekday and an overall 250 million rides per year.
Today, STM is tasked with preserving, expanding and promoting this vast collection. Responsibilities include the restoration of artworks, commissioning new ones, installing descriptive plaques inside stations, and forging partnerships, like the one with Art public Montréal.
Fifty years after it first opened, the Montréal métro continues to lead the way in the integration of art and architecture!
More details on the STM's art collection.
Cover photo:
Non titré (1978) Mario Merola, Pierre Osterrath
©Mario Merola, 2014 – Credit : Archives de la STM