{"title":"MOMENTA satellite - Public art tour | Art Public Montr\u00e9al","thisUrl":"https:\/\/artpublicmontreal.ca\/en\/2017\/09\/momenta-satellite-public-art-tour\/","body_class":"post-template-default single single-post postid-64174 single-format-standard apm lang-en apm-full-js nav-env-classic","query_hud":null,"active_filter":null,"alternate_language_url":"https:\/\/artpublicmontreal.ca\/2017\/09\/momenta-satellite-un-parcours-photographique\/","clear_filter_collection":"clear","clear_filter_tour":"clear","data_attributes":{"data-view-type":"post"},"filter_root_url":"\/collection\/"}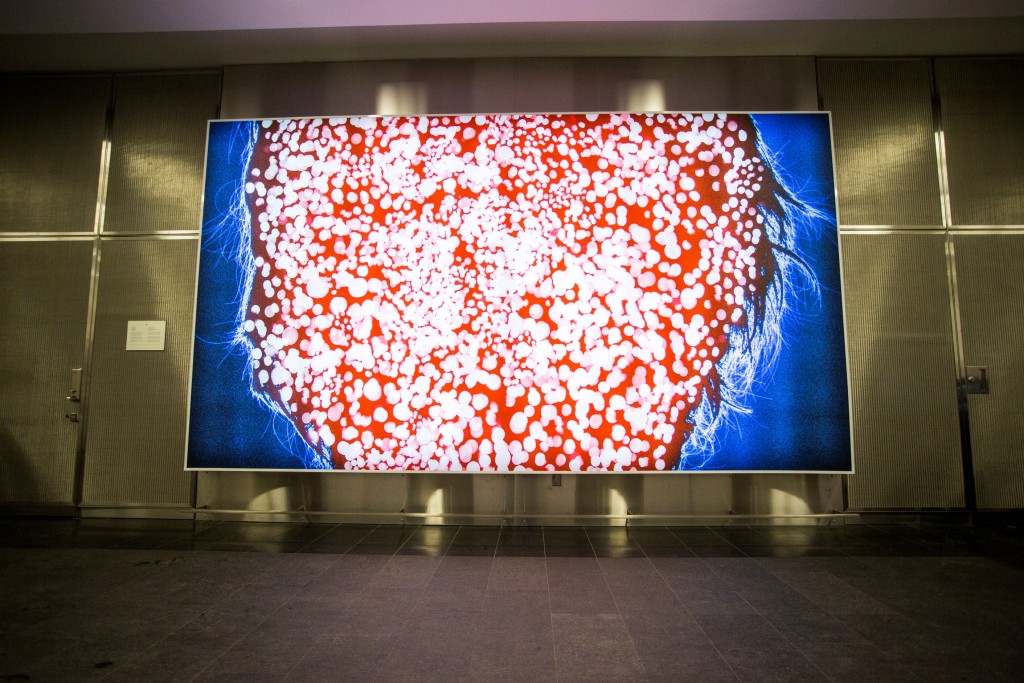 MOMENTA satellite – Public art tour
September 7th 2017
MOMENTA | Biennale de l'image (originally Le Mois de la Photo à Montréal) presents its 15th edition from September 7th to October 12th.
For the 2017 biennale, MOMENTA has joined forces with the renowned curator and art critic Ami Barak. Around the statement What Does the Image Stand For?, the theme he has selected provides an opportunity for 38 artists and visitors alike to consider the question of the veracity of the image while inquiring into the subjectivity of photographic and videographic language. MOMEMTA 2017 comprises three segments. The first, which corresponds to the central exhibition focuses on the work of 23 artists and is being presented at two separate sites: Galerie de l'UQAM and VOX, centre de l'image contemporaine. The second component consists of 14 solo exhibitions surrounding the headquarters. And the third is a document exhibition located at Artexte.
Permanent photographs in public spaces
The satellite program also extends outdoors. Specially designed for MOMENTA 2017, Art public Montréal presents a photographic repertory that unfolds through the city. The project includes more than 30 photographs from Québec-based artists, integrated into Montréal's public space. The photos and their locations are on the Art public Montréal website.
Géométrie Variable (2012), Josée Pedneault
The artwork is produced using lenticular photography, a technology that creates a changing image when viewed from different angles, presenting visitors to Quebecor's lobby with a mesmerizing, shifting, contemplative aesthetic experience.
Seascape and the Sublime (2005), Holly King
Holly King is a mise en scene photographer. She first built a miniature environment from wood, plaster, and clay which she arranged on a tabletop. Using a large-format camera, she photographed the construction and generated an image that is both realistic and artificial.
Nexus (2015), Patrick Bernatchez
Since 2015, on the façades of Café Cherrier and Bonsecours Market, you can see two works by Patrick Bernatchez. Inspired by the dystopian novel 1984, Bernatchez's new project addresses questions around individual freedoms, collective memory, language and power.

Discover all the artworks here : Collection / Photography
Cover photo : Lumière intérieure (2013), Pascal Grandmaison
© Pascal Grandmaison (2015) – Crédit photo : Concordia University (2015)