{"title":"DISCOVER THE PROMENADE ONTARIO \/ HOCHELAGA-MAISONNEUVE | Art Public Montr\u00e9al","thisUrl":"https:\/\/artpublicmontreal.ca\/en\/2019\/09\/discover-the-promenade-ontario-hochelaga-maisonneuve\/","body_class":"post-template-default single single-post postid-67381 single-format-standard apm lang-en apm-full-js nav-env-classic","query_hud":null,"active_filter":null,"alternate_language_url":"https:\/\/artpublicmontreal.ca\/2019\/09\/a-la-decouverte-de-la-promenade-ontario-hochelaga-maisonneuve\/","clear_filter_collection":"clear","clear_filter_tour":"clear","data_attributes":{"data-view-type":"post"},"filter_root_url":"\/collection\/"}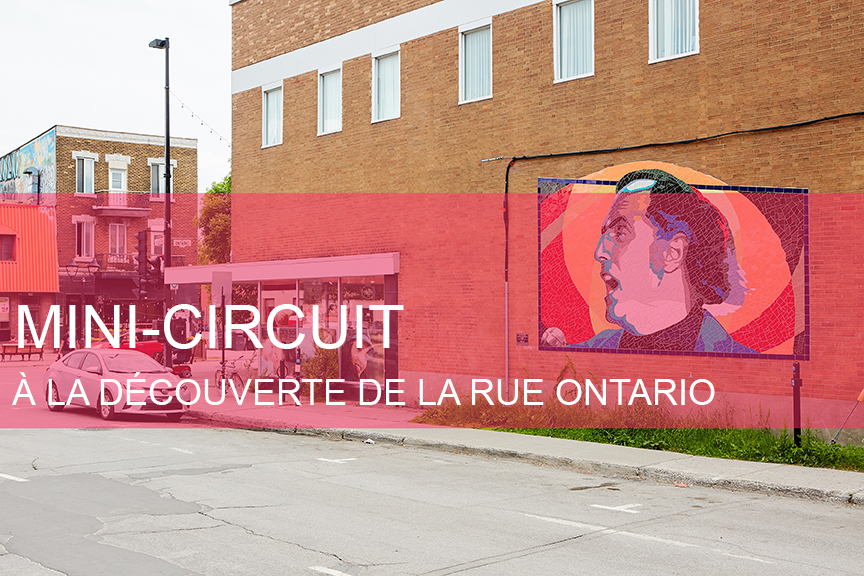 DISCOVER THE PROMENADE ONTARIO / HOCHELAGA-MAISONNEUVE
September 12th 2019
We have partnered with the Maison de la culture Maisonneuve to create a new mini-tour: discovering Ontario Street, on this occasion we are presenting the public art work in front of the Maison de la Culture and the two photographic exhibitions.
Discuter avec Platon, de l'artiste Guillaume La brie




Guillaume La Brie , Discuter avec Platon, 2019, crédits photos : Michel Pinault

Guillaume La Brie , Discuter avec Platon, 2019, crédits photos : Michel Pinault
Created in 2019, this sculpture is comprised of a public bench on which sits a dodecahedron, a 12-sided object that mathematics calls a Platonic solid in. Solidly embedded in the bench, the form represents knowledge, intelligence and understanding. Passersby are invited to directly experience the work by sitting on this piece of urban furniture; it is a catalyst for contemplation.
Born in Saint-Hyacinthe in 1978, Guillaume La Brie now lives and works in Montréal. Through the creation of sculptures in which spatial arrangement strategies are predominant, his principal aim is to connect notions of place, the object and experiencing the work. A finalist for the Pierre-Ayot prize in 2012, his work has frequently obtained the support of the Conseil des Arts et lettres du Québec as well as the Canada Council for the Arts. He has created more than 15 public art projects since 2011.
Exhibition "Dialogue avec la nature " de Catherine Aboumrad,
Exposition photographique Dialogue avec la nature, crédits photos : Michel Pineault
Catherine Aboumrad was born and still lives in Montréal. She holds a Bachelor's of Fine Arts, majoring in photography, from Concordia University. Her work is a testimony to the patience she shows in capturing the furtive tableaux revealed by landscapes when we take the time to look for them.
Bringing together a selection of works from her projects, "Conserver l'immobile", "L'Arbre" and "Horizons", Dialogue avec la nature offers free access to special moments observed at length, as well as to the nature that silently surrounds us, a nature that, all too often, escapes us, and that which sometimes manages to completely envelop us.
Exhibition "Sous le regard de Fortin"
Exposition photographique Sous le regard de Fortin, crédits photos : Michel Pineault
Prolific Québec painter Marc-Aurèle Fortin (1888–1970) had a special affection for rural landscapes. While he is well known for his representations of majestic oaks and cloudy skies, he was also interested in depicting Montréal—and in particular the Hochelaga neighbourhood and Montréal's port—to testify to the metamorphosis of the landscape during the era of industrialization.
This exhibition presents a selection of works in which the artist, using various techniques and a variety of media (oils, gouache, watercolours charcoal, pastels, etchings), recounts in his own distinctive way the progressive disappearance of the rural landscape as it gave way to a new urban district.
These two exhibitions were created by curator Nicole Lemire, who has been working for several years on the development of numerous borough exhibitions, including Be .. in 2018.