{"title":"\u00c0 la crois\u00e9e des mots | Art Public Montr\u00e9al","thisUrl":"https:\/\/artpublicmontreal.ca\/en\/oeuvre\/a-la-croisee-des-mots\/","body_class":"apm_artwork-template-default single single-apm_artwork postid-49623 apm lang-en apm-imported-item apm-full-js nav-env-filters","query_hud":null,"active_filter":null,"alternate_language_url":"https:\/\/artpublicmontreal.ca\/oeuvre\/a-la-croisee-des-mots\/","clear_filter_collection":0,"clear_filter_tour":"clear","data_attributes":{"data-view-type":"apm_artwork"},"filter_root_url":"\/collection\/","artworkNav":false,"mapMarkers":[{"id":49623,"slug":"a-la-croisee-des-mots","title":"\u00c0 la crois\u00e9e des mots","permalink":"https:\/\/artpublicmontreal.ca\/en\/oeuvre\/a-la-croisee-des-mots\/","year":"2004","loc":{"lat":45.48355620000000243408067035488784313201904296875,"long":-73.575118199999991475124261341989040374755859375},"artist_names":"<span>Lucie<\/span> <strong>Duval<\/strong>","thumb":"https:\/\/artpublicmontreal.ca\/wp-content\/uploads\/imported\/1563_4420-150x150.jpg","infoBox":false,"cat_color":"#e50f09","env":"outdoor","singleArtwork":true}]}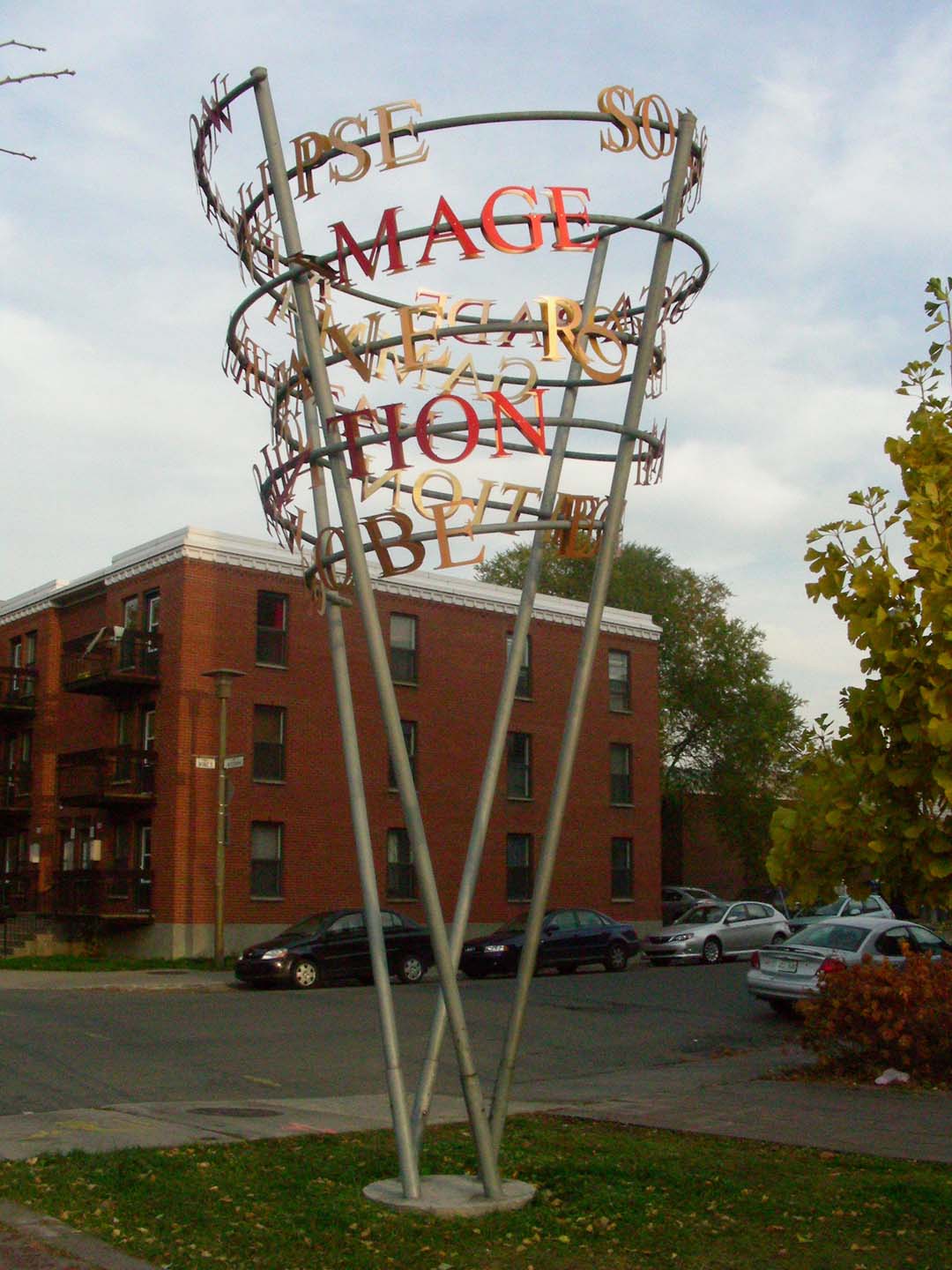 © Lucie Duval, 2007 -
Crédit photo: Ville de Montréal, 6 novembre 2008
À la croisée des mots
2004
Lucie Duval is a graduate of the École supérieure des beaux-arts de Toulouse. She had a major exhibition at the Musée d'art contemporain de Baie-Saint-Paul in 2010. She was represented in the exhibition Femmes artistes: l'éclatement des frontières, 1965-2000, at the Musée national des beaux-arts du Québec in 2010, and in De fougue et de passion, at the Musée d'art contemporain de Montréal in 1997–98. She has produced a number of artworks integrated with architecture, including Mots choisis (2002), at the CLSC d'Hochelaga-Maisonneuve, and Traversée (1998), at the Pavillon J.A.-DeSève at the Université du Québec à Montréal.
Read more
Details
Acquisition mode
Public commission from the Ville de Montréal
Materials
anodized aluminum, galvanized steel
Overall size
732 x 300 cm
Technique(s)
cut out, welded
Location

Location
Location
Centre Georges-Vanier
Adress
2450 Rue Workman, Montréal, Qc
Artwork description
This "tree-sculpture," as the artist calls it, is composed of four steel poles around which a horizontally deployed spiral, also made of steel beams, unfurls a series of words. The words chosen by Duval, and executed in aluminum painted red, orange, and yellow, are "globe," "exposition," "octave," "route," "gamma," "ellipse," "solstice," "variation," "art," "nature," "image," "escapade," and "relation." Creating a colourful whirlpool, these words form, out of order, an acrostic that pays tribute to Georges Vanier. The artwork thus refers to the cultural centre bearing the name in front of which it is installed. Readable in both English and French, the words are dedicated to the residents of the Little Burgundy neighbourhood who, for more than a century, have formed a cultural and linguistic mosaic. The artwork highlights the presence of the cultural centre in the urban space, and at the same time it symbolically combines the various functions of this heritage site (library, exhibition space, and cultural centre).
Words are an essential aspect of Duval's work. When she contextualizes them or puts them in relation with objects and images, words become a material that is poetic and highly meaningful.