{"title":"Alegr\u00eda | Art Public Montr\u00e9al","thisUrl":"https:\/\/artpublicmontreal.ca\/en\/oeuvre\/alegria\/","body_class":"apm_artwork-template-default single single-apm_artwork postid-59932 apm lang-en apm-full-js nav-env-filters","query_hud":null,"active_filter":null,"alternate_language_url":"https:\/\/artpublicmontreal.ca\/oeuvre\/alegria\/","clear_filter_collection":0,"clear_filter_tour":"clear","data_attributes":{"data-view-type":"apm_artwork"},"filter_root_url":"\/collection\/","artworkNav":false,"mapMarkers":[{"id":59932,"slug":"alegria","title":"Alegr\u00eda","permalink":"https:\/\/artpublicmontreal.ca\/en\/oeuvre\/alegria\/","year":"2015","loc":{"lat":"45.52695398766724","long":"-73.62351015277864"},"artist_names":"<span>Julian<\/span> <strong>Palma<\/strong>","thumb":"https:\/\/artpublicmontreal.ca\/wp-content\/uploads\/2016\/08\/Alegria_1-150x150.jpg","infoBox":false,"cat_color":"#e50f09","env":"outdoor","singleArtwork":true}]}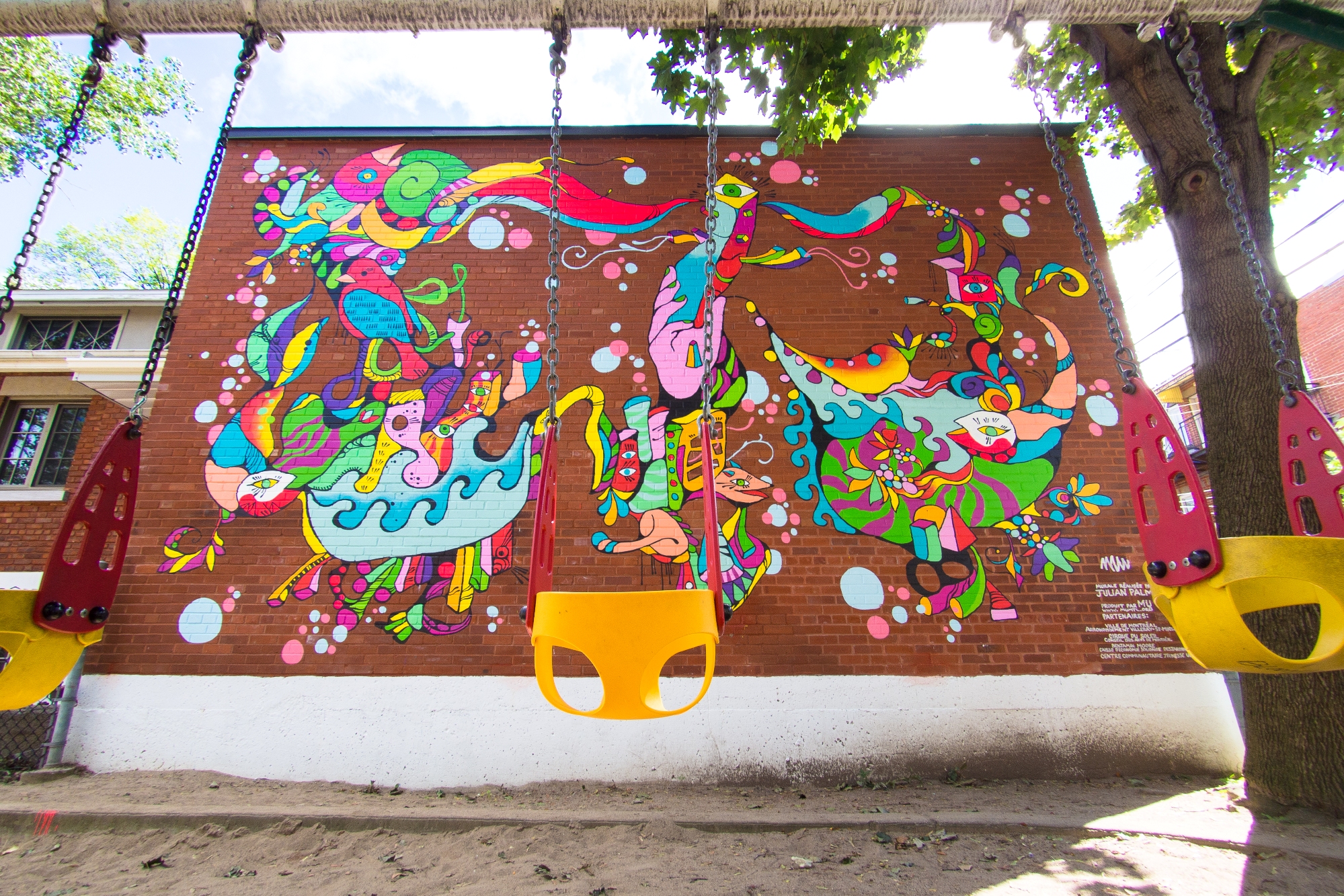 © Julian Palma, produced by MU -
Crédit photo : Olivier Bousquet (2015)
Alegría
2015
Native from Columbia, Julian Palma is an emerging multidisciplinary artist who works into illustration, videography and mural art. He takes part both as creator and coordinator on a number of mural projects and creates illustrations for a variety of publishing houses in Canada, Spain and Columbia. Julian Palma arrives in Montreal in 2011 and quickly integrates the cultural city life by taking part in a variety of events. He creates his first large-scale outdoor mural during the summer of 2015.
Read more
Details
Funding
Arrondissement de Villeray–Saint-Michel–Parc-Extension, Ville de Montréal
Source mention
In collaboration with other financial partners
Location

Artwork description
The mural Alegría produced by MU and created by artist Julian Palma has not only beautified the building, but also provided the Bloomfield Park users with a window on public art. It's the third mural produced by MU in the Parc-Extension neighbourhood.
The colorful aesthetics of Julian Palma's artwork, both vibrant and contemplative, are perfectly suited to the "Convergence of Cultures" theme, the preferred artistic direction for MU's mural projects in the Villeray-St-Michel-Parc-Extension borough since 2007. The hand represents solidarity and cooperation between the peoples of different cultures.
The Centre communautaire Jeunesse unie is part of the borough's municipal infrastructure. It houses the Parc-Extension youth center better known as Jeunesse unie. The building and adjacent park have recently undergone major repair work (masonry, play structures, etc.). Its central location and the key services it provides are significant in keeping the local community engaged.