{"title":"Au fil de l'eau | Art Public Montr\u00e9al","thisUrl":"https:\/\/artpublicmontreal.ca\/en\/oeuvre\/au-fil-de-leau\/","body_class":"apm_artwork-template-default single single-apm_artwork postid-59738 apm lang-en apm-full-js nav-env-filters","query_hud":null,"active_filter":null,"alternate_language_url":"https:\/\/artpublicmontreal.ca\/oeuvre\/au-fil-de-leau\/","clear_filter_collection":0,"clear_filter_tour":"clear","data_attributes":{"data-view-type":"apm_artwork"},"filter_root_url":"\/collection\/","artworkNav":false,"mapMarkers":[{"id":59738,"slug":"au-fil-de-leau","title":"Au fil de l'eau","permalink":"https:\/\/artpublicmontreal.ca\/en\/oeuvre\/au-fil-de-leau\/","year":"2013","loc":{"lat":"45.51320370000689","long":"-73.5656937374344"},"artist_names":"<span>Phillip<\/span> <strong>Adams<\/strong>","thumb":"https:\/\/artpublicmontreal.ca\/wp-content\/uploads\/2016\/08\/Eau_2-150x150.jpg","infoBox":false,"cat_color":"#e50f09","env":"outdoor","singleArtwork":true}]}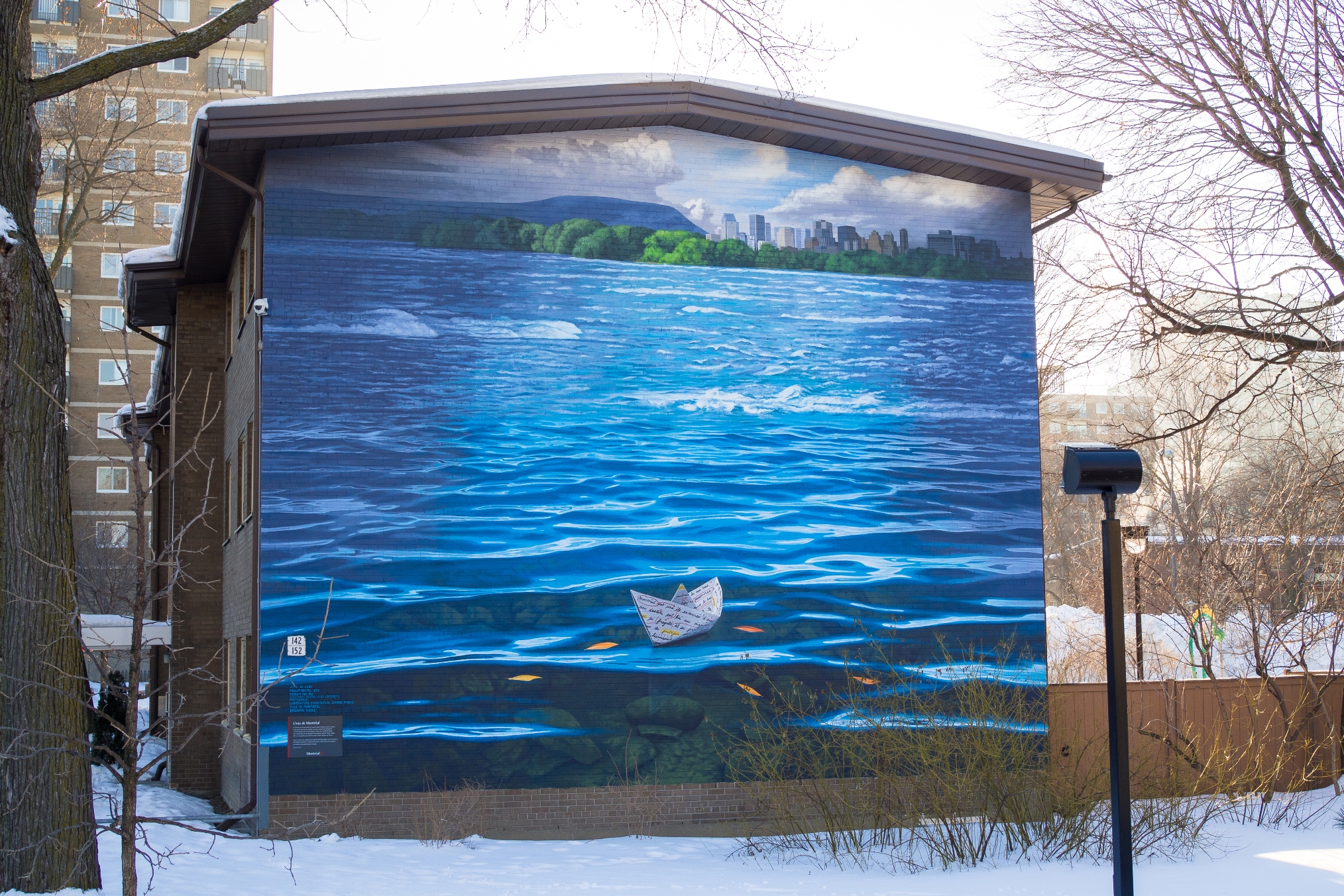 © Phillip Adams, produced by MU -
Crédit photo : Olivier Bousquet (2013)
Au fil de l'eau
2013
Atlanta native and resident of Philadelphia, Phillip Adams holds a Master's degree in Fine Arts from Philadelphia University. He is sensitive to western mass culture and the dehumanisation linked to our consumer society. His mural art esthetic is anamorphic, as much in the classical trompe-l'oeil as in a contemporary and playful style that he is known for. He has more than 10 murals to his credit.
Read more
Details
Funding
Corporation d'habitation Jeanne-Mance, Ville de Montréal
Location

Location
Adress
152 Ontario street east, Montréal, QC H2X 1H1
Artwork description
In keeping with the series of murals entitled "Les Saisons montréalaises" at the Habitations Jeanne-Mance housing project, MU has initiated another group of murals based on the four elements. Phillip Adams created this second mural with water as its central theme (the first, entitled L'air du temps, was also produced by Adams in 2012).

The mural is an ode to water, to the beauty of this natural resource, but also to its fragility. The dominance of water in the mural's overall composition and the cityscape in the background both serve as a reminder that Montreal is an island, surrounded by water and that its fate is intimately linked to that of the majestic St-Laurent River. Water is at the very heart of our lives, it is fundamental to life itself. The small origami boat floats delicately, carrying with it a message of awareness about the need for preservation and responsible water use.