{"title":"Au grand dam | Art Public Montr\u00e9al","thisUrl":"https:\/\/artpublicmontreal.ca\/en\/oeuvre\/au-grand-dam\/","body_class":"apm_artwork-template-default single single-apm_artwork postid-61039 apm lang-en apm-imported-item apm-full-js nav-env-filters","query_hud":null,"active_filter":null,"alternate_language_url":"https:\/\/artpublicmontreal.ca\/oeuvre\/au-grand-dam\/","clear_filter_collection":0,"clear_filter_tour":"clear","data_attributes":{"data-view-type":"apm_artwork"},"filter_root_url":"\/collection\/","artworkNav":false,"mapMarkers":[{"id":61039,"slug":"au-grand-dam","title":"Au grand dam","permalink":"https:\/\/artpublicmontreal.ca\/en\/oeuvre\/au-grand-dam\/","year":"2016","loc":{"lat":"45.433944","long":"-73.587194"},"artist_names":"<span>Jacques<\/span> <strong>Bilodeau<\/strong>, <strong>Claude Cormier et Associ\u00e9s<\/strong>","thumb":"https:\/\/artpublicmontreal.ca\/wp-content\/uploads\/imported\/10446_10480-150x150.jpg","infoBox":false,"cat_color":"#e50f09","env":"outdoor","singleArtwork":true}]}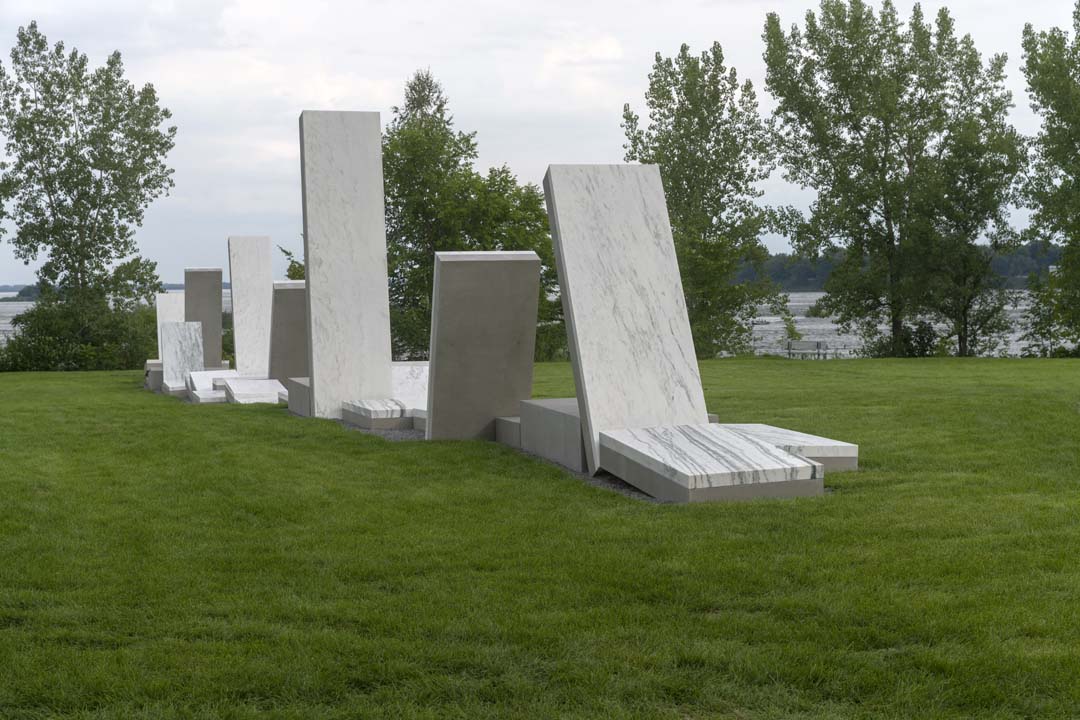 © Jacques Bilodeau et Claude Cormier + Associés Inc. -
Guy L'Heureux, 2016
Au grand dam
2016
Jacques Bilodeau was born in 1951 in Garthby, Québec. Since the early 1980s, he has conducted large-scale experimental interventions in buildings that he recycles. In parallel with this work combining art, design, and architecture, he produces installations and sculptures for exhibition in galleries and public sites. The question of habitation – how to inhabit a site, or even an object – is central to his concerns. The "active" objects that he makes are offered as tools that mobilize the body and the mind.
Read more
Claude Cormier et Associés
Claude Cormier studied History & Theory of Design at Harvard University, Landscape Architecture at the University of Toronto, Agronomy at the University of Guelph. In 1995 he established the Landscape Architecture firm Claude Cormier et Associés, which has received about 100 awards over the years. The team's work is distinguished not only for its inventiveness but also its tenacious optimism in the power of design. The firm celebrates manmade nature and is deeply committed to the specific qualities of each site – its natural conditions, its cultural history, its sociology, its politics. It hopes to translate each unique situation into a bold and pleasurable design that will connect with people physically, sensually, and playfully.
Read more
Details
Acquisition mode
Public commission from the Ville de Montréal
Materials
concrete, light-emitting diode (LED), marble
Overall size
4,2 x 2,6 x 47 m
Technique(s)
cut out, moulded, polished
Location

Location
Location
Parc des Rapides
Tour
12 Artworks

1h

Parc Angrignon

Lachine Museum
Artwork description
Designed in tandem by Jacques Bilodeau and CC+A, Au grand dam, a monumental sculpture-landscape, is composed of an arrangement of forty sequential, juxtaposed, and inclined elements made of white marble and concrete. The usable artwork offers a linear, bumpy path 47 metres long, oriented toward the St. Lawrence River in Parc des Rapides. Visitors may sit on it, climb on it, or take a break and enjoy the variable intensity of the light depending on the time of day. Au grand dam is a luminous work: LED bulbs inserted in certain vertical planes project directional beams that delineate and amplify the shapes.
Taking account of the historical and geographic aspects of the site, in the perspective of an in situ work, this sculpture-landscape refers metaphorically and metonymically to the presence of an old dam and the nearby rapids. It seems to have been created following an operation of compression and unfolding, reminiscent of the process of pack ice breaking up.