{"title":"Au grand dam | Art Public Montr\u00e9al","thisUrl":"https:\/\/artpublicmontreal.ca\/en\/oeuvre\/au-grand-dam\/","body_class":"apm_artwork-template-default single single-apm_artwork postid-61039 apm lang-en apm-imported-item apm-full-js nav-env-filters","query_hud":null,"active_filter":null,"alternate_language_url":"https:\/\/artpublicmontreal.ca\/oeuvre\/au-grand-dam\/","clear_filter_collection":0,"clear_filter_tour":"clear","data_attributes":{"data-view-type":"apm_artwork"},"filter_root_url":"\/collection\/","artworkNav":false,"mapMarkers":[{"id":61039,"slug":"au-grand-dam","title":"Au grand dam","permalink":"https:\/\/artpublicmontreal.ca\/en\/oeuvre\/au-grand-dam\/","year":"2016","loc":{"lat":"45.433944","long":"-73.587194"},"artist_names":"<span>Jacques<\/span> <strong>Bilodeau<\/strong>, <strong>CCxA<\/strong>","thumb":"https:\/\/artpublicmontreal.ca\/wp-content\/uploads\/imported\/10446_10480-150x150.jpg","infoBox":false,"cat_color":"#e50f09","env":"outdoor","singleArtwork":true}]}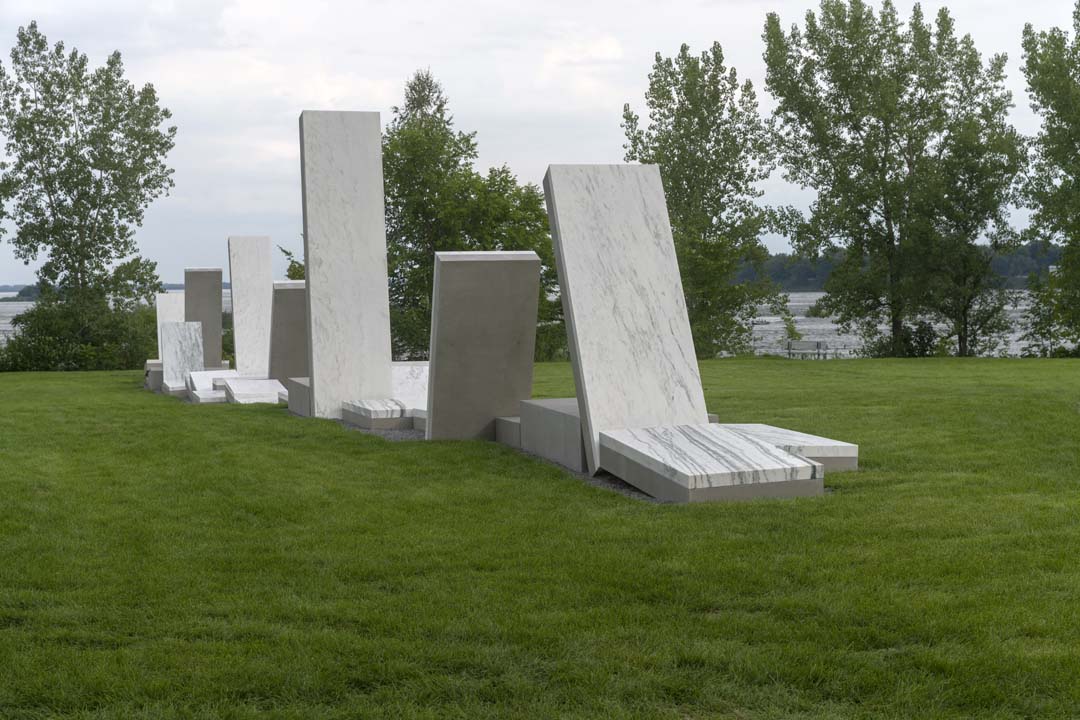 © Jacques Bilodeau et Claude Cormier + Associés Inc. -
Guy L'Heureux, 2016
Au grand dam
2016
Jacques Bilodeau was born in 1951 in Garthby, Québec. Since the early 1980s, he has conducted large-scale experimental interventions in buildings that he recycles. In parallel with this work combining art, design, and architecture, he produces installations and sculptures for exhibition in galleries and public sites. The question of habitation – how to inhabit a site, or even an object – is central to his concerns. The "active" objects that he makes are offered as tools that mobilize the body and the mind.
Read more
Founded in 1994 by Claude Cormier, CCxA (formerly Claude Cormier + Associés) is a landscape architecture and urban design firm internationally recognized for its unique practice developed over nearly 30 years in the creation of meaningful urban spaces. The firm is rooted in an innovative approach and a singular spirit, a characteristic touch marked by humor, hope, beauty, optimism, dedication and rigour.
CCxA works on large-scale projects across North America and has received more than 100 awards. Serious Fun, The Landscapes of Claude Cormier, the first book entirely dedicated to the firm's work, written by authors Marc Treib and Susan Herrington, was published by ORO in 2021.
CCxA thrives on participating in complex urban projects that require critical and innovative design solutions. The firm seeks to transcend the public experience and transform spaces of civic life by combining beauty, ecology and a priority for community. Landscape architecture is approached through a high degree of conceptual rigour and solid technical know-how, allowing the firm to imagine new, meaningful and sustainable solutions grounded by an in-depth knowledge of context and landscape phenomena. Pragmatic yet playful, the firm celebrates creativity as a bold hybrid between real and surreal, resulting in beloved moments of the public realm that have continued to endure.
Read more
Details
Acquisition mode
Public commission from the Ville de Montréal
Materials
concrete, light-emitting diode (LED), marble
Overall size
4,2 x 2,6 x 47 m
Technique(s)
cut out, moulded, polished
Location

Location
Location
Parc des Rapides
Tour
12 Artworks

1h

Parc Angrignon

Lachine Museum
Artwork description
Designed in tandem by Jacques Bilodeau and CC+A, Au grand dam, a monumental sculpture-landscape, is composed of an arrangement of forty sequential, juxtaposed, and inclined elements made of white marble and concrete. The usable artwork offers a linear, bumpy path 47 metres long, oriented toward the St. Lawrence River in Parc des Rapides. Visitors may sit on it, climb on it, or take a break and enjoy the variable intensity of the light depending on the time of day. Au grand dam is a luminous work: LED bulbs inserted in certain vertical planes project directional beams that delineate and amplify the shapes.
Taking account of the historical and geographic aspects of the site, in the perspective of an in situ work, this sculpture-landscape refers metaphorically and metonymically to the presence of an old dam and the nearby rapids. It seems to have been created following an operation of compression and unfolding, reminiscent of the process of pack ice breaking up.