{"title":"Ceiling pictorial treatment | Art Public Montr\u00e9al","thisUrl":"https:\/\/artpublicmontreal.ca\/en\/oeuvre\/ceiling-pictorial-treatment\/","body_class":"apm_artwork-template-default single single-apm_artwork postid-57798 apm lang-en apm-full-js nav-env-filters","query_hud":null,"active_filter":null,"alternate_language_url":"https:\/\/artpublicmontreal.ca\/oeuvre\/traitement-pictural-au-plafond\/","clear_filter_collection":0,"clear_filter_tour":"clear","data_attributes":{"data-view-type":"apm_artwork"},"filter_root_url":"\/collection\/","artworkNav":false,"mapMarkers":[{"id":57798,"slug":"ceiling-pictorial-treatment","title":"Ceiling pictorial treatment","permalink":"https:\/\/artpublicmontreal.ca\/en\/oeuvre\/ceiling-pictorial-treatment\/","year":"1931","loc":{"lat":"45.5226083494881","long":"-73.56512099504471"},"artist_names":"<span>Hector<\/span> <strong>V\u00e9giard<\/strong>","thumb":"https:\/\/artpublicmontreal.ca\/wp-content\/uploads\/2016\/05\/Vegiard_Traitement_pictural_plafond_004_ult-150x150.jpg","infoBox":false,"cat_color":"#e50f09","env":"indoor","singleArtwork":true}]}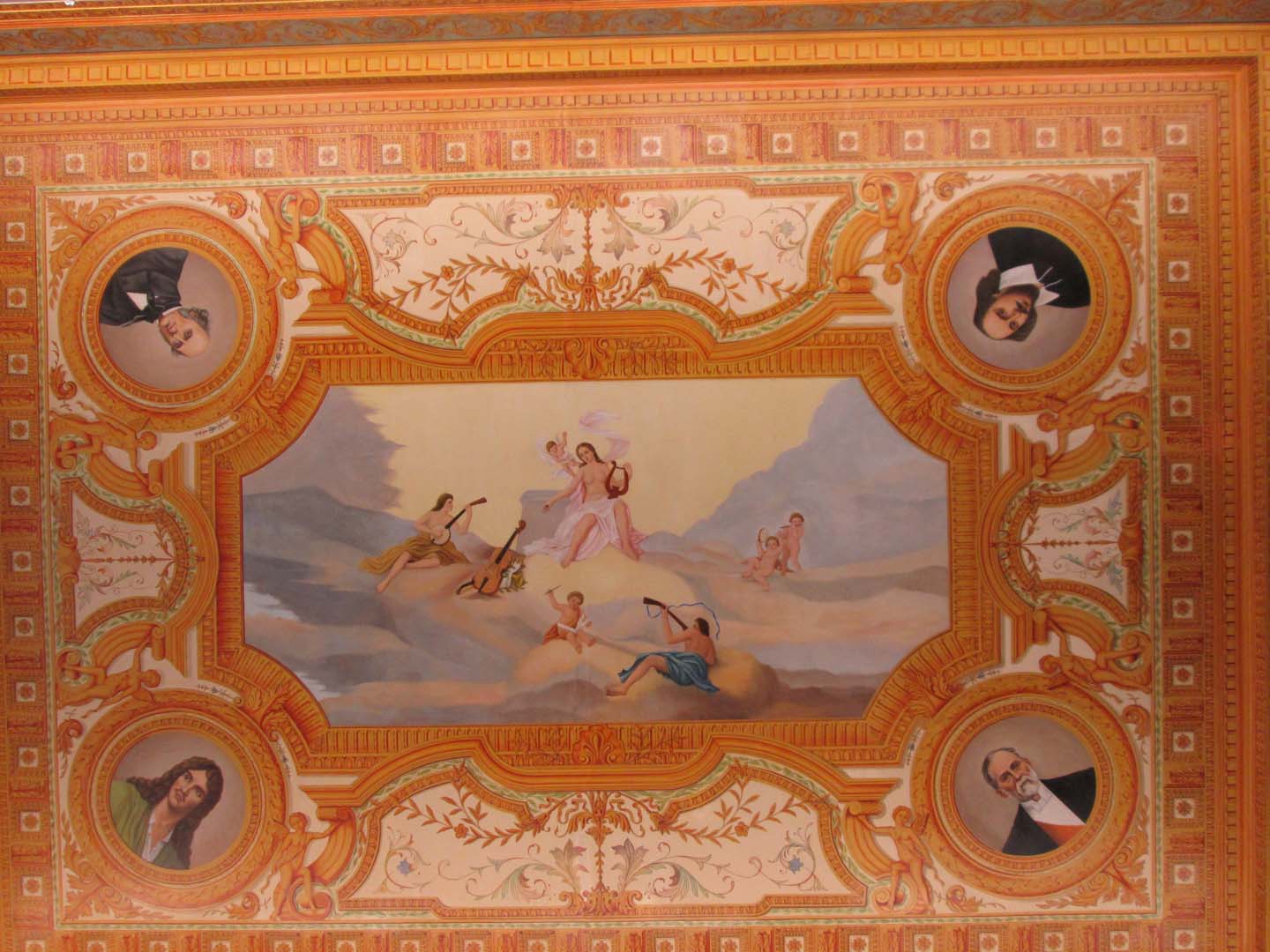 Crédit photo : Oriane Asselin Van Coppenolle, 2015
Ceiling pictorial treatment
1931
1870 - 1943
A Quebec artist whose production is not widely known, Hector Végiard (1870–1943) was employed by Statuaires Carli-Petrucci, a large studio specializing in modelling, sculpting, and painting plaster statues and decorative objects in Montreal, following his art training at the École des arts et manufactures at the Monument national. He then joined Desmarais & Robitaille, a firm specializing in liturgical objects, where he remained for 25 years. He painted numerous frescos in his home and many decorations and banners for parades and celebrations such as Saint-Jean-Baptiste and Corpus Christi.
Read more
Details
Acquisition mode
Public commission from the Ville de Montréal
Location

Location
Location
Conseil des arts de Montréal, Édifice Gaston-Miron
Localization
Baroque room, adjoining the atrium
Adress
1210 rue Sherbrooke est, Montréal, QC H2L 1L9
Accessibility
The room can be rent for private events
Tour
19 Artworks

1h30min 30min

Mont-Royal métro station

Square Saint-Louis
Artwork description
To the left of a majestic lobby, overlooked by a mezzanine with a neoclassic-style marble balustrade, in the Gaston-Miron building, is the former office of the conservator in which is situated the Baroque-style fresco by Hector Végiard that adorns the entire ceiling. The fresco, is the image of nineteenth-century neoihistorical interiors and was restored in 1992.
Painted in oils on a thin layer of plaster, the fresco is divided into three sections. The central part illustrates an allegory for music, as personified by a bare-breasted woman holding her attribute – a lyre – in one hand; the other hand points to another instrument resting on a score, laurel leaves, and a trumpet. Her divine nature is evoked by her nudity[1] and the Baroque draped fabric fluttering at her side, propelled by an invisible force. Several putti are scattered around the work: one notates a melody with a quill, another plays a flute, and a third plays a tambourine. Four medallions portraying historical figures surround the scene.
Two caissons frame the main scene. In the centre of the first is an allegorical motif composed of piled books, an inkwell and a quill, and a candlestick and an hourglass. The ensemble is surrounded with laurel branches, a symbol of virtue.[2] In the centre of the caisson at the back of the piece is a group of musical instruments and a score sitting atop laurel branches.
The painting as a whole is enhanced with interlacing and motifs inspired by the Renaissance. Around the caissons is a border of modillions, dentils, and ova surmounting a broad frieze of foliage scrolls. In the four corners of the ceiling are the signatures of Hector Végiard and three other artists, E. Végiard, J. H. Houde, and Napoléon Fournier.
[1] Ember Ildiko, La musique dans la peinture (Budapest: Kultura, 1984), plate 19.
[2] Guy de Tervarent,  Attributs et symboles dans l'art profane: dictionnaire d'un langage perdu (1450-1600) (Geneva: Librairie Droz, 1997), 176.