{"title":"Cheminement topographique d'une bo\u00eete pour tarte aux bleuets | Art Public Montr\u00e9al","thisUrl":"https:\/\/artpublicmontreal.ca\/en\/oeuvre\/cheminement-topographique-dune-boite-pour-tarte-aux-bleuets\/","body_class":"apm_artwork-template-default single single-apm_artwork postid-57560 apm lang-en apm-full-js nav-env-filters","query_hud":null,"active_filter":null,"alternate_language_url":"https:\/\/artpublicmontreal.ca\/oeuvre\/cheminement-topographique-dune-boite-pour-tarte-aux-bleuets\/","clear_filter_collection":0,"clear_filter_tour":"clear","data_attributes":{"data-view-type":"apm_artwork"},"filter_root_url":"\/collection\/","artworkNav":false,"mapMarkers":[{"id":57560,"slug":"cheminement-topographique-dune-boite-pour-tarte-aux-bleuets","title":"Cheminement topographique d'une bo\u00eete pour tarte aux bleuets","permalink":"https:\/\/artpublicmontreal.ca\/en\/oeuvre\/cheminement-topographique-dune-boite-pour-tarte-aux-bleuets\/","year":"2001","loc":{"lat":"45.6680788","long":"-73.4949421"},"artist_names":"<span>Peter<\/span> <strong>Gnass<\/strong>","thumb":"https:\/\/artpublicmontreal.ca\/wp-content\/uploads\/2016\/05\/Gnass_Cheminement_topographique_d_une-bo\u00eete_pour_tartes_aux_bleuets_ult-150x150.jpg","infoBox":false,"cat_color":"#e50f09","env":"indoor","singleArtwork":true}]}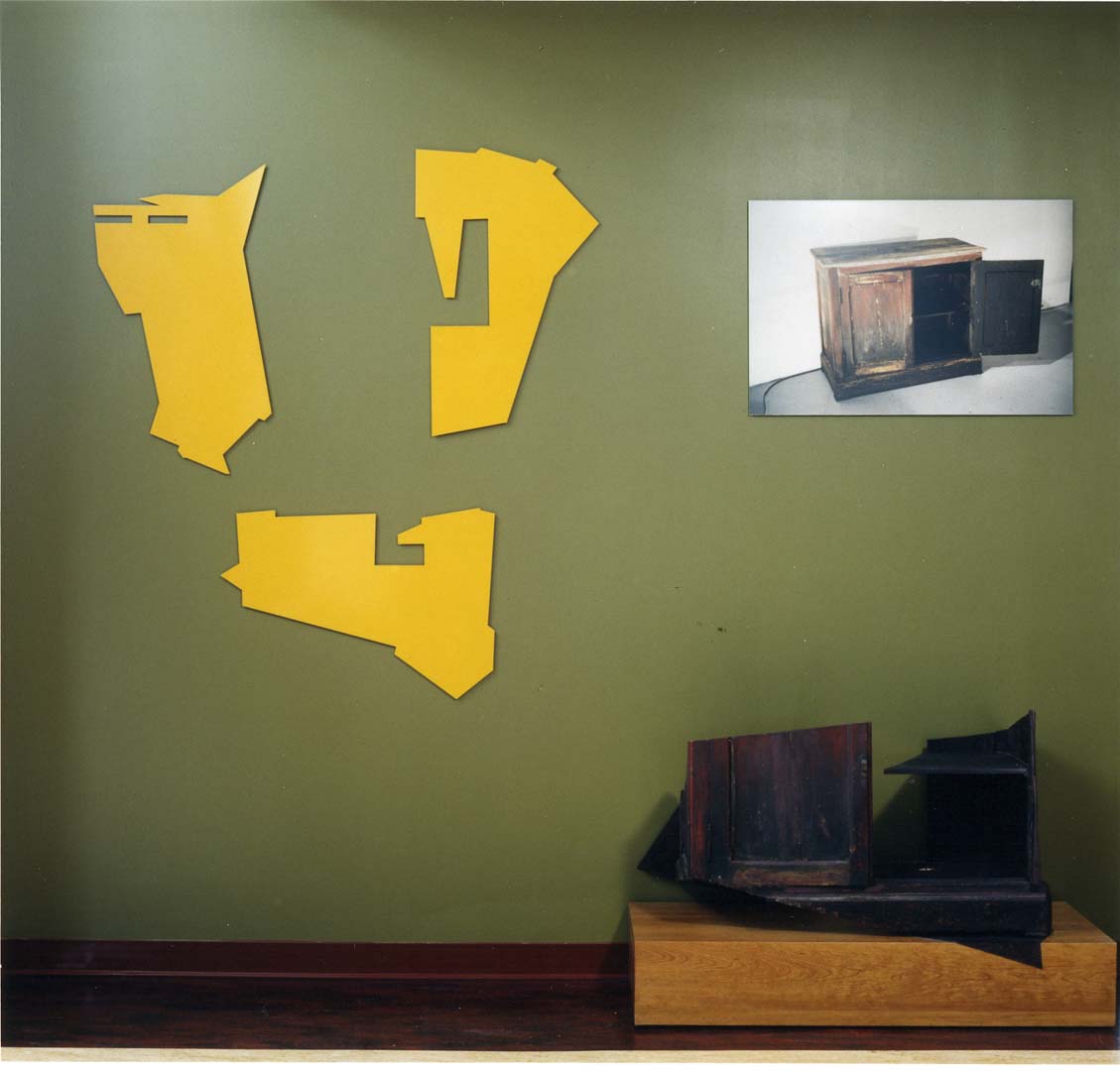 © Peter Gnass -
Crédit photo : Michel Dubreuil, 2001
Cheminement topographique d'une boîte pour tarte aux bleuets
2001
Peter Gnass was born in Germany and attended the Hamburg Academy of Fine Art and the École des beaux-arts de Montréal, then specialized in printmaking under Dumouchel. In 1970, he presented his first solo exhibition at the Musée d'art contemporain de Montréal, Topolog. During his career, he has had regular exhibitions in Canada and abroad, and he has produced a number of works of public art. In 1967, he created a bronze mural for the lobby of Théâtre Maisonneuve de Montréal, and in 1978 he created a large stainless-steel mural for the LaSalle Métro station.
Read more
Details
Acquisition mode
Public commission from the Ville de Montréal
Overall size
Photography : 64.96 x 91.44; Wooden base : 121.92 x 21.59 x 53.34; wardrobe : unknown size; Three 2D forms : unknown size
Mediums
acrylic, photograph
Location

Location
Location
Bibliothèque de Pointe-aux-Trembles
Localization
Second floor, wall near to the librarian desk
Adress
14001, rue Notre-Dame Est, Montréal, Québec H1A 1T9
Accessibility
Accessible during the library's opening hours
Artwork description
The artwork is on the second storey of the Bibliothèque de Pointe-aux-Trembles and covers both wall and floor. The installation is composed of three parts: a photograph, a sculpture, and a series of two-dimensional forms.
The colour photograph portrays an old, small wood armoire, seen from a low angle and slightly obliquely. It is affixed to the wall above the sculpture, which is made from the armoire that was photographed, but it has been deconstructed, cut out, then reconstructed. The sculpture is placed on a low stand made of light-coloured wood. Finally, the series of three two-dimensional shapes illustrates the anamorphic possibilities of the sculpture. They are presented on the wall to the right of the photograph. As in a game, the viewer is engaged in finding the precise point of view that makes the shapes inscribed on the wall visible. Peter Gnass has been interested in anamorphoses for more than thirty years. He sees them as a means of combining the intellectual and the aesthetic.