{"title":"Chor\u00e9graphies cartographiques | Art Public Montr\u00e9al","thisUrl":"https:\/\/artpublicmontreal.ca\/en\/oeuvre\/choregraphies-cartographiques\/","body_class":"apm_artwork-template-default single single-apm_artwork postid-67615 apm lang-en apm-full-js nav-env-filters","query_hud":null,"active_filter":null,"alternate_language_url":"https:\/\/artpublicmontreal.ca\/oeuvre\/choregraphies-cartographiques\/","clear_filter_collection":0,"clear_filter_tour":"clear","data_attributes":{"data-view-type":"apm_artwork"},"filter_root_url":"\/collection\/","artworkNav":false,"mapMarkers":[{"id":67615,"slug":"choregraphies-cartographiques","title":"Chor\u00e9graphies cartographiques","permalink":"https:\/\/artpublicmontreal.ca\/en\/oeuvre\/choregraphies-cartographiques\/","year":"2017","loc":{"lat":"45.453640","long":" -73.565008"},"artist_names":"<span>Jos\u00e9e<\/span> <strong>Dubeau<\/strong>","thumb":"https:\/\/artpublicmontreal.ca\/wp-content\/uploads\/2019\/10\/Dubeau_Choregraphie_cartographique_2_ult-150x150.jpg","infoBox":false,"cat_color":"#e50f09","env":"outdoor","singleArtwork":true}]}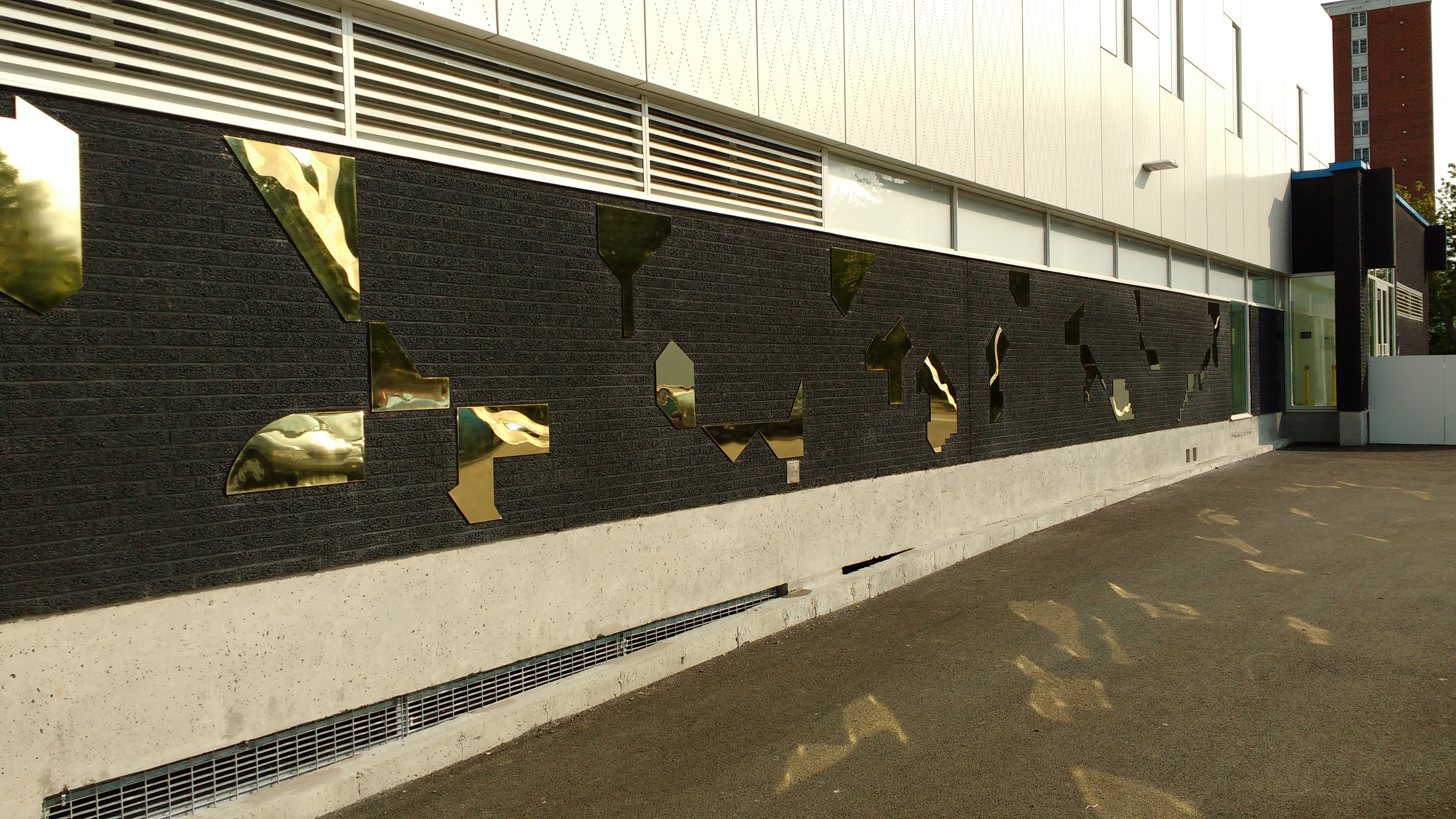 ©Josée Dubeau -
Crédit photo : Guy L'heureux
Chorégraphies cartographiques
2017
Josée Dubeau holds an MFA in visual arts from the Université du Québec à Montréal (1994) and a BFA from the Université du Québec en Outaouais (1989). Her work has been presented in Canada and abroad. She has taken part in a number of art residencies, notably in Basel in 1998 and in Berlin in 2004–05. Her works are in public and private collections in Québec, Ontario, Switzerland, and Germany. She has produced projects integrating arts with architecture in Montreal, Garineau, Val d'or, and other locations.
Read more
Details
Category
Mural, relief mural
Materials
Mirror-polished brass
Overall size
50 plaques de laiton C 260 de 3/16 pouce d'épaisseur réparties sur 3 murs / a) mur nord : 2 m x 29,3 m : 24 plaques (entrée de l'École de cirque de Verdun) b) mur ouest : 2,8 m x 23,7 m : 13 plaques (côté ouest – jardins communautaires) c) mur sud: 2,8 m x 22 m : 13 plaques (côté sud - fleuve)
Technique(s)
cut out, engraved, polished, welded
Location

Location
Localization
École de cirque de Verdun et maison de la culture de Verdun, Quai 5160
Adress
5160-5190, boulevard LaSalle, Verdun, QC H4G 2C1
Accessibility
At all time
Tour
Tour
Podcast / in the streets of Verdun
9 Artworks

1h20min 30min

Untitled

Untitled – 1978
Artwork description
The first mural created in part 3 of the City of Montréal's Programme d'art mural, Chorégraphies cartographiques is composed of fifty brass polygons spread over three walls of the building that is home to the École de cirque de Verdun. It can be seen from the parking lot near the building and from the bike path along the river. Each mirror-polished brass plaque is a unique shape, and fifteen of them have a subtle river motif engraved on their surface. Over the years, the brass will be transformed from a reflective shine to a range of warm, matte natural colours.
"In the magic of darkness, the brick walls stand out as a 'negative space' that seems to lift the building and make it weightless. Because of these physical and metaphysical qualities, I see these long brick bands as spaces open to infinity; surfaces that may be interpreted in a formal or metaphoric way as if they were a great plane of sky, an interplay of silhouettes, or a graphical division
– Josée Dubeau