{"title":"Dalb\u00e9 Viau | Art Public Montr\u00e9al","thisUrl":"https:\/\/artpublicmontreal.ca\/en\/oeuvre\/dalbe-viau\/","body_class":"apm_artwork-template-default single single-apm_artwork postid-60418 apm lang-en apm-full-js nav-env-filters","query_hud":null,"active_filter":null,"alternate_language_url":"https:\/\/artpublicmontreal.ca\/oeuvre\/dalbe-viau\/","clear_filter_collection":0,"clear_filter_tour":"clear","data_attributes":{"data-view-type":"apm_artwork"},"filter_root_url":"\/collection\/","artworkNav":false,"mapMarkers":[{"id":60418,"slug":"dalbe-viau","title":"Dalb\u00e9 Viau","permalink":"https:\/\/artpublicmontreal.ca\/en\/oeuvre\/dalbe-viau\/","year":"2010","loc":{"lat":"45.442669246830015","long":"-73.67893667525482"},"artist_names":"<strong>Stare<\/strong>","thumb":"https:\/\/artpublicmontreal.ca\/wp-content\/uploads\/2016\/09\/EcoleViau-150x150.jpg","infoBox":false,"cat_color":"#e50f09","env":"outdoor","singleArtwork":true}]}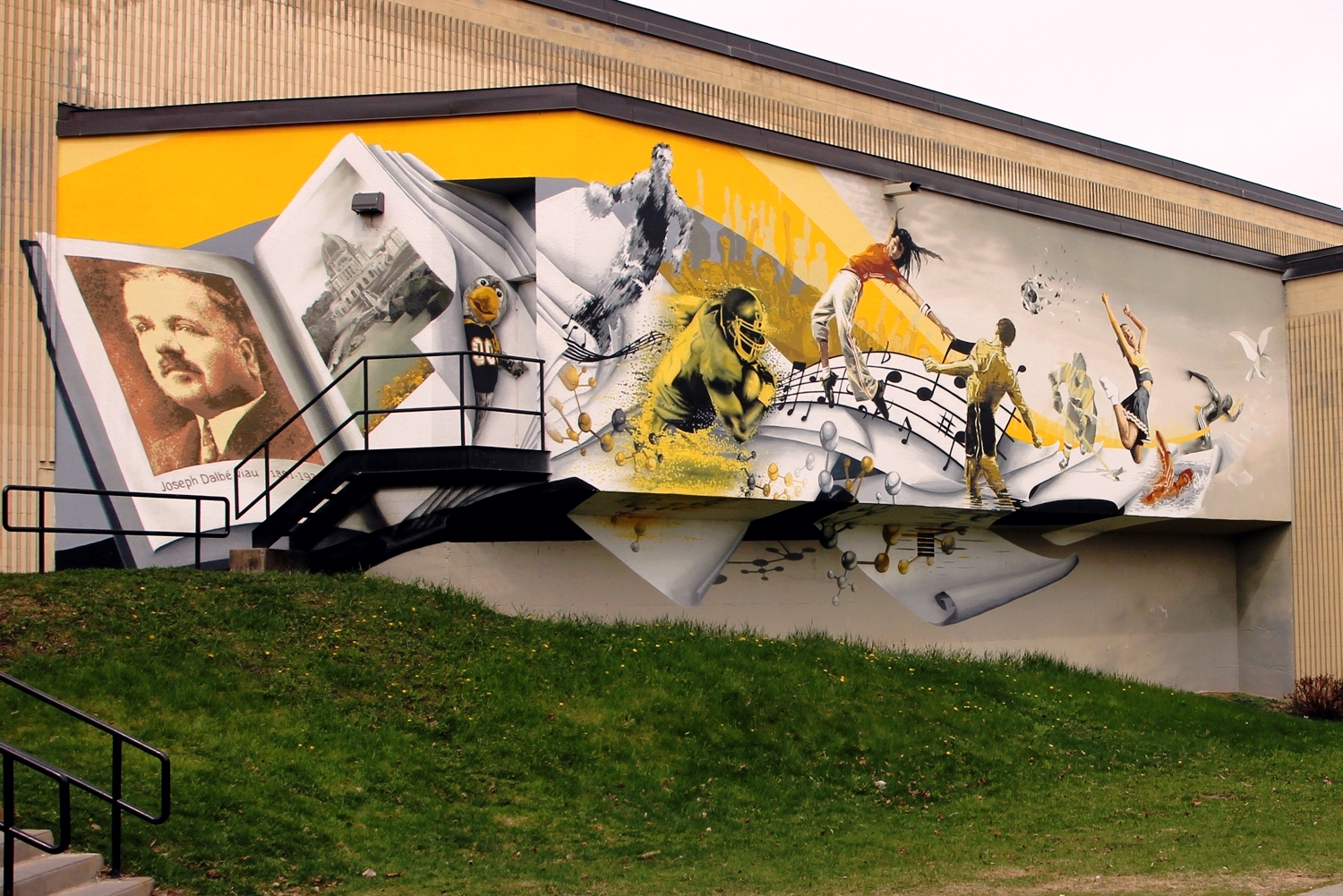 © Simon Bachand -
Crédit photo : Simon Bachand (2012)
Dalbé Viau
2010
As a practitioner of Graffiti art, Stare is renowned for his innovative and versatile style. His work depicts a stirring chemistry between adventurous color schemes and electrifying effects, overlayed onto the architecture of his organized lettering, both imposing and graceful. With a hardened style to call his own, Stare has literally marked the face of Montreal's urban scenery.
He is involved in the creation of major murals that are considered indispensable in Montreal's urban scenery. Defying the techniques and methods commonly observed in traditional mural painting, Stare's murals are made to integrate with the surrounding environment while always respecting, incorporating and, ultimately, enriching the existing architecture.
Read more
Details
Funding
Ville de Montréal
Location

Location
Location
Dalbé-Viau school
Localization
Main entrance
Artwork description
From the academics to cultural and sport activities, all aspects of the student life at Dalbé-Viau school is represented. The portrait of M. Dalbé Viau is also painted as well as one of his major projects, The Saint-Joseph oratory. M. Dalbé Viau and his associate also designed the plans for the Lachine Borrough hall, the Saints-anges-Gardiens church and the Très-Saint-Sacrement primary school.