{"title":"Di-Octo II | Art Public Montr\u00e9al","thisUrl":"https:\/\/artpublicmontreal.ca\/en\/oeuvre\/di-octo-ii\/","body_class":"apm_artwork-template-default single single-apm_artwork postid-64192 apm lang-en apm-full-js nav-env-filters","query_hud":null,"active_filter":null,"alternate_language_url":"https:\/\/artpublicmontreal.ca\/oeuvre\/di-octo-ii\/","clear_filter_collection":0,"clear_filter_tour":"clear","data_attributes":{"data-view-type":"apm_artwork"},"filter_root_url":"\/collection\/","artworkNav":false,"mapMarkers":[{"id":64192,"slug":"di-octo-ii","title":"Di-Octo II","permalink":"https:\/\/artpublicmontreal.ca\/en\/oeuvre\/di-octo-ii\/","year":"2017","loc":{"lat":"45.496796843192705","long":"-73.57881903648376"},"artist_names":"<span>Anthony<\/span> <strong>Howe<\/strong>","thumb":"https:\/\/artpublicmontreal.ca\/wp-content\/uploads\/2017\/09\/20170921-Di-Octo-Statue-022-150x150.jpg","infoBox":false,"cat_color":"#e50f09","env":"outdoor","singleArtwork":true}]}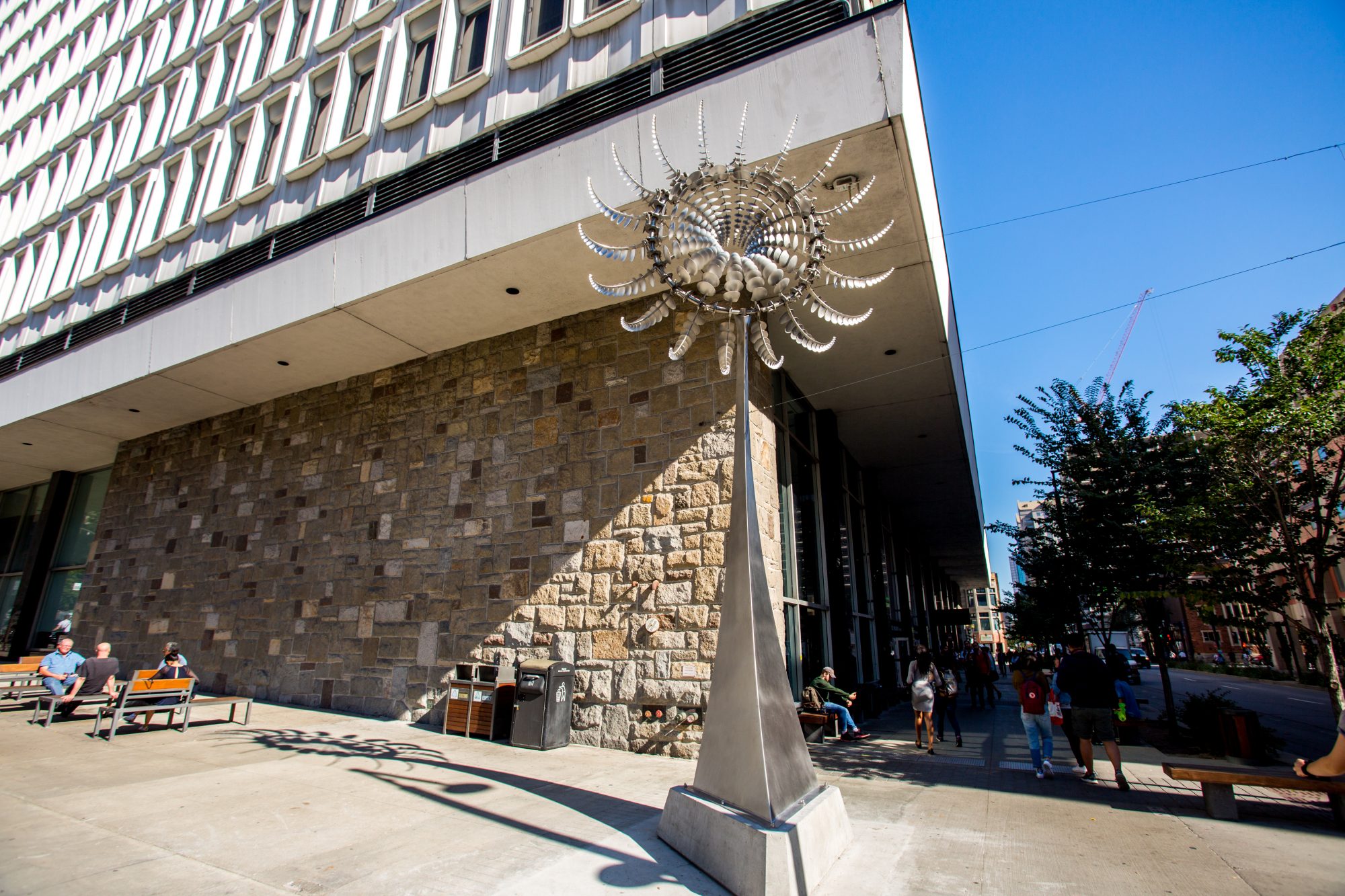 © Anthony Howe -
Crédit photo :
Di-Octo II
2017
Anthony Howe is an American kinetic artist who creates wind-driven sculptures. Born in Salt Lake City, Utah, Howe attended Cornell University and the Skowhegan School of Sculpture and Painting. He now lives on Orcas Island, Washington, with his business partner and wife. He's sold works to hundreds of private collections from California to the Middle East. He designed the cauldron and accompanying sculpture for the 2016 Summer Olympics.
He designs and makes the majority of all his sculptures without the help of assistants, with the exception of some recent largescale works fabricated by the Walla Walla Foundry, Show Canada and Hüttinger of Germany.
Read more
Details
Acquisition mode
Donation
Source mention
Gift of Susan and Jonathan Wener
Materials
stainless steel
Overall size
7.62 m on a 43.18 base
Technique(s)
assembled, welded
Location

Location
Location
Concordia University, Henry F. Hall Building (Sir-George-Williams campus)
Localization
North east corner of De Maisonneuve Ouest and Mackay Streets
Adress
1455, boulevard De Maisonneuve Ouest, Montreal, QC, H3G 1M8
Artwork description
Di-Octo II was donated in honour of the 375th anniversary of Montreal and 150th anniversary of Canada. The kinetic work assumes a linear elegance when still, then transitions to raucous animation when the wind picks up – altering one's experience of time and space.
Designed by Anthony Howe and fabricated locally by Show Canada.