{"title":"Du C\u00f4teau-Saint-Louis \u00e0 aujourd'hui | Art Public Montr\u00e9al","thisUrl":"https:\/\/artpublicmontreal.ca\/en\/oeuvre\/du-coteau-saint-louis-a-aujourdhui\/","body_class":"apm_artwork-template-default single single-apm_artwork postid-60628 apm lang-en apm-full-js nav-env-filters","query_hud":null,"active_filter":null,"alternate_language_url":"https:\/\/artpublicmontreal.ca\/oeuvre\/du-coteau-saint-louis-a-aujourdhui\/","clear_filter_collection":0,"clear_filter_tour":"clear","data_attributes":{"data-view-type":"apm_artwork"},"filter_root_url":"\/collection\/","artworkNav":false,"mapMarkers":[{"id":60628,"slug":"du-coteau-saint-louis-a-aujourdhui","title":"Du C\u00f4teau-Saint-Louis \u00e0 aujourd'hui","permalink":"https:\/\/artpublicmontreal.ca\/en\/oeuvre\/du-coteau-saint-louis-a-aujourdhui\/","year":"2014","loc":{"lat":"45.52900590975143","long":"-73.588516564418"},"artist_names":"<strong>Artducommun<\/strong>","thumb":"https:\/\/artpublicmontreal.ca\/wp-content\/uploads\/2016\/09\/EcoleLaurier-150x150.jpg","infoBox":false,"cat_color":"#e50f09","env":"outdoor","singleArtwork":true}]}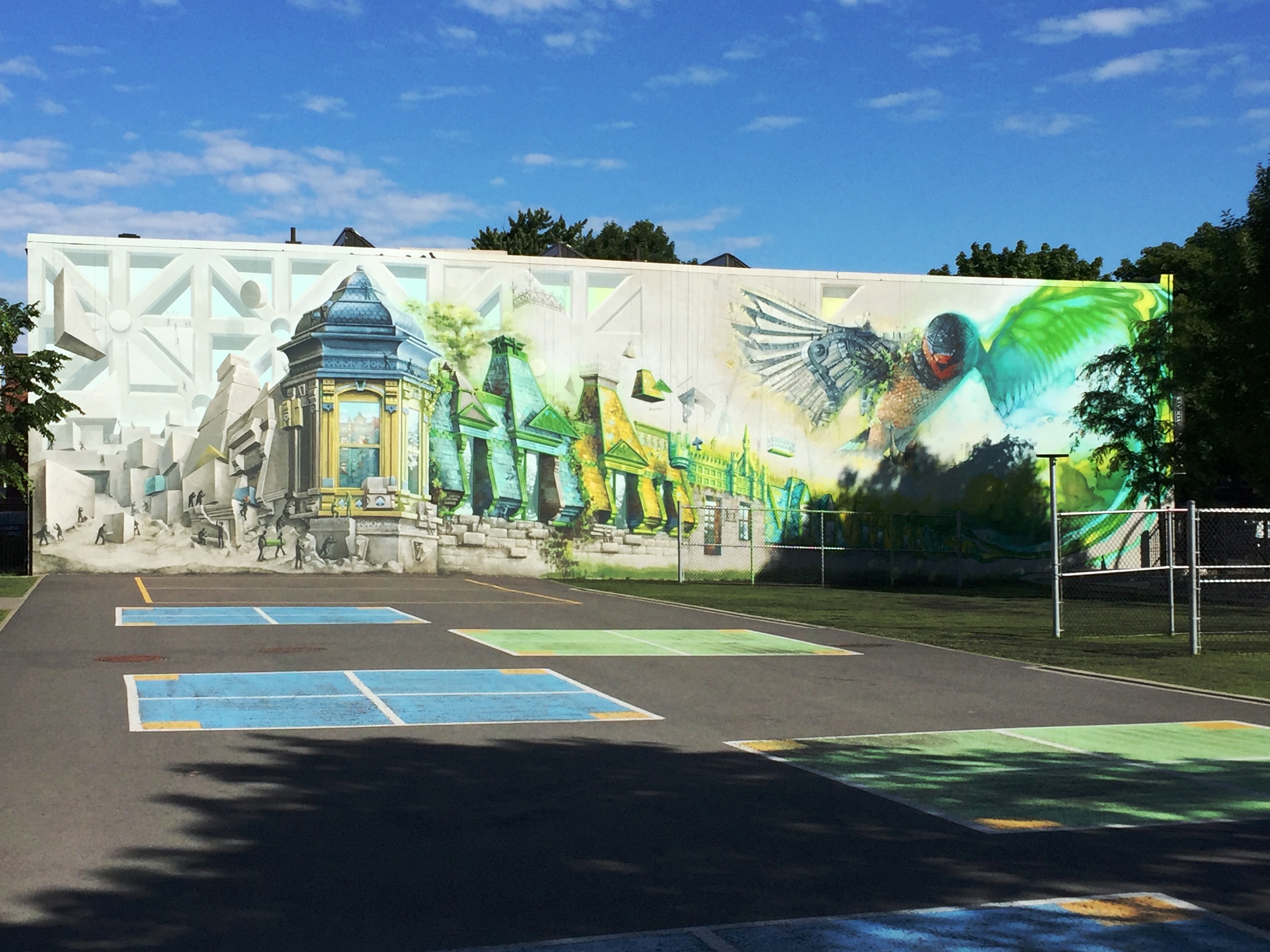 © Simon Bachand / Jasmin Guérard-Alie -
Crédit photo : Ville de Montréal
Du Côteau-Saint-Louis à aujourd'hui
2014
Artducommun was founded by Simon Bachand and Jasmin Guérard-Alie in 2006. The Montreal-born art collective is uniting professional artists with over 15 years of experience with murals. Using innovative techniques and a bold sense of imagination, the artists are constantly searching for new and unique ways to approach each creation. Their pieces are designed to integrate into their environments while respecting, incorporating, and enriching the existing architecture. Artducommun's creative process takes into consideration the history and experience of a work's location. The positioning of each mural thus creates a space for social interaction, while offering passersby a original and timeless visual experience.
Read more
Details
Funding
Arrondissement du Plateau-Mont-Royal, Entente sur le développement culturel de Montréal
Mediums
acrylic, spray paint
Location

Location
Location
Outdoor playground of Laurier school
Adress
Corner of Saint-Hubert street and Laurier avenue east
Artwork description
The concept for the mural draws on the notion of transformation of raw materials through the imagination. This is illustrated by the reference to the old quarries of Plateau-Mont-Royal that evolved into complex structures, and yet displays the district's aesthetic and architectural details. In the end, these details metamorphosed, in their turn, into unlimited imagination, where colours and motifs merge into freedom of expression embodied by the symbol of the bird.