{"title":"Duo-Denum | Art Public Montr\u00e9al","thisUrl":"https:\/\/artpublicmontreal.ca\/en\/oeuvre\/duo-denum\/","body_class":"apm_artwork-template-default single single-apm_artwork postid-71414 apm lang-en apm-full-js nav-env-filters","query_hud":null,"active_filter":null,"alternate_language_url":"https:\/\/artpublicmontreal.ca\/oeuvre\/duo-denum\/","clear_filter_collection":0,"clear_filter_tour":"clear","data_attributes":{"data-view-type":"apm_artwork"},"filter_root_url":"\/collection\/","artworkNav":false,"mapMarkers":[{"id":71414,"slug":"duo-denum","title":"Duo-Denum","permalink":"https:\/\/artpublicmontreal.ca\/en\/oeuvre\/duo-denum\/","year":"2021","loc":{"lat":45.5193317999999891299012233503162860870361328125,"long":-73.5607327999999967005351209081709384918212890625},"artist_names":"<span>Dana\u00e9<\/span> <strong>Brissonnet<\/strong>","thumb":"https:\/\/artpublicmontreal.ca\/wp-content\/uploads\/2021\/12\/Duo-Denum-cre\u2560udit-photo-Louis-Lhomel-150x150.jpg","infoBox":false,"cat_color":"#e50f09","env":"outdoor","singleArtwork":true}]}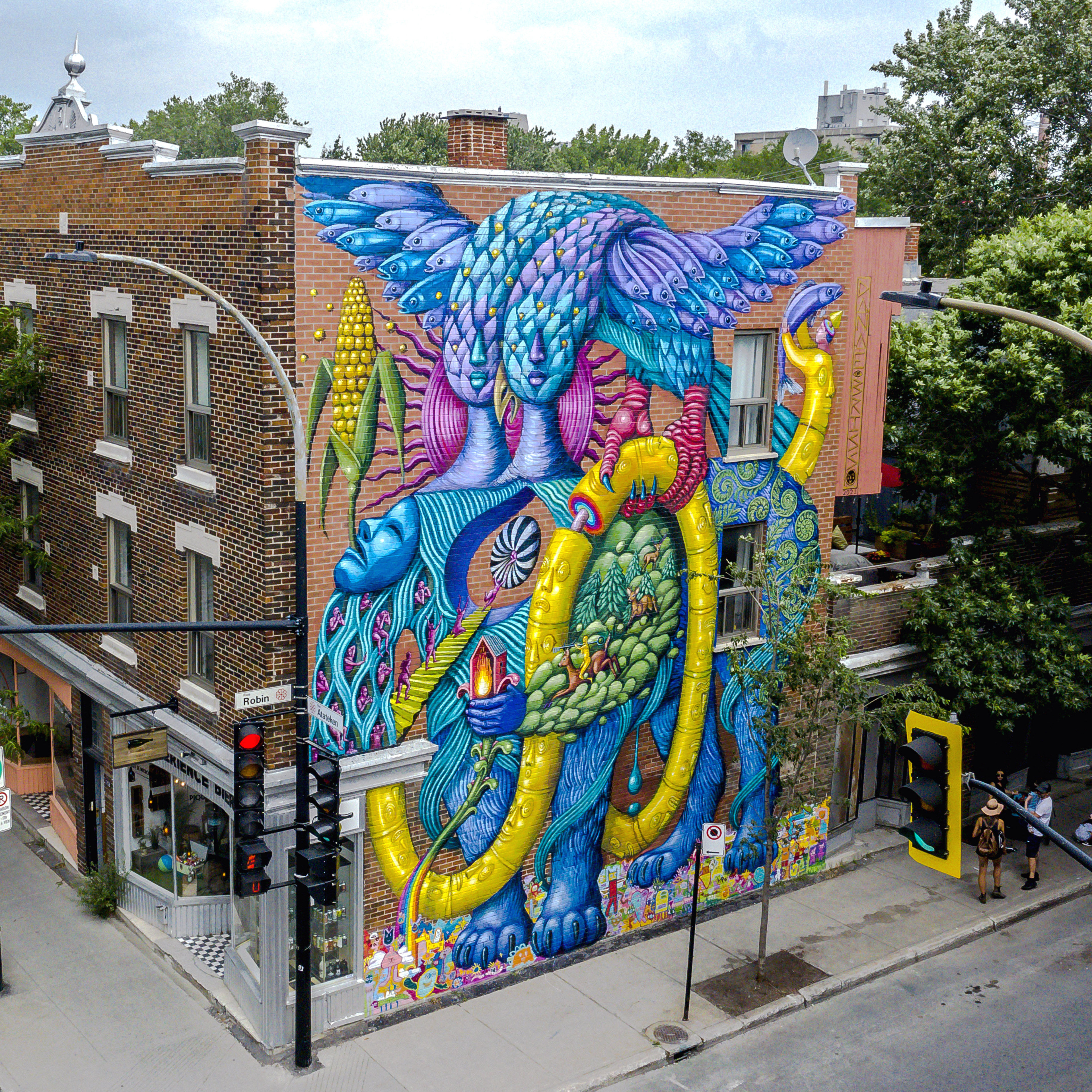 Danaé Brissonnet -
Crédit photo : Louis Lhomel
Duo-Denum
2021
Danaé Brissonnet is an international artist from Quebec (Canada) who specializes in murals, illustrations, masks and puppets.
She has worked in North, Central and South America, as well as in Europe and Asia, creating colorful and fantastical works of art inspired by local traditions. By creating imaginary worlds for the viewer, his work invites reflection on the power of symbolism, myth and metaphor.
Brissonnet's art establishes connections between her work, herself and the audience with whom she interacts. Most importantly, the artist seeks to integrate herself into communities so that she can tell the stories of people, their country and their culture.
Wherever she creates, there is a good chance that Brissonnet will give a workshop to share her experience. She places importance on working with children to allow them to paint their own stories with the materials they have at their disposal.
Leaving a colorful trail, her art gives a sense of accessibility as she visually transposes her story and the stories of others.
Read more
Details
Acquisition mode
programme d'art mural
Location

Location
Adress
1751 street Atateken / Robin
Accessibility
At all time
Artwork description
The mural by Quebec artist Danaé Brissonnet is inspired by reflections on the notion of brotherhood-sisterhood, the human condition in this hyper-connected world and its questioning in its natural environment.
Guided by the meaning of the street name Atateken ("brother and sister" in Mohawk), the mural explores this duality and proposes a response of unity between humans and nature. Our world is in constant change, sometimes confusing, where it is necessary to reconnect to essential values.
The elements of the mural build a narrative for each person's interpretation with a message of resilience: we need to find a healthy place in our environment and reconnect with our childlike heart, our vital fire and let the creativity of childhood heal us.