{"title":"Entrain | Art Public Montr\u00e9al","thisUrl":"https:\/\/artpublicmontreal.ca\/en\/oeuvre\/entrain\/","body_class":"apm_artwork-template-default single single-apm_artwork postid-61188 apm lang-en apm-full-js nav-env-filters","query_hud":null,"active_filter":null,"alternate_language_url":"https:\/\/artpublicmontreal.ca\/oeuvre\/entrain\/","clear_filter_collection":0,"clear_filter_tour":"clear","data_attributes":{"data-view-type":"apm_artwork"},"filter_root_url":"\/collection\/","artworkNav":false,"mapMarkers":[{"id":61188,"slug":"entrain","title":"Entrain","permalink":"https:\/\/artpublicmontreal.ca\/en\/oeuvre\/entrain\/","year":"2014","loc":{"lat":"45.6179165","long":"-73.5971763"},"artist_names":"<span>Pierre<\/span> <strong>Blanchette<\/strong>","thumb":"https:\/\/artpublicmontreal.ca\/wp-content\/uploads\/2016\/10\/Anjou_BLANCHETTE-150x150.jpg","infoBox":false,"cat_color":"#e50f09","env":"outdoor","singleArtwork":true}]}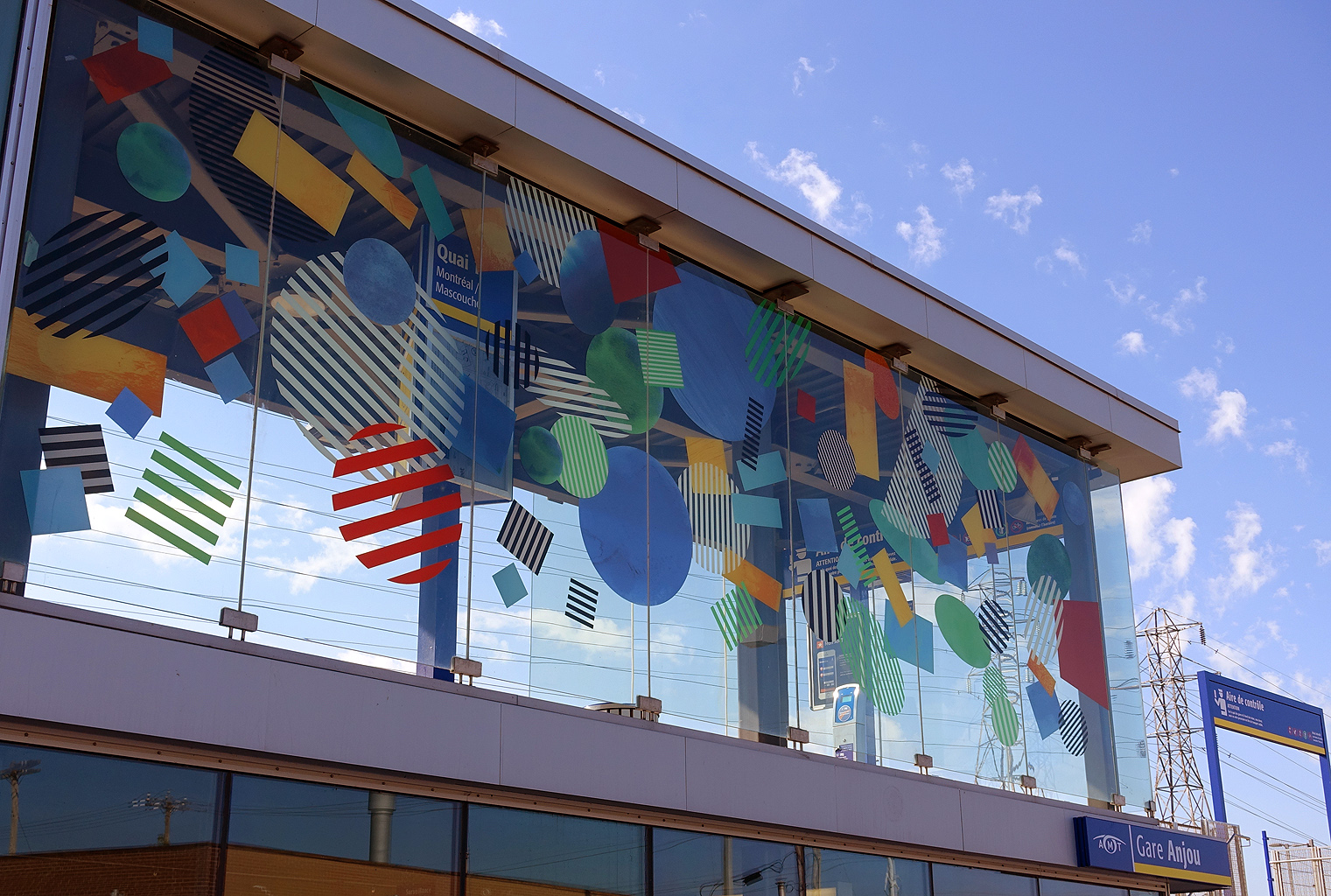 © Pierre Blanchette (2016) -
Crédit photo : Pierre Blanchette
Entrain
2014
Pierre Blanchette was born in 1953 in Trois-Rivières. He studied at the Université du Québec à Montréal. Throughout the 1980s and 1990s, he made frequent trips to Paris, where he would showcase his work at the Galerie Regards, at the Canadian Cultural Center, at the Quebec agency and at the Galerie Véronique Smagghe. Pierre Blanchette's art was presented in several solo and collective exhibits. His pieces are now a part of many private and public collections, such as the Musée national des beaux-arts du Québec, the Montreal Museum of Fine Arts, the Art Bank of the Canada Council for Arts and the Musée d'art contemporain de Montréal.
Since 1999, he has produced several pieces within the framework of the Programme d'intégration des arts à l'architecture et à l'environnement. These pieces include Feux d'étoiles for the Collège Lionel-Groulx in Sainte-Thérèse (1999), Soleils in the emergency room's waiting area at the Centre hospitalier de Granby (2008-2009), Nacelle in the John Molson School of Business at Concordia University (2007-2009) and Forge at the Western Quebec Career Centre (2009). He contributed not only as an artist but also as a panel member.
Blanchette is first and foremost a painter. His work harmonizes geometrical and lyrical abstractness. His paintings – often large-scale and very colorful – are adorned with geometric forms and movement. The colors are often saturated, while still conserving their transparency and luminosity. A vivid, yet orderly array. Blanchette's paintings are nurtured by technology and natural science. The artist will abstractly present the quintessential aspect of fine details – often invisible – related to geophysics, botany or acoustic spaces. His inspiration for this for this form of art originates from the wind's movements, some gyratory movements and luminous halos.
Read more
Details
Acquisition mode
Politique d'intégration des arts à l'architecture et à l'environnement, Government of Quebec
Overall size
270 x 880 cm
Technique(s)
digital print, laminated
Location

Location
Location
Anjou train station, Mascouche line
Localization
Wall of the aedicule
Adress
7260 8e Rue, Montréal, QC H1E 3A6
Artwork description
Titled Entrain, the artwork by Pierre Blanchette occupies seven glass panels on the upper-floor curtain wall of the train station on 8e Rue. With a total area about 22 m², the piece consists of digital prints with a base of ceramic ink fused with clear tempered glass and then laminated.
Blanchette wanted "an artwork that stands out from images of daily life – an invigorating artwork with colours so lively that people will forget the greyest days of the year, whatever the season." With its overlapping geometric forms, Entrain evokes, for example, autumn leaves or coloured confetti. Its playful and dynamic aspect contrasts strongly with the architecture of the station, which is austere and grey. In this sense, Blanchette breathes life into the building.