{"title":"Gr\u00e2ce | Art Public Montr\u00e9al","thisUrl":"https:\/\/artpublicmontreal.ca\/en\/oeuvre\/grace\/","body_class":"apm_artwork-template-default single single-apm_artwork postid-65984 apm lang-en apm-full-js nav-env-filters","query_hud":null,"active_filter":null,"alternate_language_url":"https:\/\/artpublicmontreal.ca\/oeuvre\/grace\/","clear_filter_collection":0,"clear_filter_tour":"clear","data_attributes":{"data-view-type":"apm_artwork"},"filter_root_url":"\/collection\/","artworkNav":false,"mapMarkers":[{"id":65984,"slug":"grace","title":"Gr\u00e2ce","permalink":"https:\/\/artpublicmontreal.ca\/en\/oeuvre\/grace\/","year":"1998","loc":{"lat":"45.5251232","long":"-73.56187310000001"},"artist_names":"<span>Bernard<\/span> <strong>S\u00e9guin Poirier<\/strong>","thumb":"https:\/\/artpublicmontreal.ca\/wp-content\/uploads\/2018\/10\/DSCN7947-e1538766425420-150x150.jpg","infoBox":false,"cat_color":"#e50f09","env":"indoor","singleArtwork":true}]}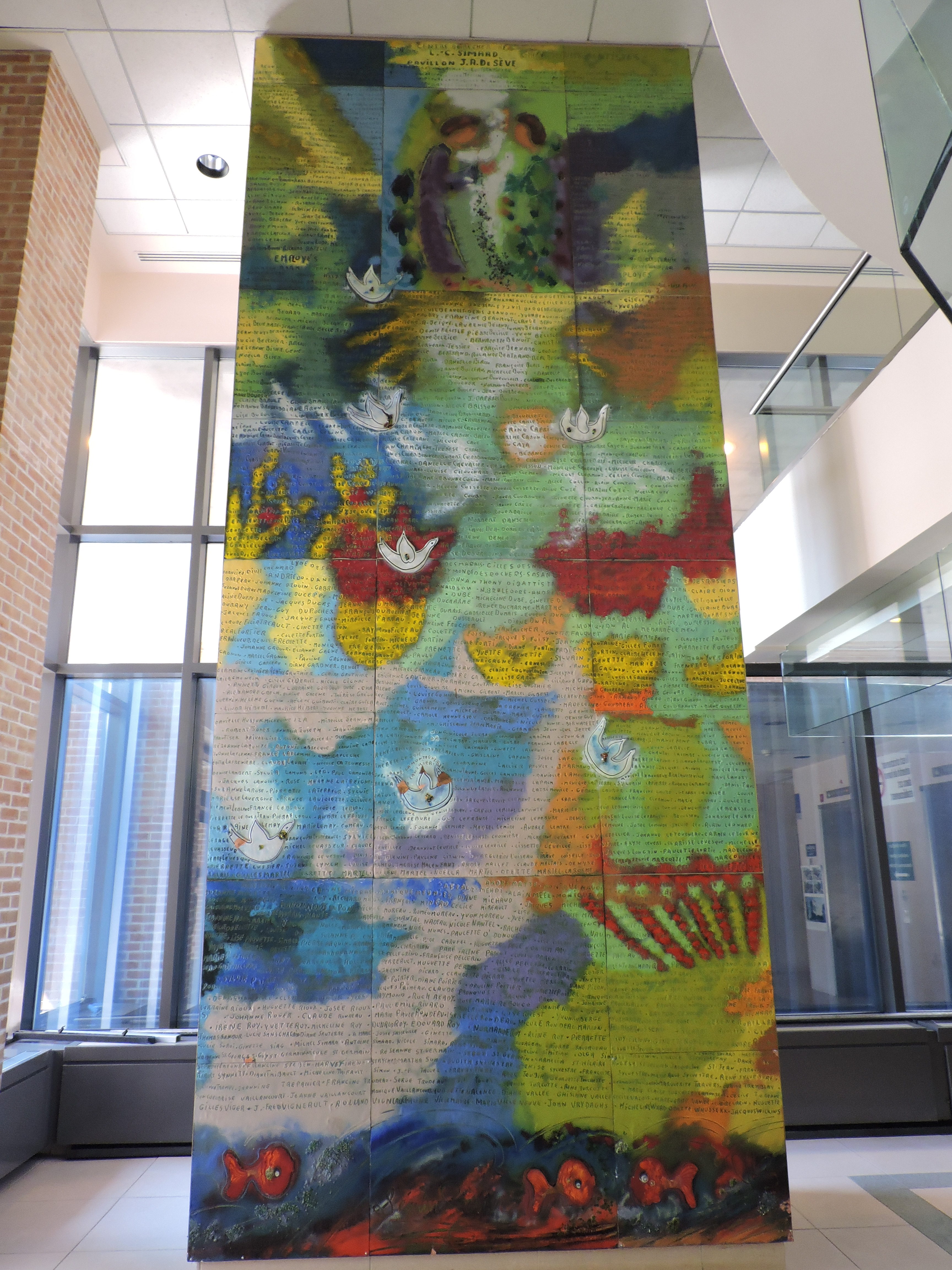 © Bernard Séguin Poirier - 20-08-2018 -
Crédit photo : CIUSSS du Centre-Sud-de-l'Île-de-Montréal
Grâce
1998
Originally from Montréal, in the area known today as Plateau Mont-Royal, Bernard Séguin Poirier is the fourth of seven children, two girls and five boys. His father, Marcel Poirier, was a goldsmith, and his mother, Rolande Séguin, a painter and sculptor. Originally from Soulanges in the west of Montréal, the couple moved to Ville-Émard, where they attracted a mostly ecclesiastical clientele from churches in Québec and Europe. Séguin Poirier learnt drawing, sculpture, painting and goldsmithing, before developing an interest in enamel on metal. At the age of 17, he went to France, where he stayed for three years. He found a job in Limoges, a leading centre of enamelling, where he learnt his craft. Having been introduced to goldsmithing at an early age, he quickly developed a passion for the fire arts. From the very beginning, he constantly sought new ways to create light and colour. As he worked to master the craft, he let his imagination soar. With increasing enamelling skills, Séguin Poirier contributed enormously to the evolution of this ancient art, taking it in new directions. The artist worked on novel techniques and innovations in kiln design. For instance, he developed the biggest kiln in the world, which is equipped with a metal plate and guillotine doors. The kiln is installed in his main workshop at Pierre-Charay house, his historical home located west of Montréal in Les Cèdres, where he and his family have lived since 1969. His art radiates light through colour, inviting us to gaze into another world: a white bird messenger of freedom and peace, the silhouette of a child or musician—an invitation to look at life through a window into a world where every day is beautiful. A true humanist and visionary, Séguin Poirier shares his love of life through his art, a natural extension of his process. He imparts his enthusiasm for enamel on copper to the community by holding creative workshops, in which people of all ages and walks of life take part. Large mural projects take form, inviting private and public groups to contribute to a common endeavour: participants each create small enamel-on-copper tiles, which are then assembled into a collective work. Over 50 murals have been created and put up at sites including Montréal–Pierre Elliott Trudeau International Airport, Centre Jeunesse du grand Montréal (in the Quartier des spectacles), CHU Sainte-Justine hospital, as well as at public and private schools and institutions. Séguin Poirier's artistic career is at a peak—his devotion, energy and passion for his art are reflected in the enduring nature of both his professional projects and collective initiatives.
Read more
Details
Category
Enamels, Painting
Acquisition mode
Commission from the artist
Source mention
© Bernard Séguin Poirier - 20-08-2018
Overall size
5.4 m (high)
Location

Location
Location
Hôpital Notre-Dame, Pavillon J.A. De Sève
Localization
Main entrance
Adress
2099 rue Alexandre-DeSève, Montréal, QC
Accessibility
From 8 a.m. to 8 p.m.
Artwork description
The boards of Hôpital Notre-Dame and Pavillon J.A. De Sève asked me to create a piece in collaboration with the 1500 plus donors to the Pavillon. The biggest challenge was to not focus only on individuals who donated tens of thousands but to ensure that $50 donors were also included.
This issue made quite an impression on me. As the project progressed, the importance small donors attached to their contributions to this facility was palpable: you could feel the pride exuded by each on as well as that of the whole group.
There were many nights of firing at 2500 oF to make sure no one was left out!