{"title":"J'arrive | Art Public Montr\u00e9al","thisUrl":"https:\/\/artpublicmontreal.ca\/en\/oeuvre\/jarrive\/","body_class":"apm_artwork-template-default single single-apm_artwork postid-61205 apm lang-en apm-full-js nav-env-filters","query_hud":null,"active_filter":null,"alternate_language_url":"https:\/\/artpublicmontreal.ca\/oeuvre\/jarrive\/","clear_filter_collection":0,"clear_filter_tour":"clear","data_attributes":{"data-view-type":"apm_artwork"},"filter_root_url":"\/collection\/","artworkNav":false,"mapMarkers":[{"id":61205,"slug":"jarrive","title":"J'arrive","permalink":"https:\/\/artpublicmontreal.ca\/en\/oeuvre\/jarrive\/","year":"2014","loc":{"lat":"45.66123709999999","long":"-73.53885109999999"},"artist_names":"<span>Gilles<\/span> <strong>Mihalcean<\/strong>","thumb":"https:\/\/artpublicmontreal.ca\/wp-content\/uploads\/2016\/10\/AMT_2016-07-18_Gare_Riviere-des-Prairies-7-150x150.jpg","infoBox":false,"cat_color":"#e50f09","env":"outdoor","singleArtwork":true}]}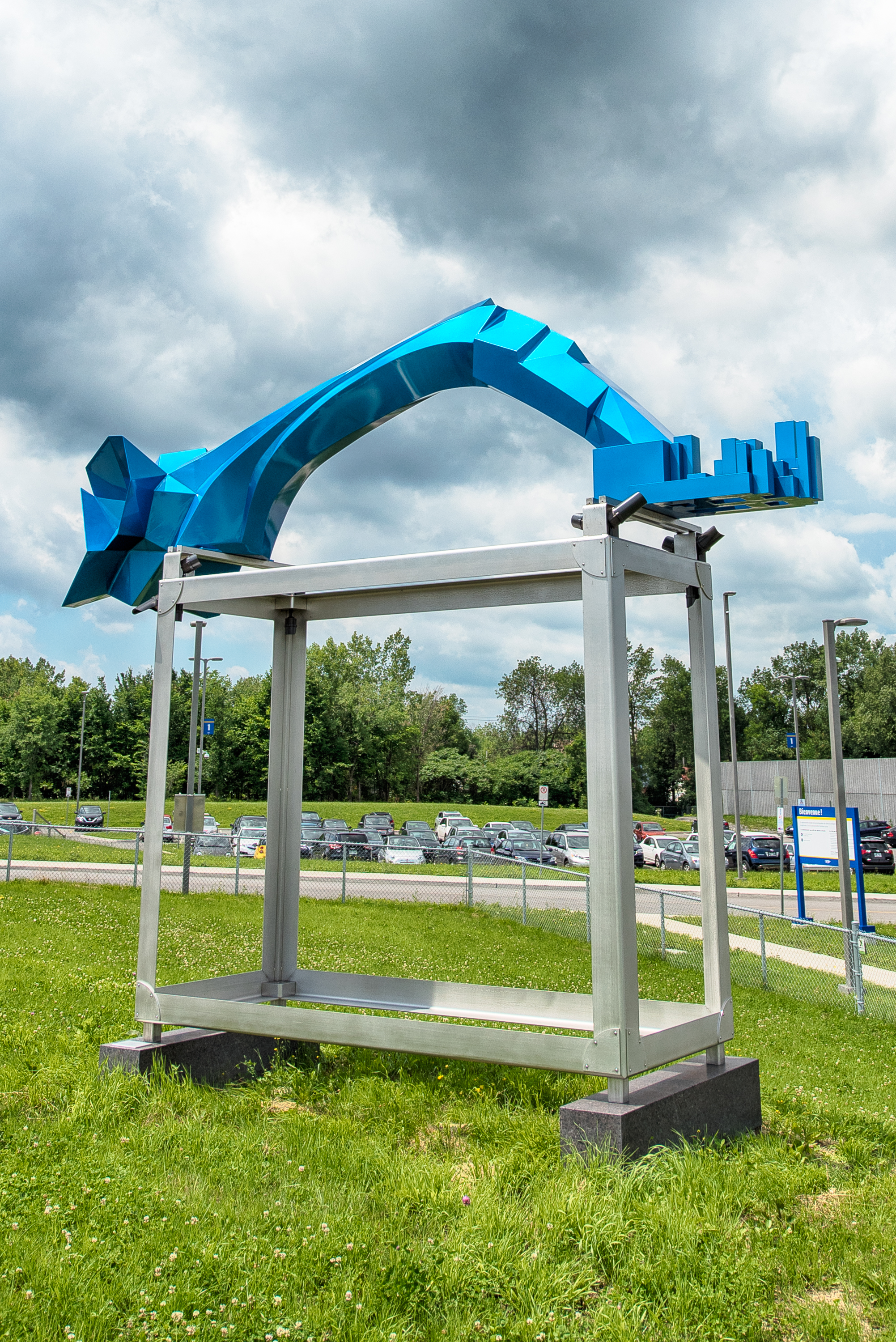 © Gilles Mihalcean (2016) -
Crédit photo : David Kirouac (2016)
J'arrive
2014
Gilles Mihalcean has been a self-taught sculptor since 1969. Though he spent a bit of time teaching at the Université Laval, he has devoted himself to his art since 1972.
As well as working on monumental pieces for public art projects and to integrate art to architecture, he also regularly presents his work in collective and special exhibitions. Since 1980, he has been one of the major names in the resurgence of sculpture. His work was showcased at the Musée d'art contemporain de Montréal (1988) for contemporary sculpture exhibits and at The Power Plant in Toronto (1988). As a solo artist, his art was showcased in Montreal galleries and art centers (René Blouin, Chantal Boulanger, Roger Bellemare and Circa) as well as Canadian ones (Southern Alberta Art Gallery) and in New York (49th Parallel, Centre for Contemporary Canadian Art). In 1995, the Musée d'art contemporain de Montréal dedicated a retrospective exhibit to him, and was recently on display at the Musée d'art de Joliette (2007).
Mihalcean's sculptural work is deeply lucid and leads us to more lurid and critical pieces. Time is a fundamental aspect of his art; may it be the time needed by the creator, the time token by the spectator when observing the piece and the time absorbed by history – visible in nearly all his art.
Mihalcean is known for his pieces filled with conceptual dichotomies which lead the observer to reflect. His pieces are often tripartite and the meaning that somebody could find in the close proximity between two elements is often shattered by the third. This principle is supported by the use of contrasting materials and many interrelationships. It also isn't rare that the artist invite spectators to touch his sculptures and feel them in order to better understand them.
Read more
Details
Acquisition mode
Politique d'intégration des arts à l'architecture et à l'environnement, Government of Quebec
Materials
aluminum, stainless steel
Overall size
4 x 5,2 x 1,2 m
Technique(s)
brushed, painted, sanded, welded
Location

Location
Location
Rivière-des-Prairies train station, Mascouche line
Localization
Entrance of the parking lot
Adress
10801 Boulevard Maurice-Duplessis, Montréal, QC H1C
Artwork description
Titled J'arrive, the artwork was created from the idea of the suitcase, an object that evokes transportation. "The suitcase already means the train station and the departure, it's the object with which one goes somewhere else, toward the outside," Mihalcean underlines.
The artist chose to use the two main components of the suitcase: the case, represented by an open structure "that outlines a living space, a project, interiority". "The handle, which resembles a flowering branch, a mountain range, and a city, bears the idea of trajectory and movement," he observes. With the open structure and the handle, evocative of destinations, the sculptor depicts the travel and the discovery of both oneself and a new place.