{"title":"La danse des esprits libres | Art Public Montr\u00e9al","thisUrl":"https:\/\/artpublicmontreal.ca\/en\/oeuvre\/la-danse-des-esprits-libres\/","body_class":"apm_artwork-template-default single single-apm_artwork postid-59902 apm lang-en apm-full-js nav-env-filters","query_hud":null,"active_filter":null,"alternate_language_url":"https:\/\/artpublicmontreal.ca\/oeuvre\/la-danse-des-esprits-libres\/","clear_filter_collection":0,"clear_filter_tour":"clear","data_attributes":{"data-view-type":"apm_artwork"},"filter_root_url":"\/collection\/","artworkNav":false,"mapMarkers":[{"id":59902,"slug":"la-danse-des-esprits-libres","title":"La danse des esprits libres","permalink":"https:\/\/artpublicmontreal.ca\/en\/oeuvre\/la-danse-des-esprits-libres\/","year":"2015","loc":{"lat":"45.45710005220729","long":"-73.58827682576026"},"artist_names":"<span>Carlito<\/span> <strong>Dalceggio<\/strong>","thumb":"https:\/\/artpublicmontreal.ca\/wp-content\/uploads\/2016\/08\/EspritsLibres-150x150.jpg","infoBox":false,"cat_color":"#e50f09","env":"outdoor","singleArtwork":true}]}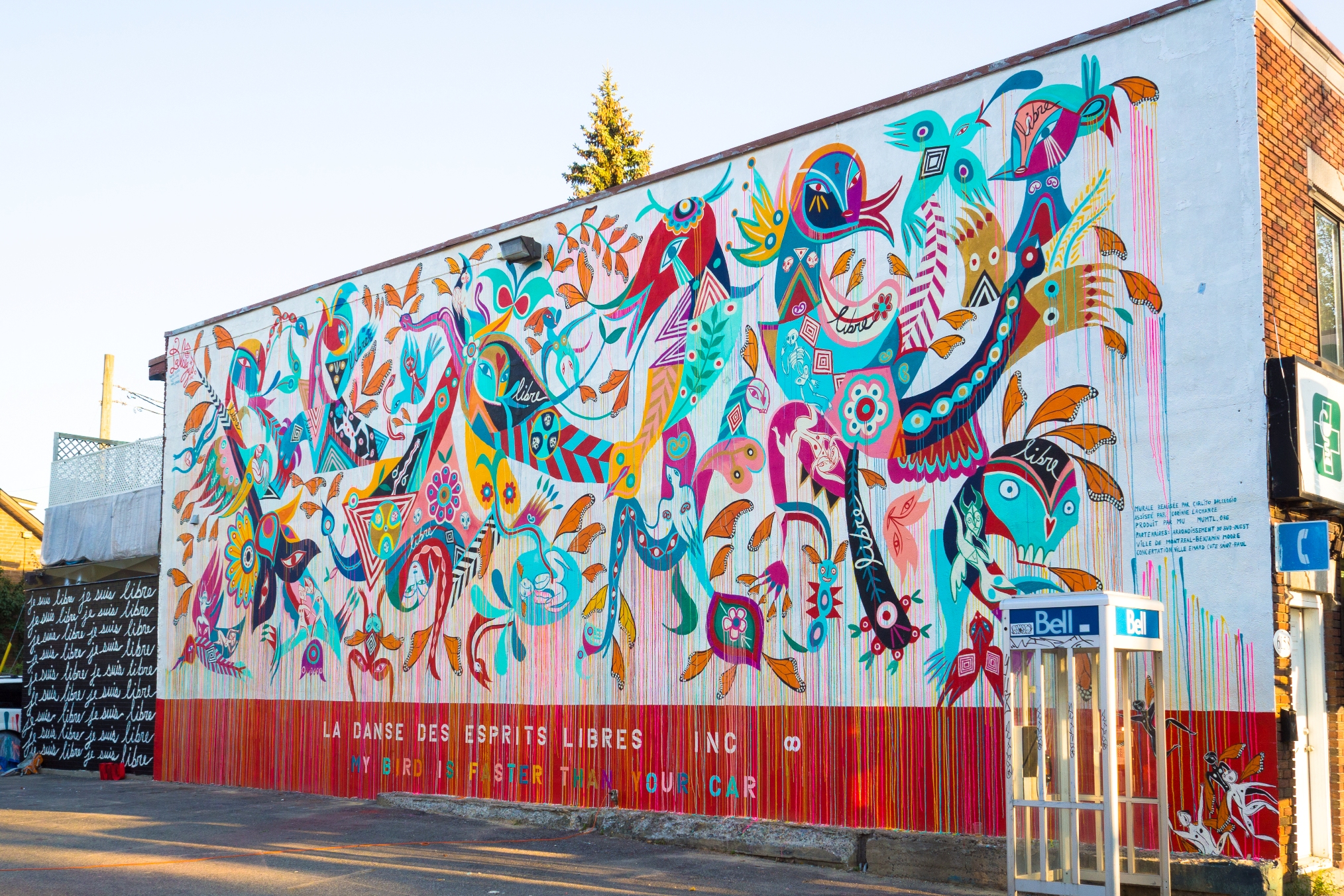 © Carlito Dalceggio, produced by MU -
Crédit photo : Olivier Bousquet (2015)
La danse des esprits libres
2015
Born in Montreal, Carlito Dalceggio's influences are various. From Bali to New York, with stops in India or Mexico, each of these places feed his artistic vision and push his sense of esthetic ever further. Citizen of the world and a modern times nomad, Carlito searches for a perfect unity between art and life. His attention to the detail in every moment of his life in order to sustain his favourite sources of inspiration : love, nature, vision and conscience.
Read more
Details
Funding
Arrondissement du Sud-Ouest, Ville de Montréal
Source mention
In collaboration with other financial partners
Location

Location
Adress
6158 Laurendeau street, Montréal, QC H4E 3X7, Canada
Artwork description
A total of four murals have been produced by MU in the Sud-Ouest borough between 2011 and 2015. These large-scale projects are part of a broader, long-term mission to clean up, revitalize and beautify the sector.
This 5th mural project was the brainchild of Concertation Ville-Émard-Côte-Saint-Paul, the organization spearheading the integrated urban revitalization efforts and the Quartier 21 program, with the support of the Sud-Ouest borough. The Quartier 21 program aims to improve the health and quality of life of its citizens (greening, active transportation, urban agriculture) while the revitalization committee is focused on the redevelopment and beautification of Laurendeau Street. Carlito Dalceggio's mural complements these ongoing efforts.