{"title":"La porte de l'avenir | Art Public Montr\u00e9al","thisUrl":"https:\/\/artpublicmontreal.ca\/en\/oeuvre\/la-porte-de-lavenir\/","body_class":"apm_artwork-template-default single single-apm_artwork postid-49935 apm lang-en apm-imported-item apm-full-js nav-env-filters","query_hud":null,"active_filter":null,"alternate_language_url":"https:\/\/artpublicmontreal.ca\/oeuvre\/la-porte-de-lavenir\/","clear_filter_collection":0,"clear_filter_tour":"clear","data_attributes":{"data-view-type":"apm_artwork"},"filter_root_url":"\/collection\/","artworkNav":false,"mapMarkers":[{"id":49935,"slug":"la-porte-de-lavenir","title":"La porte de l'avenir","permalink":"https:\/\/artpublicmontreal.ca\/en\/oeuvre\/la-porte-de-lavenir\/","year":"2000","loc":{"lat":"45.457215","long":"-73.547032"},"artist_names":"<span>Roger<\/span> <strong>Langevin<\/strong>","thumb":"https:\/\/artpublicmontreal.ca\/wp-content\/uploads\/imported\/1704_4597-150x150.jpg","infoBox":false,"cat_color":"#e50f09","env":"outdoor","singleArtwork":true}]}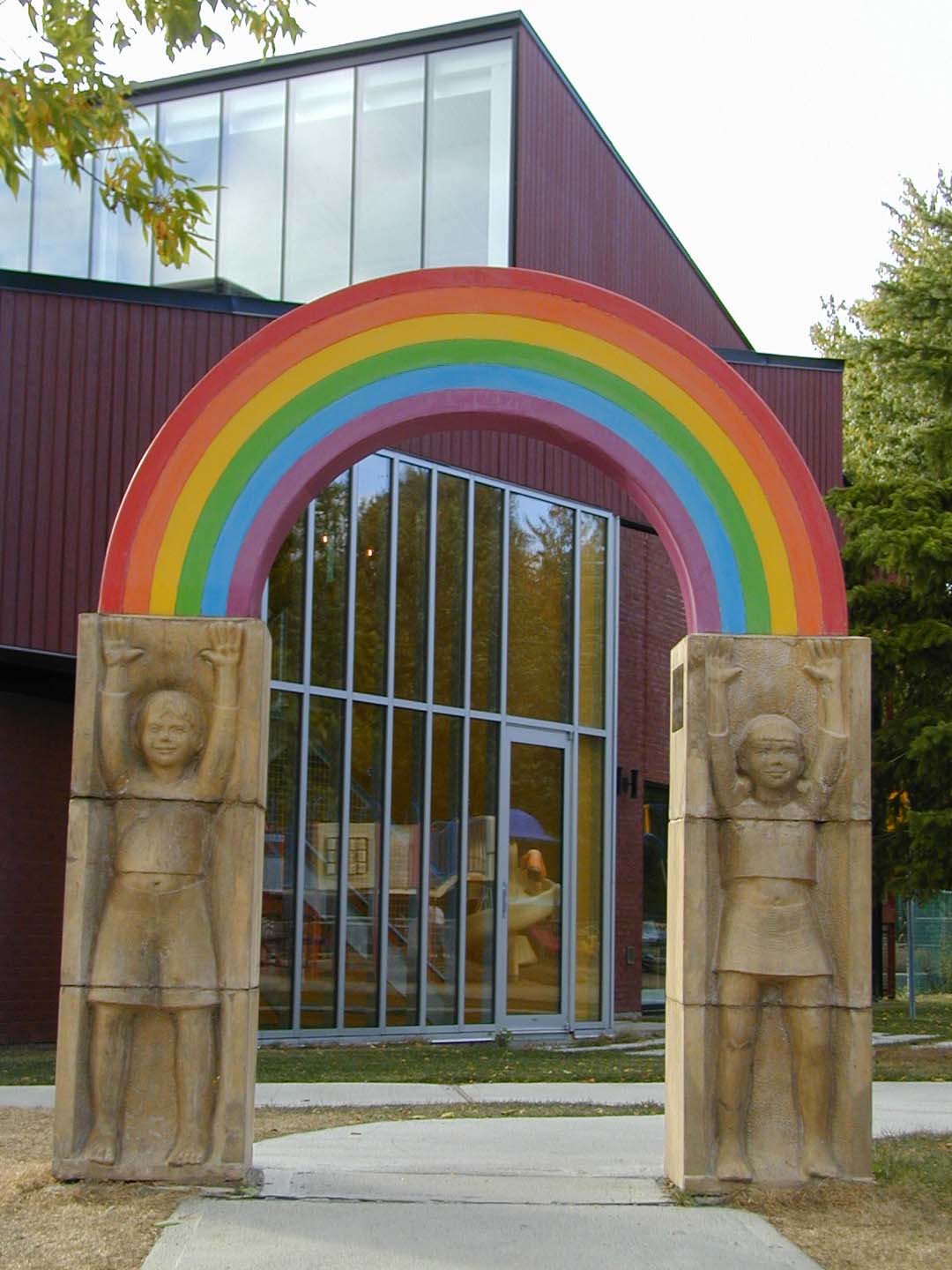 © Roger Langevin, 2007 -
Crédit photo: Alain Chassé, 2003
La porte de l'avenir
2000
Roger Langevin studied at the École des beaux-arts de Montréal, then earned a degree in visual arts education at the Université du Québec à Montréal. He was a professor of visual arts from 1963 to 1975. He created a number of monumental sculptures, including, in 1981, Monument aux travailleurs, a permanent artwork for the front of the head office of the Confédération des syndicats nationaux, on Avenue De Lorimier in Montréal. One of his bronze sculptures, Nos traces en héritage (1989), is installed at the Centre de la nature de Laval.
Read more
Details
Acquisition mode
Transfer
Materials
concrete, fiber glass, resin
Overall size
238 x 201,5 x 42 cm
Technique(s)
engraved, painted, piled up
Location

Location
Adress
260 Rue Elgar, Verdun, QC
Artwork description
The artwork is situated in front of the Elgar Community Centre on Île-des-Sœurs. It is an arch-shaped sculpture, evoking a rainbow supported by two columns. Each column is formed of three superimposed rectangular blocks in which is sculpted an haut-relief figure, a boy or a girl, arms raised. The same figures are placed on the opposing face of the sculpture so that each column offers an haut-relief likeness of a boy or girl. The rainbow is composed of six bands coloured, respectively, red, orange, yellow, green, blue, and mauve.
Langevin's practice involves figurative sculpture in which the human figure is the focal point: "To the humanist dimension of my work is added a concern with ecology – that is, sculpture as a function of quality of life. I try to find a balance between today's anguished world and the fact that my figures live in a sort of ideal society." 1
1. Serge Fisette, "Roger Langevin: glossaire d'un sculpteur," Espace sculpture, vol. 5, no. 1 (1988): 17.