{"title":"La v\u00e9locit\u00e9 des lieux | Art Public Montr\u00e9al","thisUrl":"https:\/\/artpublicmontreal.ca\/en\/oeuvre\/la-velocite-des-lieux\/","body_class":"apm_artwork-template-default single single-apm_artwork postid-55649 apm lang-en apm-full-js nav-env-filters","query_hud":null,"active_filter":null,"alternate_language_url":"https:\/\/artpublicmontreal.ca\/oeuvre\/la-velocite-des-lieux\/","clear_filter_collection":0,"clear_filter_tour":"clear","data_attributes":{"data-view-type":"apm_artwork"},"filter_root_url":"\/collection\/","artworkNav":false,"mapMarkers":[{"id":55649,"slug":"la-velocite-des-lieux","title":"La v\u00e9locit\u00e9 des lieux","permalink":"https:\/\/artpublicmontreal.ca\/en\/oeuvre\/la-velocite-des-lieux\/","year":"2015","loc":{"lat":"45.596262","long":"-73.642587"},"artist_names":"<strong>BGL<\/strong>","thumb":"https:\/\/artpublicmontreal.ca\/wp-content\/uploads\/2016\/04\/BGL_La_velocite_des_lieux_057comp-150x150.jpg","infoBox":false,"cat_color":"#e50f09","env":"outdoor","singleArtwork":true}]}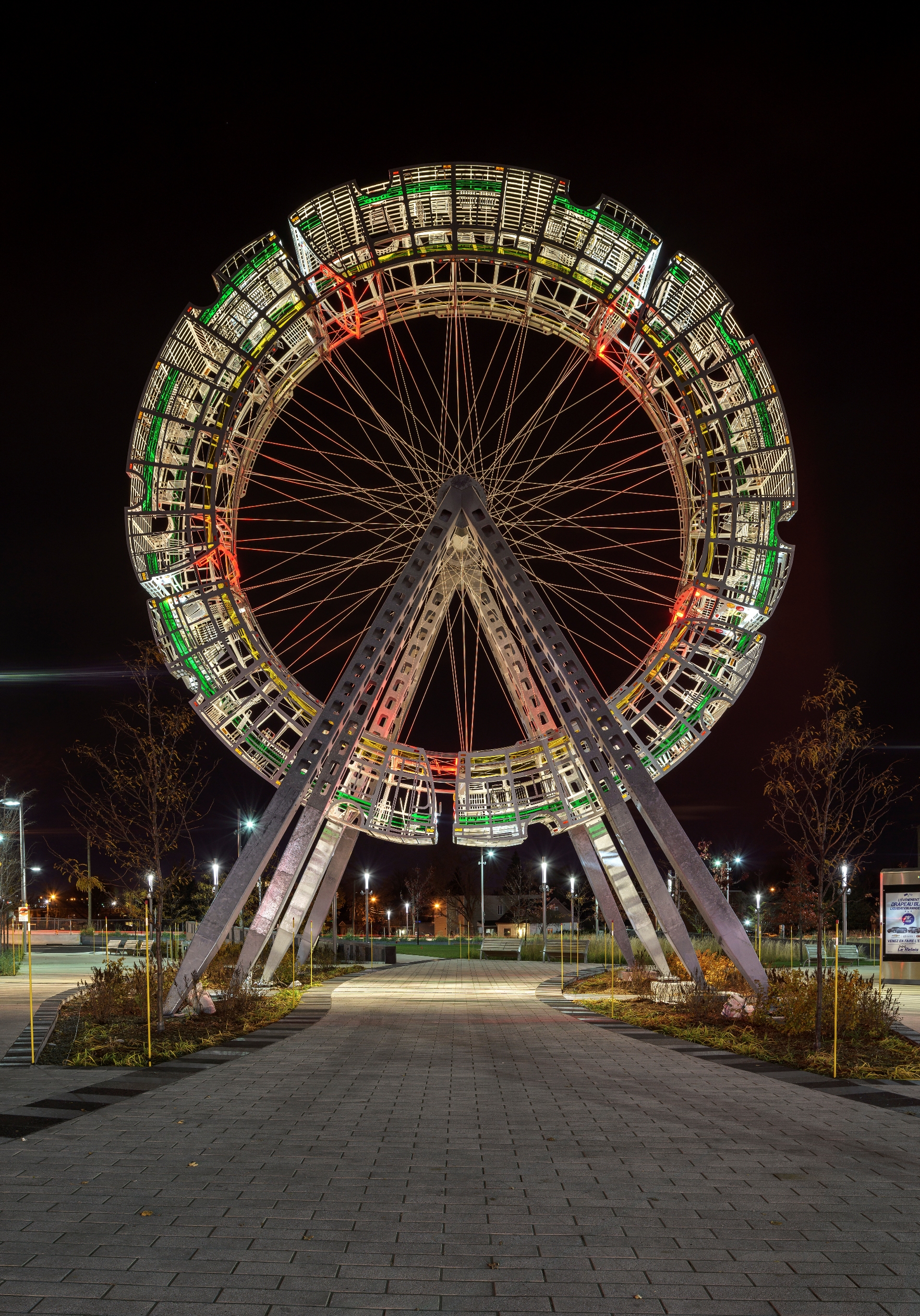 © BGL (2015) -
Crédit photo : Guy L'Heureux, 2015
La vélocité des lieux
2015
The Québec collective BGL, active since 1996, challenges the North American way of life by producing works, often playful in nature, that express social concerns. Formed of the artists Jasmin Bilodeau, Sébastien Giguère, and Nicolas Laverdière, all of whom studied at Université Laval, BGL has created a good number of installations in Québec, Canada, and abroad. Its works are in numerous private and institutional collections (National Gallery of Canada, Musée national des beaux-arts du Québec, Montréal Museum of Fine Art, Musée d'art contemporain de Montréal). The collective produced an artwork integrated with architecture at the Maison symphonique de Montréal in 2001, and a work of public art for the Pan American Games aquatic centre in Toronto in 2014. BGL represented Canada at the 56th Venice Art Biennale.
Read more
Details
Alternative title
La grande roue
Acquisition mode
Competition by invitation
Materials
aluminum, galvanized steel, light-emitting diode (LED), plexiglas, stainless steel
Location

Location
Location
Carrefour Henri-Bourassa–Pie-IX
Artwork description
Bringing together monumental sculpture and carnival, the artwork is composed of five curved silhouettes evoking buses, placed on eight columns of openwork steel. It resembles a Ferris wheel. Although the artwork is static, it suggests movement. Visible from a distance, it stands out as a key element in the urban landscape and is intended to express the flow of traffic and ambient human circulation, reflecting activity in the sector. Evoking community, play, vertigo, festivity, and the joy of movement, the artwork offers an opportunity to let the imagination run free within a context ruled by the efficiency of daily travel.
The title refers to the artists' playful attitude and desire to exploit contrasts. They write, "The speed of a place is physically impossible to measure because it is static." As a consequence, "The velocity of a place corresponds to its peak times, to the pace of activity taking place there. From this point of view, a gym goes much more quickly than does a library."