{"title":"La vie \u00e0 Montr\u00e9al au XIXe si\u00e8cle | Art Public Montr\u00e9al","thisUrl":"https:\/\/artpublicmontreal.ca\/en\/oeuvre\/la-vie-a-montreal-au-xixe-siecle\/","body_class":"apm_artwork-template-default single single-apm_artwork postid-61073 apm lang-en apm-full-js nav-env-filters","query_hud":null,"active_filter":null,"alternate_language_url":"https:\/\/artpublicmontreal.ca\/oeuvre\/la-vie-a-montreal-au-xixe-siecle\/","clear_filter_collection":0,"clear_filter_tour":"clear","data_attributes":{"data-view-type":"apm_artwork"},"filter_root_url":"\/collection\/","artworkNav":false,"mapMarkers":[{"id":61073,"slug":"la-vie-a-montreal-au-xixe-siecle","title":"La vie \u00e0 Montr\u00e9al au XIXe si\u00e8cle","permalink":"https:\/\/artpublicmontreal.ca\/en\/oeuvre\/la-vie-a-montreal-au-xixe-siecle\/","year":"1974","loc":{"lat":"45.5039317","long":"-73.57165889999999"},"artist_names":"<span>Nicolas<\/span> <strong>Sollogoub<\/strong>","thumb":"https:\/\/artpublicmontreal.ca\/wp-content\/uploads\/2015\/05\/McGill_Sollogoub_1_JPG-150x150.jpg","infoBox":false,"cat_color":"#e50f09","env":"indoor","singleArtwork":true}]}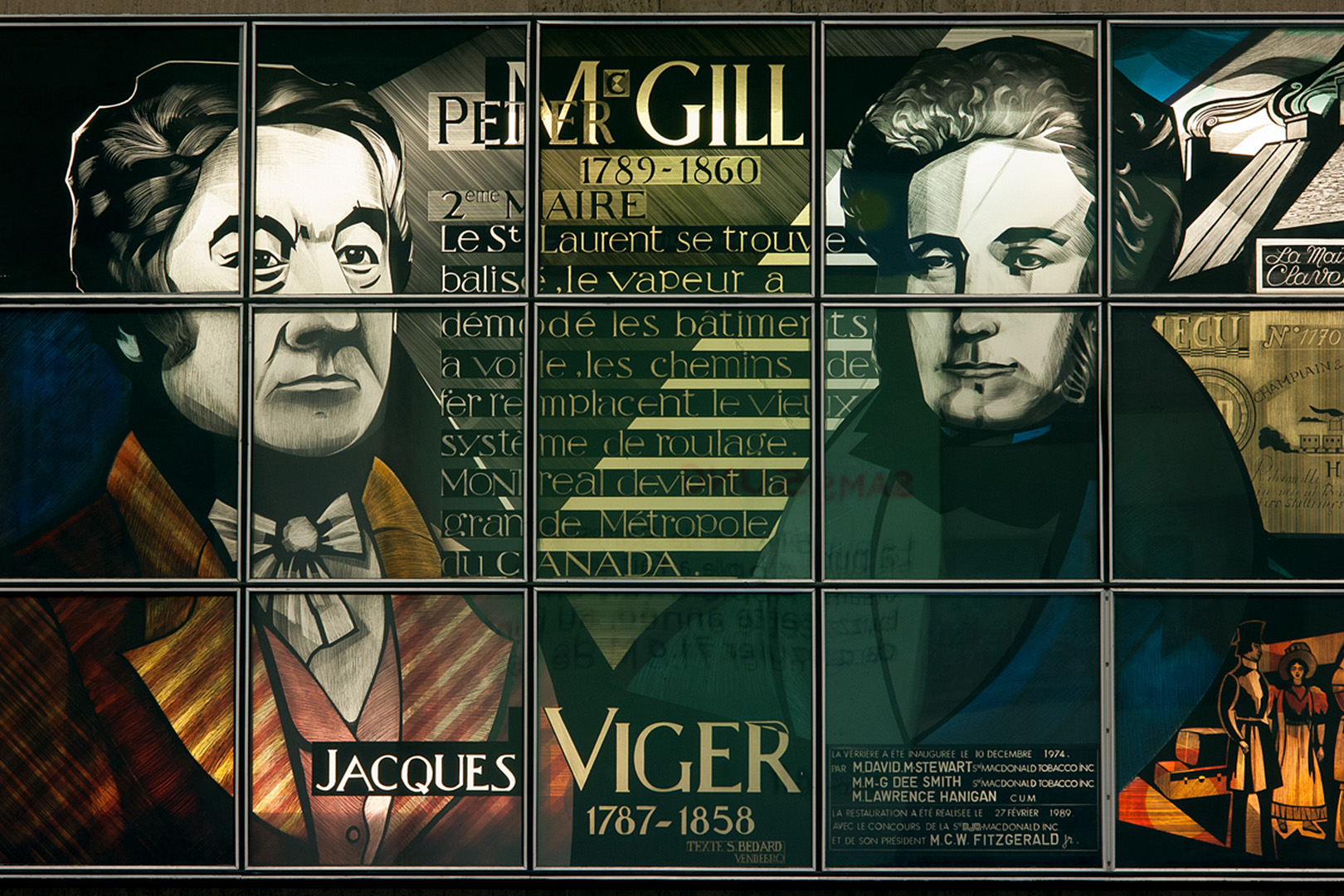 © Succession Nicolas Sollogoub (2020) -
Crédit photo :
La vie à Montréal au XIXe siècle
1974
1925 - 2014
Nicolas Sollogoub (1925-2014) was born to Russian parents in Soissons (France) and later settled in Québec in the 1950s. He directed several artistic and heritage projects while pursuing his career at Radio-Canada as a set decorator, where he also worked with Frédéric Back. Specifically, he oversaw the Château Dufresne restoration in Montréal (1976 – 1977), saved from demolition during construction of the Olympic Park, developed animated ads for the métro (later abandoned), and created stained glass panels dedicated to Samuel de Champlain for the Église Saint-Paul-et-Saint-Pierre de Brouage in France. His most widely-known work is undoubtedly Montréal Scenes Circa 1830 (La vie à Montréal au XIXe siècle), a series of illuminated murals made of 1200 painted glass pieces, and the last work of art in the métro to have been inspired by the history of the city of Montréal. In 2014, Pointe-à-Callière, the Montréal Archaeology and History Complex, added one of the artist's works, entitled 1701 — The Great Peace of Montréal, to its permanent collection. This majestic fresco is central to the museum's Where Montréal Was Born exhibition.
Sollogoub's artistic process reveals a profound awareness of history and heritage. From his stained glass panels inside Église Saint-Paul-et-Saint-Pierre de Brouage, inspired from sketches left by Champlain himself, to Montréal Scenes Circa 1830, in which two of Montréal's first mayors, Jacques Viger and Peter McGill, are depicted, his works provide abundant examples of the artist's efforts to create a connection with the past. By establishing relationships between yesterday and today, between French-speaking and English-speaking communities, between the Old World and the New, Sollogoub was by and far underscoring the need to remember and the duty of memory.
Read more
Details
Alternative title
Montréal Scenes Circa 1830
Acquisition mode
Donation
Source mention
Gift of Macdonald Tobacco
Location

Location
Location
McGill metro station
Localization
Honoré-Beaugrand platform
Artwork description
This suite of five illuminated murals, each made of hundreds of pieces of colored glass, illustrates aspects of Montréal life from 1800 to 1870. In particular, it features the city's first mayor, Jacques Viger, and his successor, Peter McGill.
The artwork was recently restored and was absent from the station from December 2012, until June 2016.