{"title":"Le cycle de la pollinisation | Art Public Montr\u00e9al","thisUrl":"https:\/\/artpublicmontreal.ca\/en\/oeuvre\/le-cycle-de-la-pollinisation\/","body_class":"apm_artwork-template-default single single-apm_artwork postid-65576 apm lang-en apm-full-js nav-env-filters","query_hud":null,"active_filter":null,"alternate_language_url":"https:\/\/artpublicmontreal.ca\/oeuvre\/le-cycle-de-la-pollinisation\/","clear_filter_collection":0,"clear_filter_tour":"clear","data_attributes":{"data-view-type":"apm_artwork"},"filter_root_url":"\/collection\/","artworkNav":false,"mapMarkers":[{"id":65576,"slug":"le-cycle-de-la-pollinisation","title":"Le cycle de la pollinisation","permalink":"https:\/\/artpublicmontreal.ca\/en\/oeuvre\/le-cycle-de-la-pollinisation\/","year":"2017","loc":{"lat":"45.542691","long":"-73.54967399999998"},"artist_names":"<span>Benny<\/span> <strong>Wilding<\/strong>, <strong>Monk-E<\/strong>","thumb":"https:\/\/artpublicmontreal.ca\/wp-content\/uploads\/2018\/07\/Cycle_polli_Cr\u00e9dit_YQQ_2-150x150.jpg","infoBox":false,"cat_color":"#e50f09","env":"outdoor","singleArtwork":true}]}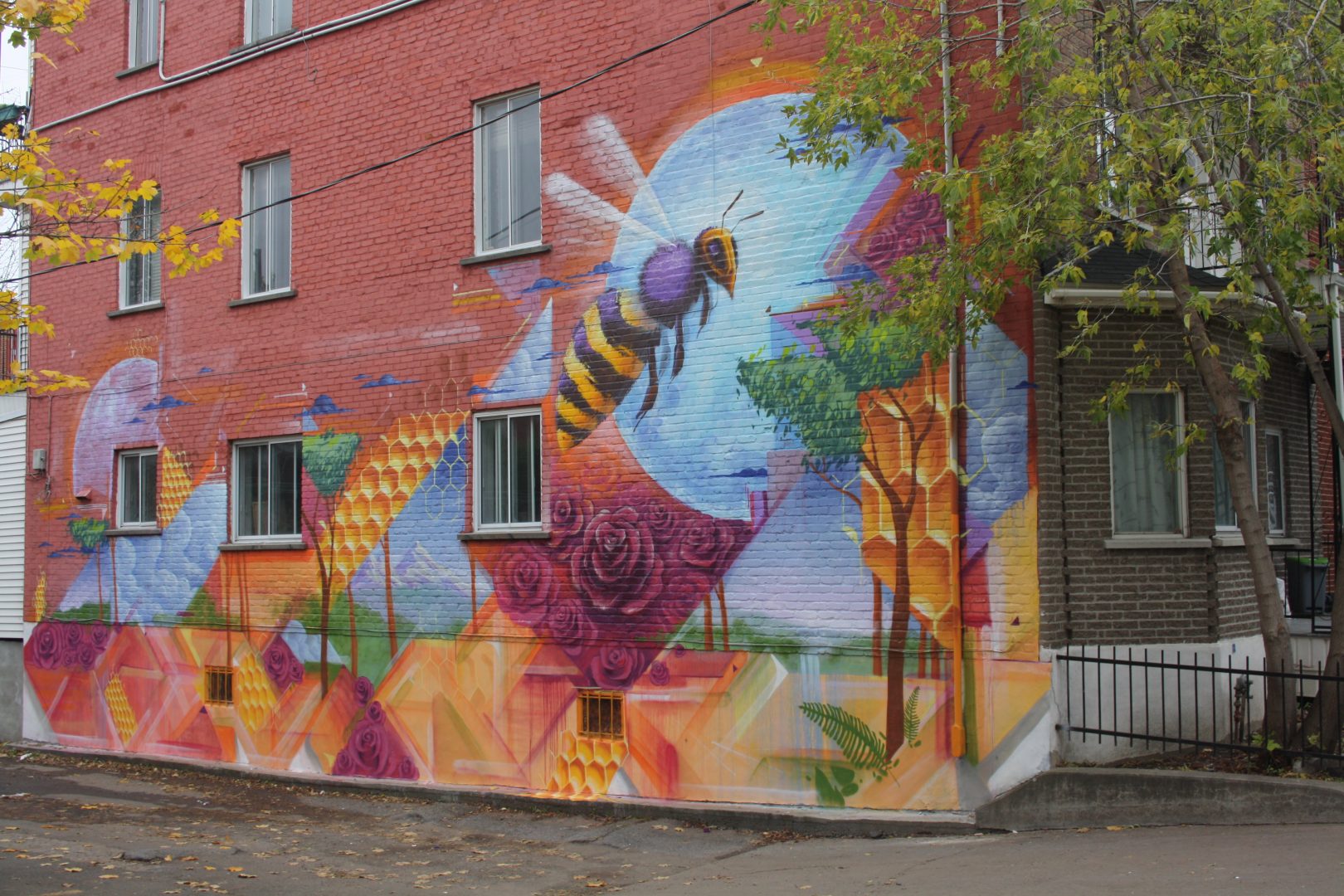 © Benny Wilding et Monk.e -
Crédit photo :
Le cycle de la pollinisation
2017
Benny Wilding discovers his love for the arts for the first time in New York, at the age of 12, in the middle of the '90s. Highly impressed by the painted walls criss-crossing the city that never sleeps, he returns to Montreal with the desire to shine in this new graffiti culture. Pursuing his new passion in all of its aspects, within his city and its surroundings, today he is more and more interested in aesthetic and artistic approaches and painting large scale murals.
Benny Wilding's work is akin to American pop art, with references to comics, advertising and commercial lettering. The mural or the painting is constructed by surprising contrasts and associations. His studies in computer graphics and 3D animation certainly have an impact in his artistic approach.
Read more
One of the iconic figure of the hip hop culture in Québec, Monk-E is known for his prose and urban painting. Since his beginnings in the world of graffiti and music with the K6A collective, Monk-E knows how to impose his artistic vision, independently of the industry requirements.
Read more
Details
Funding
Arrondissement de Mercier–Hochelaga-Maisonneuve, Ville de Montréal
Mediums
acrylic, spray paint
Location

Location
Adress
2171 Rue Saint Germain, Montréal, QC, Canada
Tour
Tour
Podcast / Discovering rue Ontario E
10 Artworks

35min

Le cycle de la pollinisation

Untitled