{"title":"Le phare d'Archim\u00e8de | Art Public Montr\u00e9al","thisUrl":"https:\/\/artpublicmontreal.ca\/en\/oeuvre\/le-phare-darchimede\/","body_class":"apm_artwork-template-default single single-apm_artwork postid-50250 apm lang-en apm-imported-item apm-full-js nav-env-filters","query_hud":null,"active_filter":null,"alternate_language_url":"https:\/\/artpublicmontreal.ca\/oeuvre\/le-phare-darchimede\/","clear_filter_collection":0,"clear_filter_tour":"clear","data_attributes":{"data-view-type":"apm_artwork"},"filter_root_url":"\/collection\/","artworkNav":false,"mapMarkers":[{"id":50250,"slug":"le-phare-darchimede","title":"Le phare d'Archim\u00e8de","permalink":"https:\/\/artpublicmontreal.ca\/en\/oeuvre\/le-phare-darchimede\/","year":"1986","loc":{"lat":"45.429161","long":"-73.688205"},"artist_names":"<span>Dominique<\/span> <strong>Rolland<\/strong>","thumb":"https:\/\/artpublicmontreal.ca\/wp-content\/uploads\/imported\/1872_4945-150x150.jpg","infoBox":false,"cat_color":"#e50f09","env":"outdoor","singleArtwork":true}]}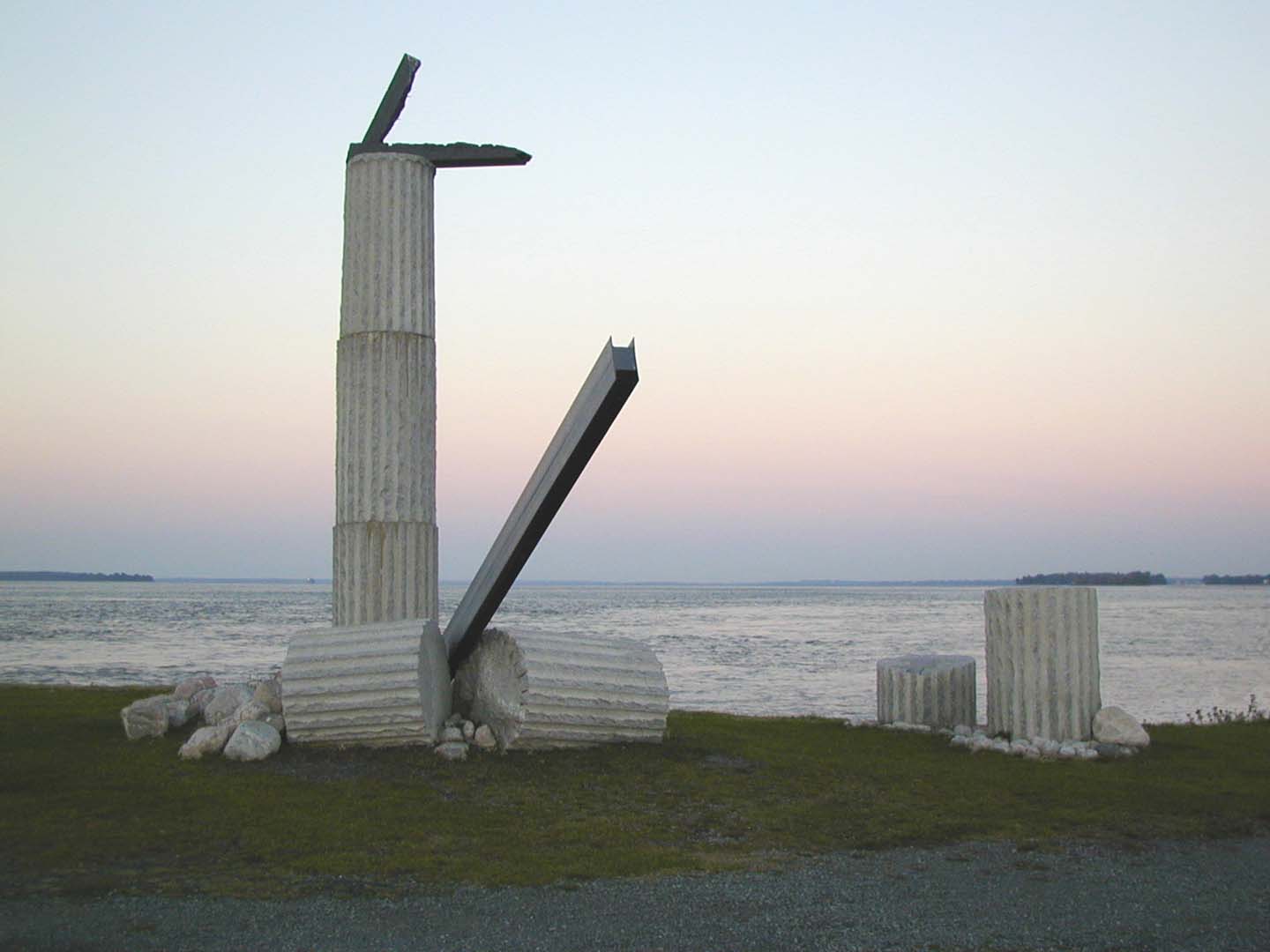 Crédit photo: Alain Chassé, 2003
Le phare d'Archimède
1986
Dominique Rolland studied sculpture at Université du Québec à Montréal from 1974 to 1979, and then earned a master's degree in management of cultural organizations at Hautes Études Commerciales de l'Université de Montréal in 1998.
He founded the Centre des arts contemporains du Québec à Montréal in 1983, and for a number of years he coordinated sculpture events for the Ville de Lachine. A number of Rolland's artworks are in public and private collections: Les Arts Verts, the Ville de Melun-Sénart in France, Université du Québec à Montréal, and the Musée d'art contemporain de Montréal.
Read more
Details
Acquisition mode
Transfer
Materials
granite, néon, steel
Overall size
750 x 1000 x 1050 cm
Technique(s)
buffed, cemented
Location

Location
Location
Parc René-Lévesque
Artwork description
Situated at the end of Parc René-Lévesque, near Lake St. Louis, the sculpture represents, as its title indicates, a lighthouse that might guide ships and strollers. A tall white column rises in the middle of debris composed of stones and overturned sections of columns. At the pinnacle of the column are two black-granite volumes describing an acute angle. On the ground, a steel beam is inclined to make a similar angle, evoking a lever. The artwork originally included a lighting system that could not be made functional because it would have interfered with navigation aids.
The title of the work refers to Archimedes, an ancient Greek scholar who wrote the first scientific treatise on statics, On the Equilibrium of Planes. The treaty contained the "law of the lever" and the bases for scientific hydrostatics (buoyancy). Archimedes left a considerable body of work; he conducted research in mathematics, geometry, and physics, laying the foundation for the development of science.