{"title":"Les d\u00e9clins de verre | Art Public Montr\u00e9al","thisUrl":"https:\/\/artpublicmontreal.ca\/en\/oeuvre\/les-declins-de-verre\/","body_class":"apm_artwork-template-default single single-apm_artwork postid-66497 apm lang-en apm-full-js nav-env-filters","query_hud":null,"active_filter":null,"alternate_language_url":"https:\/\/artpublicmontreal.ca\/oeuvre\/les-declins-de-verre\/","clear_filter_collection":0,"clear_filter_tour":"clear","data_attributes":{"data-view-type":"apm_artwork"},"filter_root_url":"\/collection\/","artworkNav":false,"mapMarkers":[{"id":66497,"slug":"les-declins-de-verre","title":"Les d\u00e9clins de verre","permalink":"https:\/\/artpublicmontreal.ca\/en\/oeuvre\/les-declins-de-verre\/","year":"2003","loc":{"lat":"45.494735","long":" -73.560841"},"artist_names":"<span>Pierre E.<\/span> <strong>Leclerc<\/strong>","thumb":"https:\/\/artpublicmontreal.ca\/wp-content\/uploads\/2019\/06\/DeclinVerre_CDCM_jpg3-150x150.jpg","infoBox":false,"cat_color":"#e50f09","env":"outdoor","singleArtwork":true}]}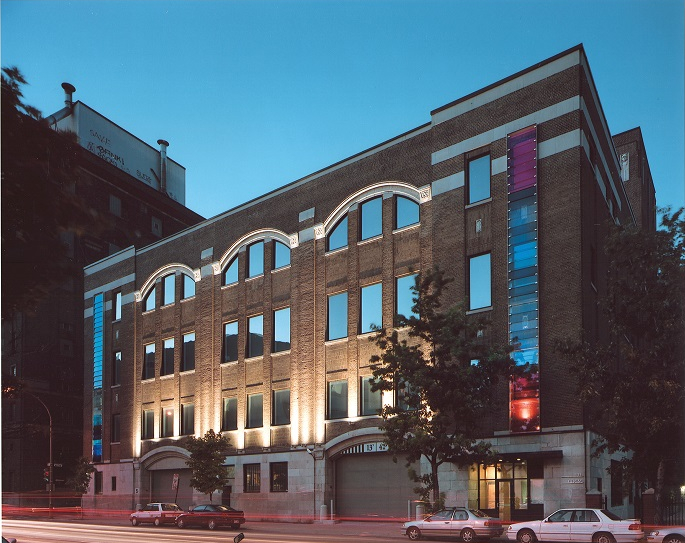 © Pierre E. Leclerc (2019) -
Crédit photo : Michel Brunelle, 2004
Les déclins de verre
2003
Pierre E. Leclerc graduate in fine arts at Concordia University and complete a master degree in Architecture from MIT (Massachussetts Institute of technology in 1990). In parallel with his work in architecture, Pierre E. Leclerc is involved in public art and won over twenty major public art works competion for institutionnal buildings. Since 1984, he exhibit his art and architectural work in numerous exhibition and symposium in France, Belgium, United states and Canada.
Read more
Details
Acquisition mode
Politique d'intégration des arts à l'architecture et à l'environnement, Government of Quebec
Materials
aluminum, colored glass
Overall size
47' haut x 9' 3/4'' large x 4' profond
Location

Location
Location
Montréal's Museum Collections centre
Localization
Building's facade
Adress
333, rue Peel, Montréal QC H3C 3R9
Accessibility
At all time
Artwork description
From the building's facade, be it day or night, one can admire the piece of glass art entitled Les Déclins de Verre. Composed of two long vertical coloured panels in low relief, each frame contains 35 glass panels overlapping in decline, letting the stone face and the windows show through.
Built in 1929 from the original plans of architect Louis-Auguste Amos (1869-1948), the building served as a parking lot and workshop for Dow Breweries. Today, the 333 Peel Street now also houses The Montreal Museums Society headquarters as well as the Museum Collections Centre. The art piece was commissioned to Pierre E. Leclerc when architects Provencher Roy et associés undertook the conversion of the building. The original brick facade was kept in the building's transformation process, thus preserving the heritage character of it's typical early 20th century industrial architecture.
In order to design a piece that would reflect the Art Deco style of the building, Pierre E. Leclerc took his inspiration from the Museum Collections Centre's mission to conserve and protect. Since the Centre holds exceptional pieces of art within it's walls, the artist aimed to have his own piece play the same role: to "protect" the building against adverse weather, like a «skin», explains the artist. The glass was chosen as the medium due to its reflectivity: "The transparency and reflectivity of coloured glass allows it to take hold of the environment… the daylight, the sky, the clouds…". At nightfall, a light design imagined by Gordon Edward enhances the building's facade.