{"title":"Les touristes | Art Public Montr\u00e9al","thisUrl":"https:\/\/artpublicmontreal.ca\/en\/oeuvre\/les-touristes\/","body_class":"apm_artwork-template-default single single-apm_artwork postid-67650 apm lang-en apm-full-js nav-env-filters","query_hud":null,"active_filter":null,"alternate_language_url":"https:\/\/artpublicmontreal.ca\/oeuvre\/les-touristes\/","clear_filter_collection":0,"clear_filter_tour":"clear","data_attributes":{"data-view-type":"apm_artwork"},"filter_root_url":"\/collection\/","artworkNav":false,"mapMarkers":[{"id":67650,"slug":"les-touristes","title":"Les touristes","permalink":"https:\/\/artpublicmontreal.ca\/en\/oeuvre\/les-touristes\/","year":"1989","loc":{"lat":"45.505765","long":" -73.557942"},"artist_names":"<span>ELISABETH<\/span> <strong>BUFFOLI<\/strong>","thumb":"https:\/\/artpublicmontreal.ca\/wp-content\/uploads\/2019\/10\/Buffoli_Les_touristes_3_ult-150x150.jpg","infoBox":false,"cat_color":"#e50f09","env":"outdoor","singleArtwork":true}]}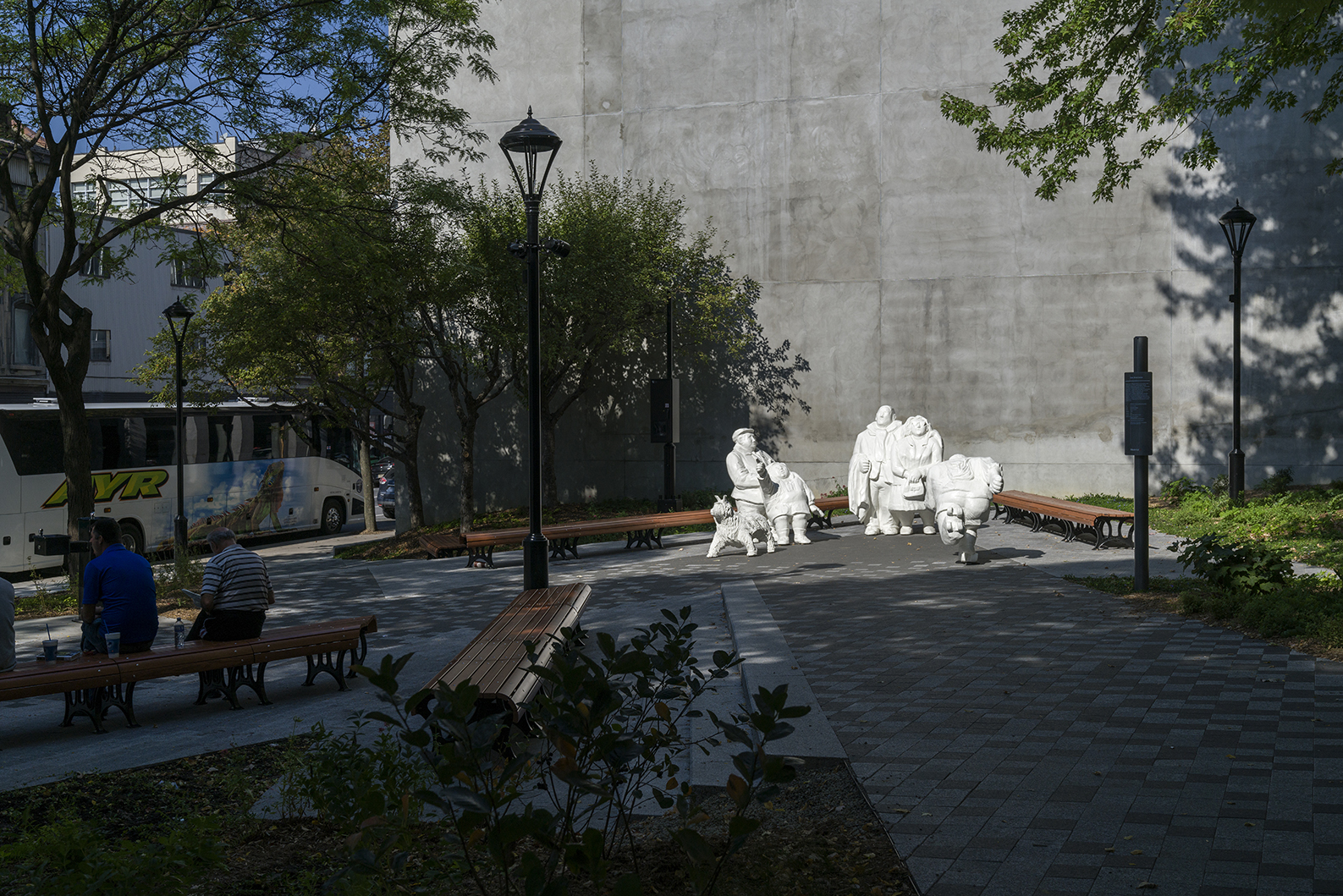 © ELISABETH BUFFOLI / SOCAN (2021) -
Crédit photo : Guy L'heureux
Les touristes
1989
Elisabeth Buffoli was born in Nancy, France, in 1940. She lives and works in the Perche region of Normandie. Her works, produced for galleries and the public space, are developed around recurrent themes: dogs and their human companions, dance, and nature. Buffoli captures snapshots and private moments and then illustrates activities with humour, tenderness, empathy, and irony. Since the late 1960s, her work has been regularly exhibited in museums and galleries in Europe (France, Germany, Switzerland).
Read more
Details
Category
Fine arts, Sculpture
Source mention
© Elisabeth Buffoli / SODRAC (2017)
Materials
fiber glass, Fibreglass, paint, resin
Overall size
124 x 90 x 159 cm (patineur) 165 x 114 x 148 cm (grand-père et enfant) 192 x 148 x 92 cm (couple) 82 x 76 x 99,5 cm (chien)
Location

Location
Adress
721-749 Côte de la Place d'Armes, Montréal, QC
Accessibility
At all time
Artwork description
Les Touristes is a sculptural grouping composed of four elements portraying, in caricature form, a group of tourists: a couple, a grandfather and a child, a skater, and a dog. The work, produced in painted resin, shows two groups of stocky people with astonished expressions, in attentive contemplation, as if they were alone in the world. The dog and the passerby seem indifferent to the "spectacle" that is amazing the tourists. This scene is a perfect illustration of the concept of "living together," a harmonious cohabitation of people from different worlds – tourists and residents – in a single space. The style of this work bears a formal relationship to the world of sculptor Raymond Masson, whose work La Foule illuminée, installed on McGill College Street, shows ordinary people becoming everyday heroes. Buffoli's work thus extends the Pop Art current of the 1960s, a period when daily life was a favourite subject for artists.
The work, produced in 1939, was commissioned specifically for the Les Halles district of Paris. In 2017, the Ville de Paris decided to offer this work to the City of Montréal as a gift for its 375th anniversary. It was in this context that the Ville-Marie Borough renovated Parc de La Presse for installation of the work. Transplanted into North America, the work retains its full meaning. The park is in Old Montréal, a tourist area like Les Halles; the characters in the work are facing historical buildings, as they were in Paris.