{"title":"Lumi\u00e8re int\u00e9rieure | Art Public Montr\u00e9al","thisUrl":"https:\/\/artpublicmontreal.ca\/en\/oeuvre\/lumiere-interieure\/","body_class":"apm_artwork-template-default single single-apm_artwork postid-54354 apm lang-en apm-full-js nav-env-filters","query_hud":null,"active_filter":null,"alternate_language_url":"https:\/\/artpublicmontreal.ca\/oeuvre\/lumiere-interieure\/","clear_filter_collection":0,"clear_filter_tour":"clear","data_attributes":{"data-view-type":"apm_artwork"},"filter_root_url":"\/collection\/","artworkNav":false,"mapMarkers":[{"id":54354,"slug":"lumiere-interieure","title":"Lumi\u00e8re int\u00e9rieure","permalink":"https:\/\/artpublicmontreal.ca\/en\/oeuvre\/lumiere-interieure\/","year":"2013","loc":{"lat":"45.49594201880179","long":"-73.5788944576721"},"artist_names":"<span>Pascal<\/span> <strong>Grandmaison<\/strong>","thumb":"https:\/\/artpublicmontreal.ca\/wp-content\/uploads\/2015\/09\/UC_Grandmaison-150x150.jpg","infoBox":false,"cat_color":"#e50f09","env":"indoor","singleArtwork":true}]}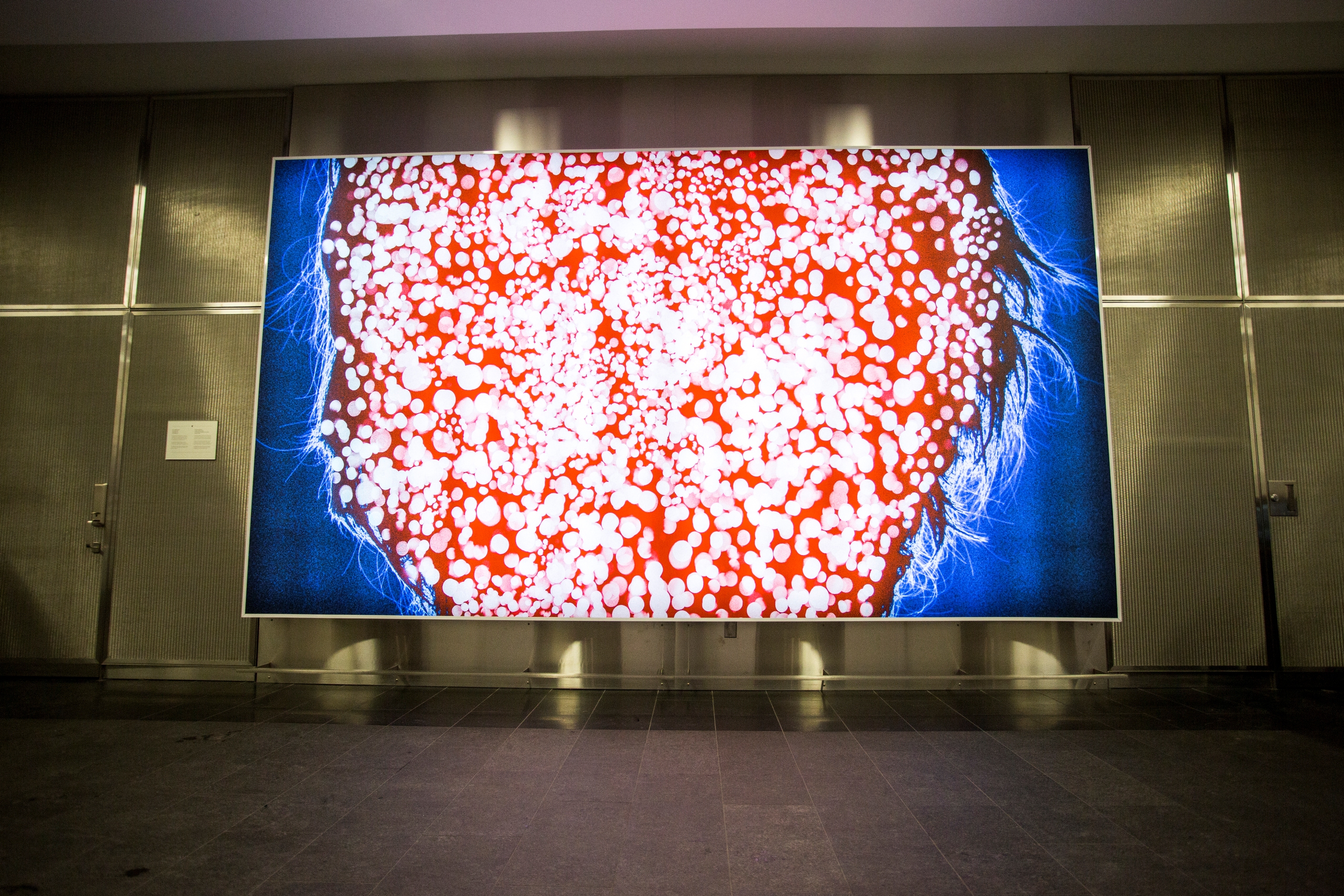 © Pascal Grandmaison (2020) -
Crédit photo :
Lumière intérieure
2013
International artist, Pascal Grandmaison lives and works in Montreal. He studied Fine Arts at Universite du Quebec a Montreal and received the prestigious Prix Pierre-Ayot in 2003. For the past 10 years, through photography, video projections, and installations, Pascal Grandmaison questions methods of presentation and the capacity of people to live and represent oneself in the modern world.
Read more
Details
Acquisition mode
Donation
Overall size
490 x 275 cm
Technique(s)
print by digital sublimation
Location

Location
Location
Concordia University, pavillon Guy-De Maisonneuve
Adress
1550 De Maisonneuve West, Montreal, QC H3G
Accessibility
Accessible during University operating hours
Artwork description
A national competition was launched by Concordia University to create a public work of art for the lobby of the GM Building. The work needed to be contemporary, bold and embody the energy of a place that prides itself on being an open and engaged institution of higher learning.
Pascal Grandmaison's winning piece Lumière intérieure is mounted within a state-of-the-art illuminated box and is a bold image of the interior of a lateral slice of a head consisting of a collage of thousands of different images of light-flashes. It suggests the energy created by the nervous system during the transmission of information and of knowledge in is most pure expression.
Such a snapshot can be imagined as one produced by a microscope that captures one moment in the intense intellectual activity taking place in the university.