{"title":"McLaren en cinq temps | Art Public Montr\u00e9al","thisUrl":"https:\/\/artpublicmontreal.ca\/en\/oeuvre\/mclaren-en-cinq-temps\/","body_class":"apm_artwork-template-default single single-apm_artwork postid-59689 apm lang-en apm-full-js nav-env-filters","query_hud":null,"active_filter":null,"alternate_language_url":"https:\/\/artpublicmontreal.ca\/oeuvre\/mclaren-en-cinq-temps\/","clear_filter_collection":0,"clear_filter_tour":"clear","data_attributes":{"data-view-type":"apm_artwork"},"filter_root_url":"\/collection\/","artworkNav":false,"mapMarkers":[{"id":59689,"slug":"mclaren-en-cinq-temps","title":"McLaren en cinq temps","permalink":"https:\/\/artpublicmontreal.ca\/en\/oeuvre\/mclaren-en-cinq-temps\/","year":"2015","loc":{"lat":"45.52669327085324","long":"-73.60053394351655"},"artist_names":"<span>Jason<\/span> <strong>Cantoro<\/strong>, <span>Annie<\/span> <strong>Hamel<\/strong>","thumb":"https:\/\/artpublicmontreal.ca\/wp-content\/uploads\/2016\/08\/McLaren_1-150x150.jpg","infoBox":false,"cat_color":"#e50f09","env":"outdoor","singleArtwork":true}]}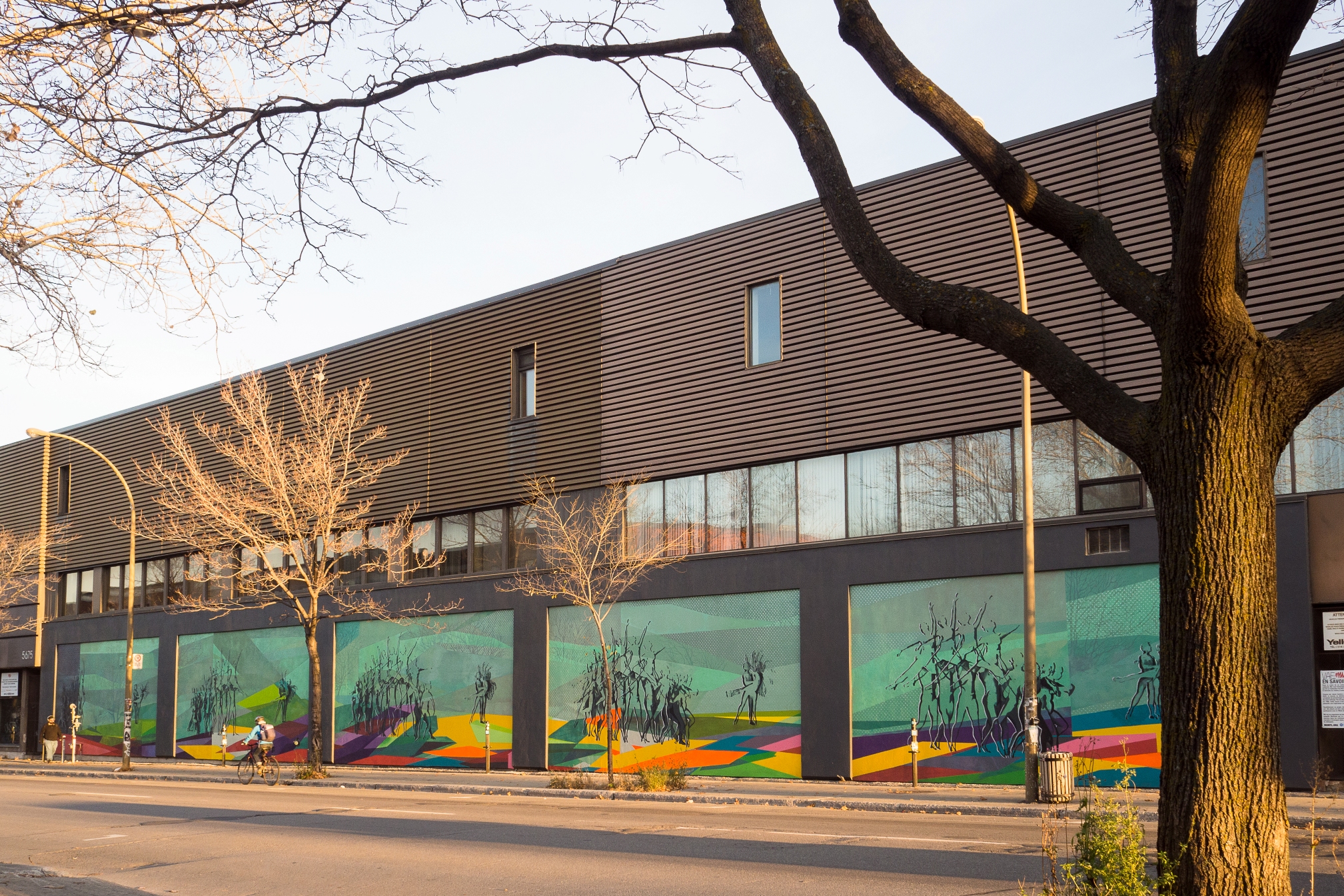 © Jason Cantoro, produced by MU -
Crédit photo : Olivier Bousquet (2015)
McLaren en cinq temps
2015
Originally from Montreal, Jason Cantoro is a graduate of UQAM in visual and media arts (2006). Cantoro uses silkscreening techniques to transfer photos depicting urban scenes (buildings, streets, cityscapes) to a wide variety of media. He then superimposes drawings and paintings to create a surreal and dynamic universe with a slightly vintage feel.
Read more
Annie Hamel holds a Bachelor's degree in Visual Arts and is a member of Québec's Conseil des métiers d'art as a professional artisan. She is been working in the field of mural and decorative painting for more than 10 years. Hamel produces several large-scale projects in Québec and overseas, especially in France, Belgium and Mexico.
Read more
Details
Funding
Entente sur le développement culturel de Montréal
Source mention
In collaboration with other financial partners
Location

Location
Adress
5675 St-Laurent boulevard, Montréal, QC H2T 1S9
Artwork description
As part of its collection Montreal's Great Artists, MU is paying homage to Norman McLaren, film director and pioneer in the field of animated cinema. Designed by Jason Cantoro in collaboration with 4U2C and executed by Annie Hamel, the mural consists of five panels that are inspired by the short film Pas de Deux (1968), depicting dancers in motion. The kinetic nature of the piece offers passersby a lively, fluid experience.
Norman McLaren had a 40-year-long career at the NFB, where he received more than 200 international awards, including 147 prizes for his short films. His most important honours are the Oscar® he won in 1953 for Neighbours/Voisins and the Cannes Film Festival's prestigious Palme d'Or for best short film, awarded for Blinkity Blank in 1955. His hauntingly beautiful Pas de deux won the coveted British Academy of Film and Television Arts award for best short animation in 1969. Born in Stirling, Scotland, in 1914, McLaren became interested in filmmaking early in life, when he was exposed to works by the great Russian directors Eisenstein and Pudovkin and German animator Oskar Fischinger. While he was a student at the Glasgow School of Fine Arts, McLaren's fascination with dance led him to make stylized documentaries. He subsequently joined the General Post Office Film Unit (GPOFU) in London, working under John Grierson. In 1939, McLaren immigrated to the United States where he made several abstract films. He moved to Canada in 1941 and met up once again with Grierson, who had founded the National Film Board at the request of the Canadian government.
Launched by MU in 2010, the collection of murals entitled Montreal's Great Artists highlights the creative minds and forces who have made outstanding contributions to the local, national and international reach of Montreal's cultural scene.