{"title":"Monument \u00e0 Louis-Octave Cr\u00e9mazie | Art Public Montr\u00e9al","thisUrl":"https:\/\/artpublicmontreal.ca\/en\/oeuvre\/monument-a-louis-octave-cremazie\/","body_class":"apm_artwork-template-default single single-apm_artwork postid-49812 apm lang-en apm-imported-item apm-full-js nav-env-filters","query_hud":null,"active_filter":null,"alternate_language_url":"https:\/\/artpublicmontreal.ca\/oeuvre\/monument-a-louis-octave-cremazie\/","clear_filter_collection":0,"clear_filter_tour":"clear","data_attributes":{"data-view-type":"apm_artwork"},"filter_root_url":"\/collection\/","artworkNav":false,"mapMarkers":[{"id":49812,"slug":"monument-a-louis-octave-cremazie","title":"Monument \u00e0 Louis-Octave Cr\u00e9mazie","permalink":"https:\/\/artpublicmontreal.ca\/en\/oeuvre\/monument-a-louis-octave-cremazie\/","year":"1906","loc":{"lat":"45.517388","long":"-73.569581"},"artist_names":"<span>Louis-Philippe<\/span> <strong>H\u00e9bert<\/strong>","thumb":"https:\/\/artpublicmontreal.ca\/wp-content\/uploads\/imported\/1656_5199-150x150.jpg","infoBox":false,"cat_color":"#e50f09","env":"outdoor","singleArtwork":true}]}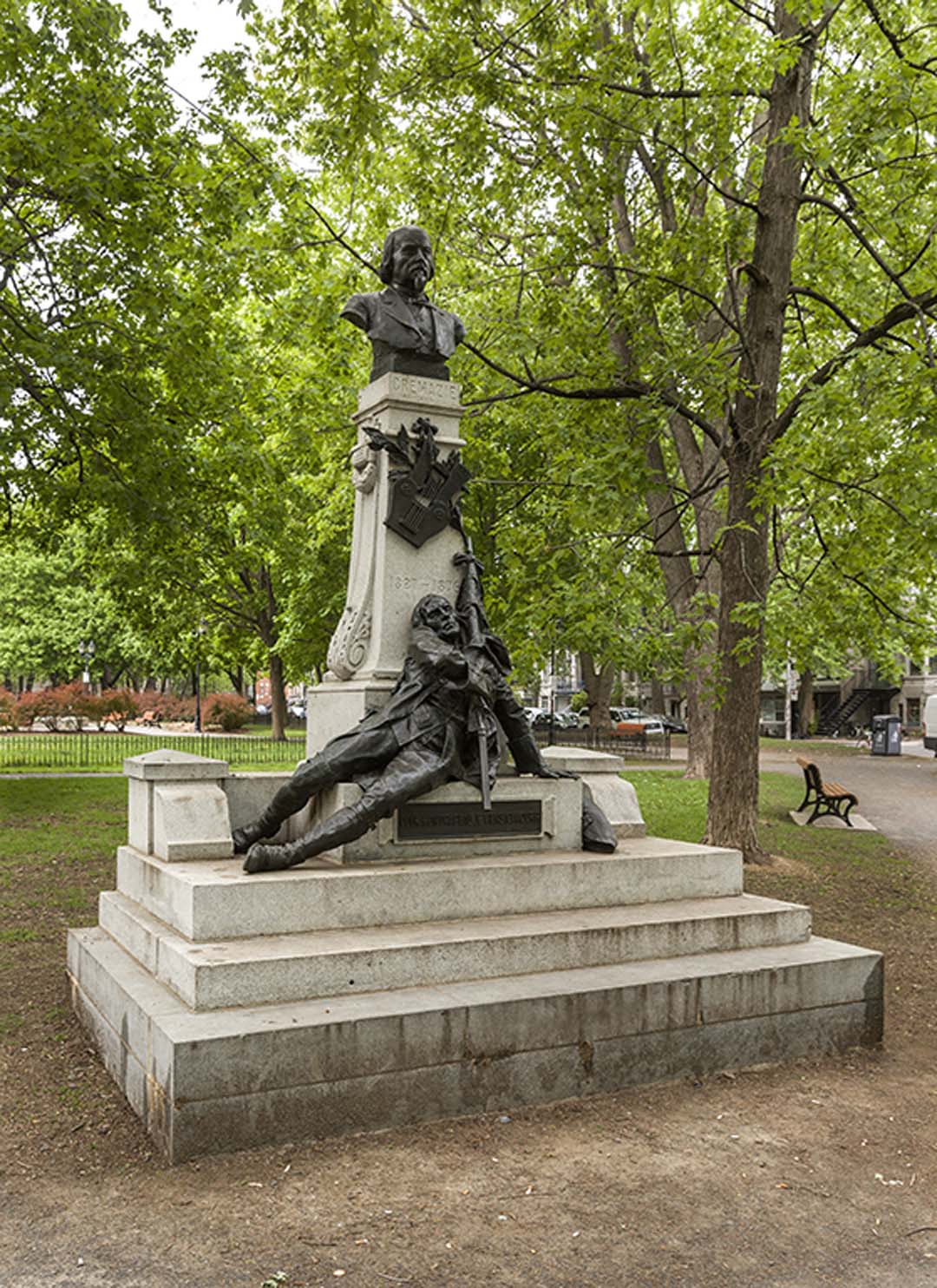 Crédit photo: Guy L'Heureux, 2014
Monument à Louis-Octave Crémazie
1906
1850 - 1917
Louis-Philippe Hébert (27 January 1850, Sainte-Sophie-d'Halifax, Québec – 13 June 1917, Westmount, Québec) received training in the Quebec tradition of sculpting in wood passed down from the eighteenth century. He quickly turned toward the complex techniques of bronze casting that he discovered during his frequent visits to Paris. An elegant and conscientious artist, Hébert was able to assimilate the essentials of this method. With his majestic artworks, he marked a fundamental step forward in the art of sculpting in Québec, which also brought the province across the threshold of modernity.
Read more
Details
Acquisition mode
Donation by public subscription
Overall size
300 x 300 x 188 cm
Technique(s)
carved stone, cast bronze
Location

Location
Location
Square Saint-Louis
Tour
19 Artworks

1h30min 30min

Mont-Royal métro station

Square Saint-Louis
Artwork description
Composed in a triangular plane, the monument takes the form of a stele with a parapet at its foot and sits on a stepped pedestal; the entire monument is made of pale-grey granite. Atop the stele is the bust of Louis-Octave Crémazie, considered the first national poet, and on the front face below the bust is a lyre crossed by a laurel branch, the symbol of the poet's inspiration. At the bottom of the pedestal is the figure of a soldier who has died in combat, clasping in his arms the flag of Carillon used by the French forces led by General Montcalm in the battle for Fort Carillon, in the state of New York, in 1758. The line "Pour mon drapeau je viens mourir ici" (For my flag, I have come to die here), on a plaque beneath the soldier, is taken from Crémazie's poem Drapeau de Carillon, written for the centenary of this victory. On the back of the monument, a bronze plaque, installed just before the statue's inauguration, reads, "Érigé par ses compatriotes du Canada et des États-Unis, inauguré le 24 juin 1906." (Erected by his compatriots in Canada and the United States, inaugurated on 24 June 1906).
The monument was inaugurated in 1906 in Saint-Louis Square, bordering Rue Saint-Denis, by Louis Fréchette, instigator of the project, before 30,000 people. In 1972, during an embellishment campaign, the executive committee authorized its move to Place Crémazie, at the corner of Crémazie and Saint-Laurent boulevards. The monument was moved back to Saint-Louis Square in 2002 and a series of steps was added.