{"title":"Monument \u00e0 Nelson | Art Public Montr\u00e9al","thisUrl":"https:\/\/artpublicmontreal.ca\/en\/oeuvre\/monument-a-nelson\/","body_class":"apm_artwork-template-default single single-apm_artwork postid-50119 apm lang-en apm-imported-item apm-full-js nav-env-filters","query_hud":null,"active_filter":null,"alternate_language_url":"https:\/\/artpublicmontreal.ca\/oeuvre\/monument-a-nelson\/","clear_filter_collection":0,"clear_filter_tour":"clear","data_attributes":{"data-view-type":"apm_artwork"},"filter_root_url":"\/collection\/","artworkNav":false,"mapMarkers":[{"id":50119,"slug":"monument-a-nelson","title":"Monument \u00e0 Nelson","permalink":"https:\/\/artpublicmontreal.ca\/en\/oeuvre\/monument-a-nelson\/","year":"1809","loc":{"lat":"45.508186","long":"-73.553845"},"artist_names":"<span>Robert<\/span> <strong>Mitchell<\/strong>","thumb":"https:\/\/artpublicmontreal.ca\/wp-content\/uploads\/imported\/1792_4724-150x150.jpg","infoBox":false,"cat_color":"#e50f09","env":"outdoor","singleArtwork":true}]}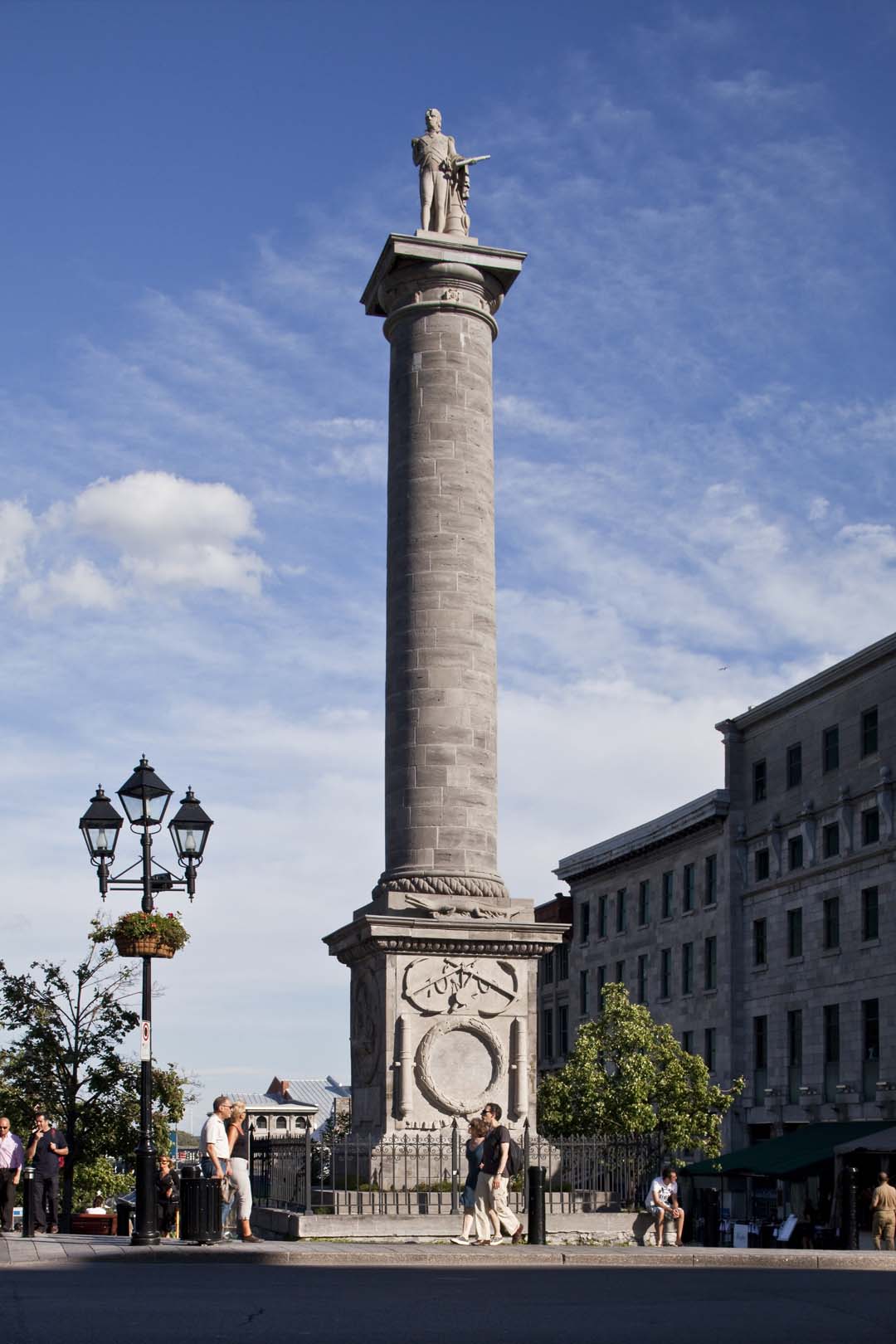 Crédit photo: Michel Dubreuil, 17 août 2010
Monument à Nelson
1809
Traces of Robert Mitchell's architectural work can be found in London dating from 1782. Between 1791 and 1800, he worked on construction of Preston Hall, near Edinburgh, the staircase of which is acknowledged to be one of his masterpieces. A follower of neoclassical architecture, through which ancient styles were rediscovered and studied by scholars, Mitchell published Plans and Views in Perspective, with Description of Buildings erected in England and Scotland, with An Essay to elucidate the Grecian, Roman, and Gothic Architecture (1801).
Read more
Details
Acquisition mode
Donation by public subscription
Materials
concrete, limestone, sandstone
Overall size
2055 x 600 x 600 cm
Location

Location
Location
Place Jacques-Cartier
Tour
14 Artworks

45min

Champ-de-Mars metro station

Centre d'histoire de Montréal
Artwork description
The monument is situated at the north end of Place Jacques-Cartier, near Rue Notre-Dame. It is an important landmark in the city and a structuring element of Old Montréal, at the crossing of the east-west and north-south axes. When the monument was erected, this site was one of the largest squares in the city. At the time called the New Market, this public market was considered to be Montréal's city core. Around it were municipal and private buildings such as the Exchange Coffee House, the Silver Dollar Saloon, the Jesuit church, the Custom Court, and the prison.
The monument is composed of a square base from which a circular Doric barrel column rises. Its shape and proportions are inspired by the Trajan column in Rome. Panels enhanced with bas-relief medallions and engraved inscriptions occupy all sides of the base. They refer to the battles and exploits through which Admiral Lord Nelson distinguished himself.
At the top of the column, around the base of which is a coil of rope, is a square platform on which stands the statute of Nelson. He is dressed in his admiral's uniform and wears all of the insignia with which he was decorated. His right foot points forward, his left arm rests on a section of mast surrounded by rope and blocks and tackles, and he holds a spyglass in his hand. On the side of his missing arm (the right arm), the sleeve of his jacket is folded over his chest. The statute is about one and a half times life size.
The Nelson Monument is the oldest piece in the municipal collection. The statue and decorative panels were originally covered with Coade stone, a synthetic material developed by the Coade & Sealy's Lambeth Company of London, the formula for which is now lost.