{"title":"Monument au fr\u00e8re Marie-Victorin | Art Public Montr\u00e9al","thisUrl":"https:\/\/artpublicmontreal.ca\/en\/oeuvre\/monument-au-frere-marie-victorin\/","body_class":"apm_artwork-template-default single single-apm_artwork postid-49539 apm lang-en apm-imported-item apm-full-js nav-env-filters","query_hud":null,"active_filter":null,"alternate_language_url":"https:\/\/artpublicmontreal.ca\/oeuvre\/monument-au-frere-marie-victorin\/","clear_filter_collection":0,"clear_filter_tour":"clear","data_attributes":{"data-view-type":"apm_artwork"},"filter_root_url":"\/collection\/","artworkNav":false,"mapMarkers":[{"id":49539,"slug":"monument-au-frere-marie-victorin","title":"Monument au fr\u00e8re Marie-Victorin","permalink":"https:\/\/artpublicmontreal.ca\/en\/oeuvre\/monument-au-frere-marie-victorin\/","year":"1951","loc":{"lat":"45.557281","long":"-73.555903"},"artist_names":"<span>Sylvia<\/span> <strong>Daoust<\/strong>","thumb":"https:\/\/artpublicmontreal.ca\/wp-content\/uploads\/imported\/1524_4358-150x150.jpg","infoBox":false,"cat_color":"#e50f09","env":"outdoor","singleArtwork":true}]}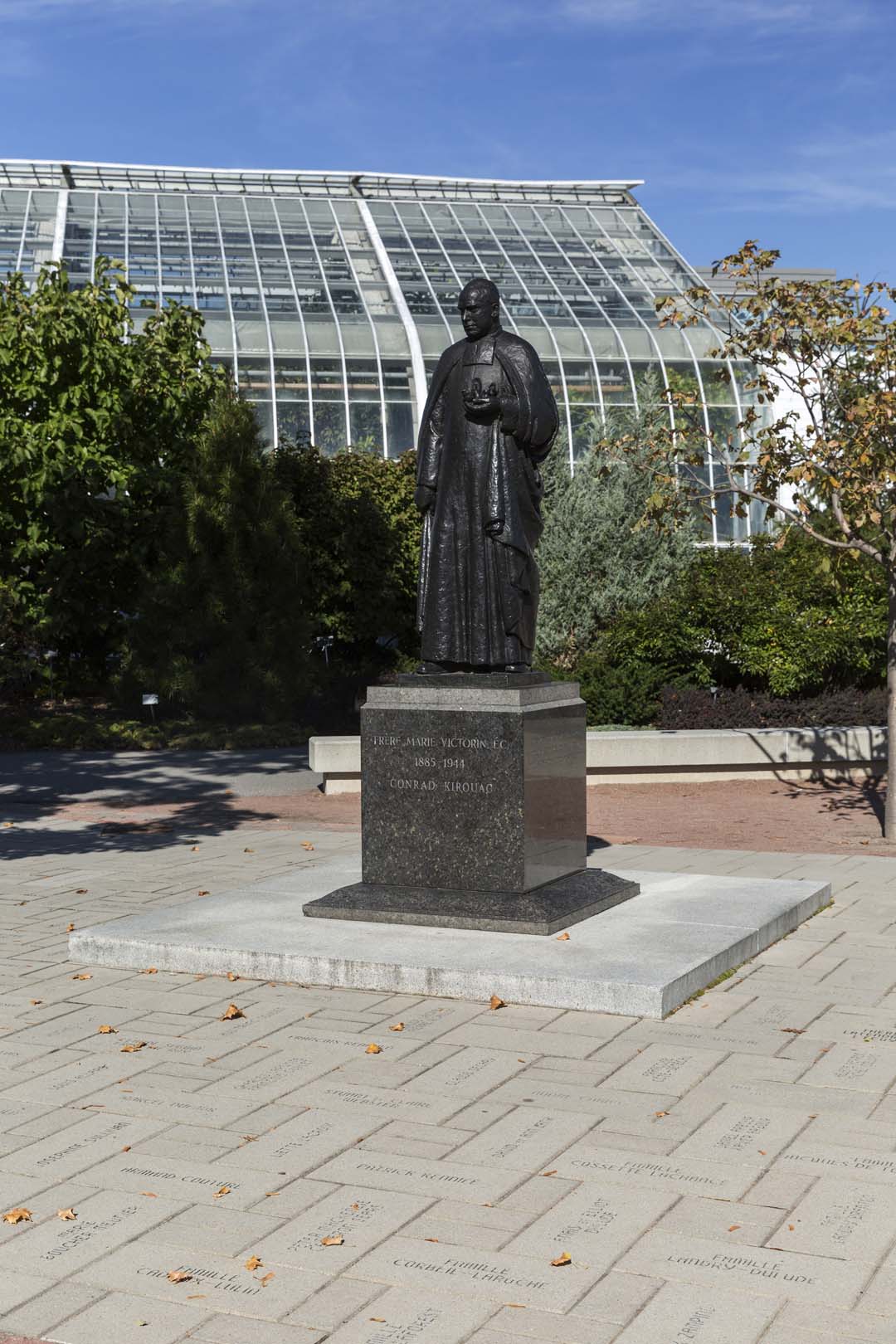 Crédit photo: Guy L'Heureux, 2013
Monument au frère Marie-Victorin
1951
1902 - 2004
Sylvia Daoust was born in Montreal and studied drawing and sculpture at the Conseil des arts et manifactures in 1915 at the humble age of 13. She was the first woman to enroll in the École des beaux-arts de Montréal and graduated in 1929. She tied for first place in an interprovincial contest organised by Canadian Viceroy Lord Willingdon.
She was a teacher at the École des beaux-arts de Québec and then at the École des beaux-arts de Montréal from 1943 to 1968. She taught drawing, anatomy, modeling and wood and stone sculpture.  She was a member of the Royal Canadian Academy of Arts, the Order of Canada and the Ordre national du Québec. She participated in several exhibits across Canada, Italy and the United States.
Even though sculpture was her forte, Sylvia Daoust was also a drawer, a painter and an engraver. Her first important order was the bronze statue of Brother Marie-Victorin on display at the entrance of the Montreal Botanical Garden in 1951. At the time, many were offended that a woman was chosen for the job.
Her meeting with Abbaye de Saint-Benoît-du-Lac architect Dom Bello was a turning point of her career.  He asked her to work on decorating the Saint-Joseph Oratory alongside French sculptor Henri Charlier. Sylvia Daoust's artistic career was both long and prolific. Her artwork includes many portraits, busts, medallions, wood and stone sculptures, bronze statues of many including Nicolas Viel located on the facade of the Assemblée nationale, Marguerite Bourgeois and Marguerite d'Youville in the Notre-Dame Basilica, Jeanne d'Arc in the Saint-Joseph Oratory, the Virgin Mary, Queen of the Universe in the apse of the Marie-Reine-du-Monde Cathedral. Sylvia Daoust's art belonged to a period of resurgence of religious art. She also produced a few abstract pieces – for herself. She admired the work of Henry Moore and the audaciousness of Armand Vailloncourt who ended up becoming on of her pupils.
Read more
Details
Acquisition mode
Donation
Materials
bronze, granite
Overall size
295 x 140 x 140 cm
Location

Location
Location
Jardin botanique
Adress
4101, rue Sherbrooke Est, Montréal, Québec, H1X 2B2
Artwork description
The monument portrays Brother Marie-Victorin standing in a reserved and familiar pose that is a classic of Western statuary. The priest is in a walking stance, the right foot stepping forward, as if he were peacefully strolling down the paths of the Botanical Garden. Wearing the robe and skullcap typical of the priests of the Christian Schools, he has his right hand on the cape that covers him, and in his left hand he holds a pitcher plant, his favourite flower. His pose conveys, in the simplest terms, a life of passionate research and work to complete the inventory and study of Québec flora. In this portrait, executed from old photographs, sculptor Sylvia Daoust expressed Brother Marie-Victorin's two dominant passions: religion and botany. She captured in bronze an important facet of his personality: that of the intellectual who made a decisive contribution to the advance of scientific research in Québec.