{"title":"Monument aux braves de Lachine | Art Public Montr\u00e9al","thisUrl":"https:\/\/artpublicmontreal.ca\/en\/oeuvre\/monument-aux-braves-de-lachine\/","body_class":"apm_artwork-template-default single single-apm_artwork postid-49896 apm lang-en apm-imported-item apm-full-js nav-env-filters","query_hud":null,"active_filter":null,"alternate_language_url":"https:\/\/artpublicmontreal.ca\/oeuvre\/monument-aux-braves-de-lachine\/","clear_filter_collection":0,"clear_filter_tour":"clear","data_attributes":{"data-view-type":"apm_artwork"},"filter_root_url":"\/collection\/","artworkNav":false,"mapMarkers":[{"id":49896,"slug":"monument-aux-braves-de-lachine","title":"Monument aux braves de Lachine","permalink":"https:\/\/artpublicmontreal.ca\/en\/oeuvre\/monument-aux-braves-de-lachine\/","year":"1925","loc":{"lat":"45.436555","long":"-73.706738"},"artist_names":"<span>Alfred<\/span> <strong>Lalibert\u00e9<\/strong>","thumb":"https:\/\/artpublicmontreal.ca\/wp-content\/uploads\/imported\/1691_4574-150x150.jpg","infoBox":false,"cat_color":"#e50f09","env":"outdoor","singleArtwork":true}]}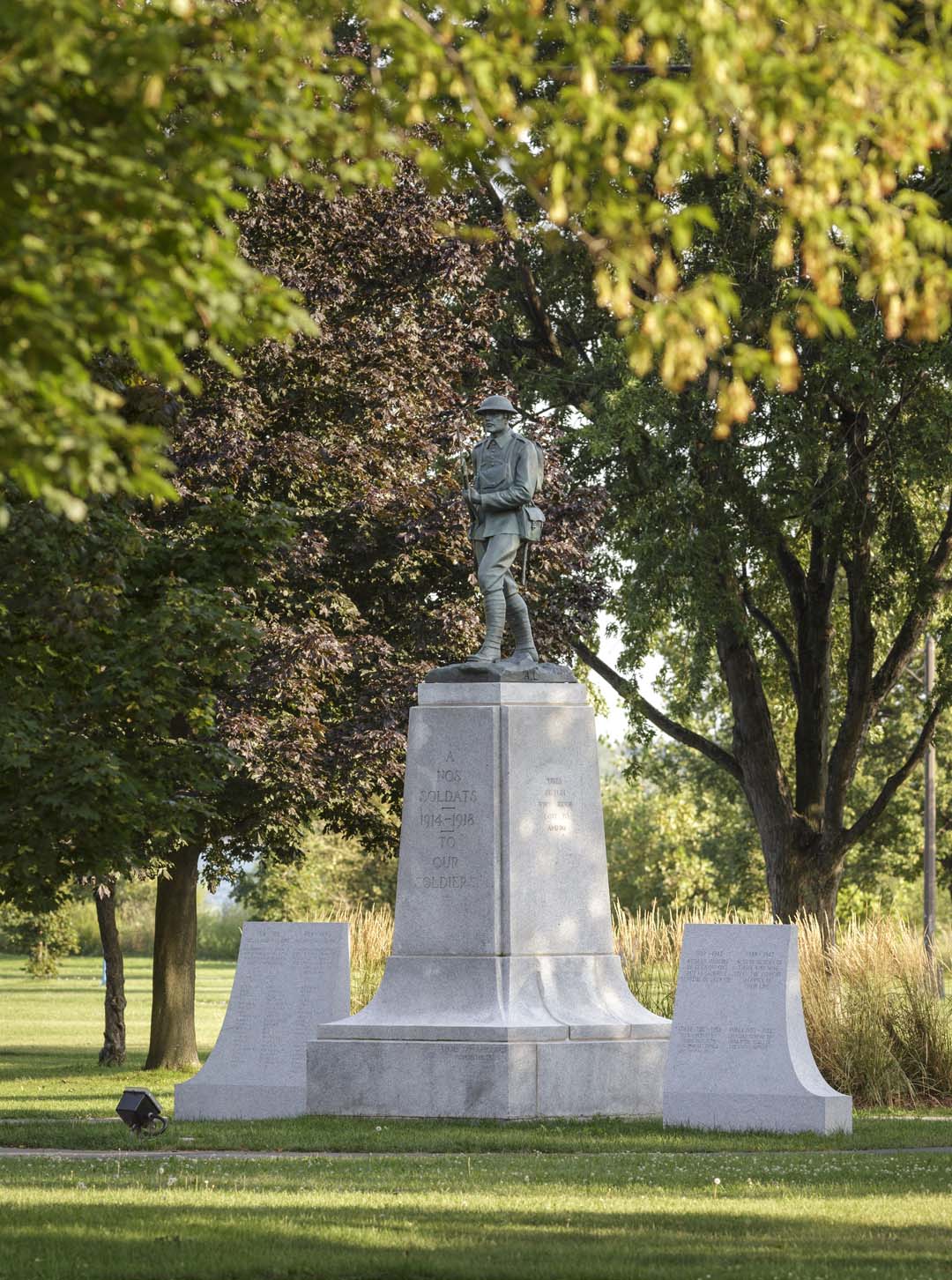 Crédit photo: Guy L'Heureux, 2013
Monument aux braves de Lachine
1925
1878 - 1953
Born in 1878 in Sainte-Élizabeth-de-Warwick, in the Bois-Francs region, Alfred Laliberté received training at the Conseil des arts et manufactures in Montréal; when he was 23, he went to study at the prestigious École des beaux-arts de Paris. He returned to Canada in 1907 and became a professor at the École des beaux-arts de Montréal in 1922.
A prolific artist, Laliberté produced more than 920 sculptures. Some were portrayals of important historical figures, including statues of Father Brébeuf and Father Marquette in Québec City, whereas others evoked rural traditions and legends, such as the series of bronzes commissioned by the Québec government in 1928. Laliberté was long regarded as Québec's "national sculptor".
Read more
Details
Acquisition mode
Transfer
Overall size
524 x 900 x 216 cm
Technique(s)
assembled, cast
Location

Location
Location
Parc Stoney-Point
Artwork description
Situated in Parc Stoney Point, near Lake St. Louis, the Monument aux braves de Lachine is a bronze sculpture portraying a Canadian infantryman wearing a British military uniform of the First World War era. Armed with a traditional rifle with bayonet, the soldier wears a beggar bag, a backpack, a military belt, and a Mark I helmet.
Standing on an imposing hewn-granite base, the monument was originally dedicated to Lachine soldiers who died in the First World War. The names of these men are engraved on the stele to underline their contribution to the homeland. The mentions added over the years have transformed the monument into a tribute to all Canadian soldiers who sacrificed their lives in service to their country in wartime.
The only war-commemoration monument produced by Laliberté, the artwork was completely restored and moved in the late 2000s, testifying as much to the respect that Canadians and levels of government have for veterans as to recognition of the importance of this artwork in the history of Quebec art. Even today, the cenotaph is a central feature of Remembrance Day ceremonies in Lachine.