{"title":"Parall\u00e9l\u00e9pip\u00e8de | Art Public Montr\u00e9al","thisUrl":"https:\/\/artpublicmontreal.ca\/en\/oeuvre\/parallelepipede-parallelepiped\/","body_class":"apm_artwork-template-default single single-apm_artwork postid-54846 apm lang-en apm-full-js nav-env-filters","query_hud":null,"active_filter":null,"alternate_language_url":"https:\/\/artpublicmontreal.ca\/oeuvre\/parallelepipede\/","clear_filter_collection":0,"clear_filter_tour":"clear","data_attributes":{"data-view-type":"apm_artwork"},"filter_root_url":"\/collection\/","artworkNav":false,"mapMarkers":[{"id":54846,"slug":"parallelepipede-parallelepiped","title":"Parall\u00e9l\u00e9pip\u00e8de","permalink":"https:\/\/artpublicmontreal.ca\/en\/oeuvre\/parallelepipede-parallelepiped\/","year":"2004","loc":{"lat":"45.50289741155057","long":"-73.61343294382095"},"artist_names":"<span>Yves<\/span> <strong>Gendreau<\/strong>","thumb":"https:\/\/artpublicmontreal.ca\/wp-content\/uploads\/2015\/09\/UdeM_GENDREAU_1-150x150.jpg","infoBox":false,"cat_color":"#e50f09","env":"outdoor","singleArtwork":true}]}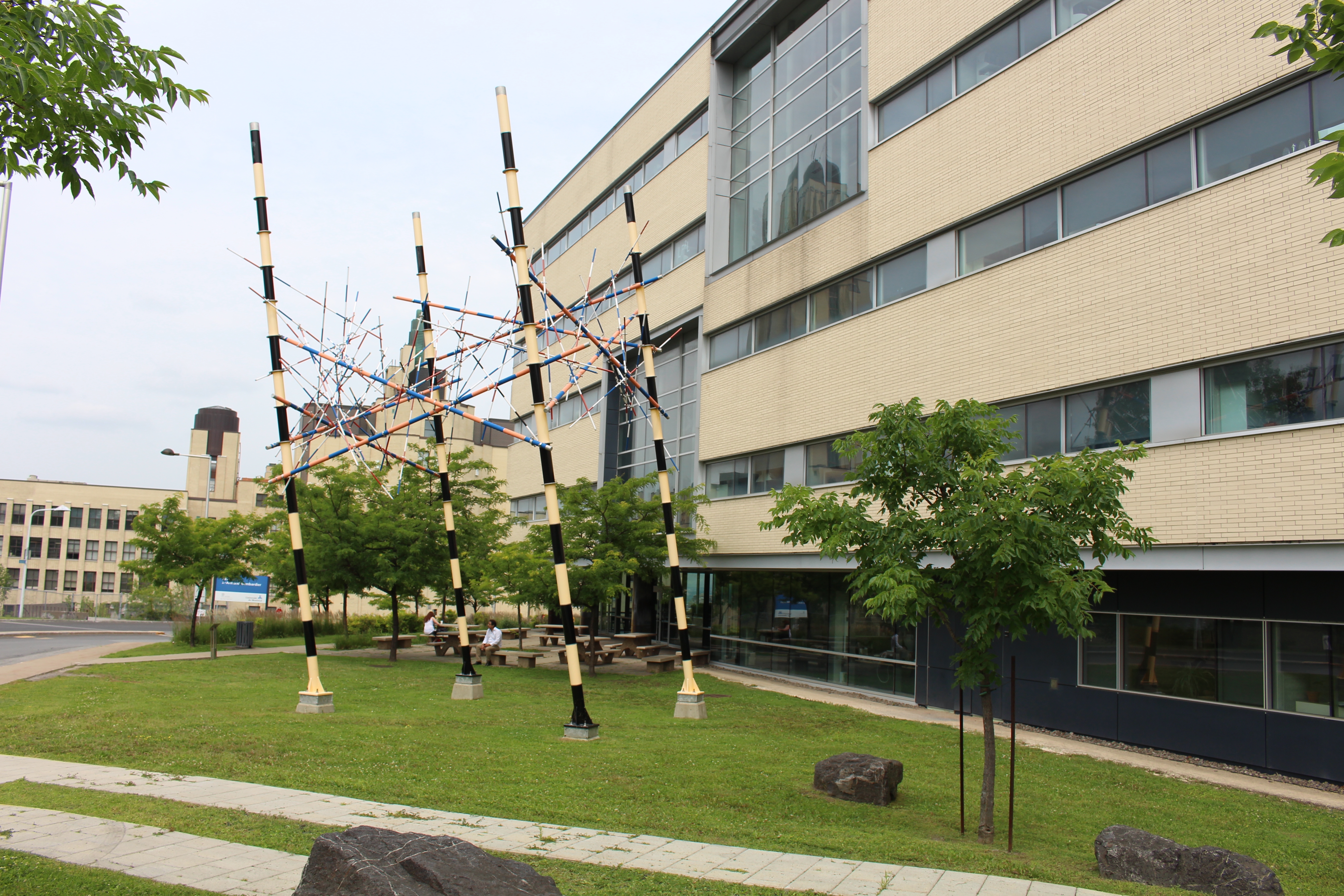 © Yves Gendreau (2004) -
Crédit photo : Patrick Mailloux (2015)
Parallélépipède
2004
Yves Gendreau is primarily a carpenter. He learned to sculpt professionally by working with artists in Réseau des centres d'artistes autogérés du Québec (RAACQ). He undertook classes in environmental design at the UQAM from 1980 to 1983. In 1987, he co-founded the 3e impérial, a modern art test center located in Granby and becomes a member of the RCAAQ. Ever since he founded the center, he undertook an administrative and technical role. Yves Gendreau learned how to sculpt alongside other artists.
The artist receives bursaries, which allowed him to participate in many collective and solo exhibitions in Quebec and France. He describes his studio set up as "sculpture / action". Since 2000, Gendreau has participated in contests organized by the Programme d'intégration des arts à l'architecture. His first ordered creation was for the Centre intégré du ministère des Transports at Saint-Jean-sur-Richelieu, in 2003. The artist also created sculptures for the De la Concorde metro station in Laval and for the promenade Samuel-de-Champlain in Quebec City.
The artist frequently imagines a metaphor of a field with ranging poles in order to create sculptures that are formed by monumental arrangements. His pieces are mostly showcased in the city or in nature for symposiums. Gendreau displays a set up that is in situ, resembling a field that is open to the public. He dresses up as a worker and plays an active role in the process by delimiting a perimeter in which he sets up warning signs, piles up tools for which he has no use and stacks of raw materials which he uses from one set up to the other. He calls out to the public for help, preferably seeking "non-qualified" people. The artist creates ephemeral, yet often memorable sculptures. He denounces nonproductivity, the absurd and an individualistic vision of the world with excess.
Read more
Details
Acquisition mode
Politique d'intégration des arts à l'architecture et à l'environnement, Government of Quebec
Materials
aluminum, paint
Overall size
700 x 550 x 550 cm
Technique(s)
assembled, baked, painted
Location

Location
Location
J.-Armand-Bombardier Pavilion, Polytechnique and Université de Montréal
Localization
West face of the building
Adress
5155, Chemin de la rampe, Montréal, QC H3T 1J4
Artwork description
A light, elevated, colored yet monumental sculpture stands alone on the horizon. By using the idea of land-surveyor's ranging poles, the artist summons the notion of a "field of knowledge". The four pillars symbolize the research fields studied in this building (nanotechnology, biotechnology, aeronautics, aerospace) and new materials.
The angled cross-braces are painted the same colors as the building's interior and point in many directions. They echo our society's complexity by its ever longing evolution and it is a reminder to researchers that they should constantly be on the lookout for tips that would lead to new research opportunities. However, the poles angles' ensure that the sculpture converges to the same direction. Finally, the parallelepipedic shape reminds the observer of science's rational aspect as well as the notion of risk undertaken in scientific interventions
Yves Gendreau considers public orders as a part of his artistic work and as a stimulating challenge. This building seduced him by its use of space, light, colors, corridors, and lounges that allowed people to meet comfortably. Loyal to his practice, the artist used primary colors found regularly on construction sites with a clear and precise meaning, like yellow and black. He also used them to obtain a vibratory visual effect among the contrasting colors: red over orange or red over blue.
Yves Gendreau conceived a metaphor for the work being done in the pavilion with his massive construction. He observes a link, an affinity between his work as an artist and scientific research. He describes it as such: "I am an engineer for chaos who humbly searches for harmony in my own way." [Loose translation]