{"title":"The Permanent Memorial for the Six Million Jewish Martyrs of the Nazi Holocaust | Art Public Montr\u00e9al","thisUrl":"https:\/\/artpublicmontreal.ca\/en\/oeuvre\/the-permanent-memorial-for-the-six-million-jewish-martyrs-of-the-nazi-holocaust\/","body_class":"apm_artwork-template-default single single-apm_artwork postid-54349 apm lang-en apm-full-js nav-env-filters","query_hud":null,"active_filter":null,"alternate_language_url":"https:\/\/artpublicmontreal.ca\/oeuvre\/sans-titre-13\/","clear_filter_collection":0,"clear_filter_tour":"clear","data_attributes":{"data-view-type":"apm_artwork"},"filter_root_url":"\/collection\/","artworkNav":false,"mapMarkers":[{"id":54349,"slug":"the-permanent-memorial-for-the-six-million-jewish-martyrs-of-the-nazi-holocaust","title":"The Permanent Memorial for the Six Million Jewish Martyrs of the Nazi Holocaust","permalink":"https:\/\/artpublicmontreal.ca\/en\/oeuvre\/the-permanent-memorial-for-the-six-million-jewish-martyrs-of-the-nazi-holocaust\/","year":"","loc":{"lat":"45.49647037539614","long":"-73.5861632135493"},"artist_names":"<span>Marcelle<\/span> <strong>Ferron<\/strong>","thumb":"https:\/\/artpublicmontreal.ca\/wp-content\/uploads\/2015\/09\/UC_Ferron-150x150.jpg","infoBox":false,"cat_color":"#e50f09","env":"outdoor","singleArtwork":true}]}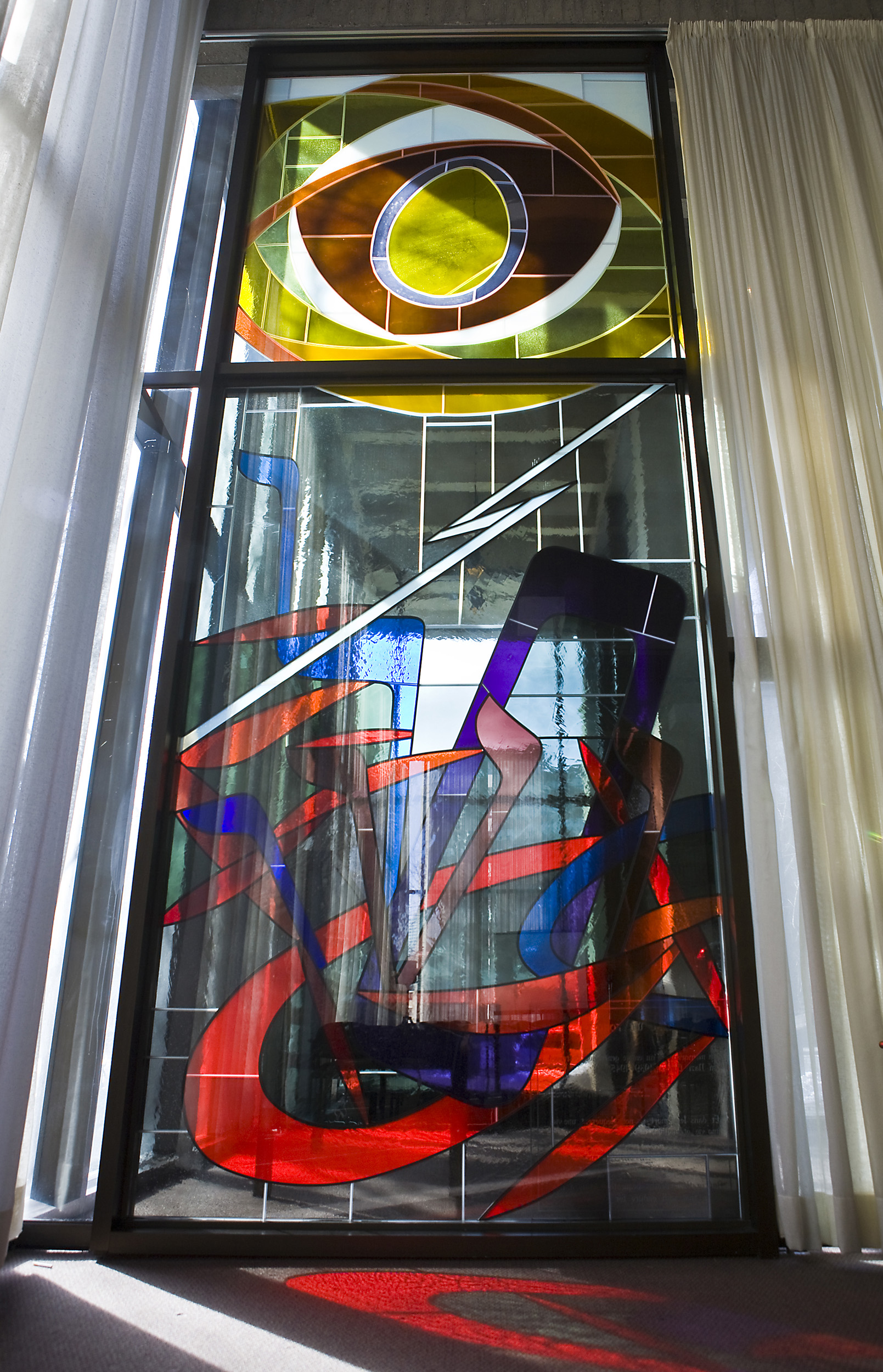 © Marcelle Ferron / SOCAN (2020) -
Crédit photo :
The Permanent Memorial for the Six Million Jewish Martyrs of the Nazi Holocaust
1924 - 2001
Marcelle Ferron was born in Louiseville, near Trois-Rivières, in 1924. After studying at the École des Beaux-Arts de Québec (1941-1942) under the direction of Jean-Paul Lemieux, she distinguished herself on the Montreal scene of the mid forties among other young artists working towards a new vision of art. Having met Paul-Émile Borduas in 1945, she participated in the Automatist adventure and its various exhibitions and manifestations from 1946 to 1953. A co-signor of the "Refus global", Ferron remained faithful throughout her career to the aesthetic principles underlying the Automatist movement, namely the respect of gesture as an essential feature of authentic artistic expression. A long stay in Paris, from 1953 to 1965, brought her closer to the proponents of lyrical abstraction. Her abstract paintings, agitated by tumultuous bursts, crossing movements and contrasts, gradually gave way to brilliant colors contrasted with very pure whites. As an activist, she became implicated, upon her return to Quebec in 1966, in various democratic struggles. During that period, she was also fascinated by the properties of antique glass and its possibilities as a medium. She began researching glass production methods and their application in the composition of stained glass, glass windows and skylights. As a master glassmaker, Ferron made many contributions to architecture and public art. Being the first female artist to receive the prestigious Paul-Émile Borduas prize, she inspired a whole generation of artists working to secure a place for women in the arts. Her impact on the development of Quebec art as well as in the political social spheres in Quebec has been stressed more than once. In addition to winning the silver medal of the Biennale of Sao Paulo, Brazil, in 1961, she was named Grand Officer of the Ordre national du Quebec in 2000. That same year, the Musée d'art contemporain de Montréal held a major retrospective which traced the great emotion and rigor of her work. Marcelle Ferron died in Montreal in 2001.
(Source : Musée d'art contemporain de Montréal)
Read more
Details
Acquisition mode
Donation
Source mention
Canadian Jewish Congress
Overall size
548,64 x 213,36 cm
Location

Location
Location
Concordia University, Samuel Bronfman House, SGW
Adress
1590 Dr. Penfield Avenue, Montréal, QC H3G 1B9
Accessibility
Monday to friday, 9 am to 4 pm, limited access
Artwork description
To symbolize the atrocity, this Holocaust memorial has an abstract, multi-coloured design that shows the denigration of each letter of the word "shalom" (meaning "peace" in Hebrew). Ferron commented that the red glass surrounding the broken letters represents fire and the upper section provides a sun of hope. A lightning bolt connects the two sections, and the colour becomes lighter as the design moves upwards.