{"title":"Valet de tr\u00e8fle | Art Public Montr\u00e9al","thisUrl":"https:\/\/artpublicmontreal.ca\/en\/oeuvre\/valet-de-trefle\/","body_class":"apm_artwork-template-default single single-apm_artwork postid-57464 apm lang-en apm-full-js nav-env-filters","query_hud":null,"active_filter":null,"alternate_language_url":"https:\/\/artpublicmontreal.ca\/oeuvre\/valet-de-trefle\/","clear_filter_collection":0,"clear_filter_tour":"clear","data_attributes":{"data-view-type":"apm_artwork"},"filter_root_url":"\/collection\/","artworkNav":false,"mapMarkers":[{"id":57464,"slug":"valet-de-trefle","title":"Valet de tr\u00e8fle","permalink":"https:\/\/artpublicmontreal.ca\/en\/oeuvre\/valet-de-trefle\/","year":"2007","loc":{"lat":"45.5142838","long":"-73.6910307"},"artist_names":"<span>Thomas<\/span> <strong>Corriveau<\/strong>","thumb":"https:\/\/artpublicmontreal.ca\/wp-content\/uploads\/2016\/05\/Corriveau_Valet_trefle_001_ult-150x150.jpg","infoBox":false,"cat_color":"#e50f09","env":"indoor","singleArtwork":true}]}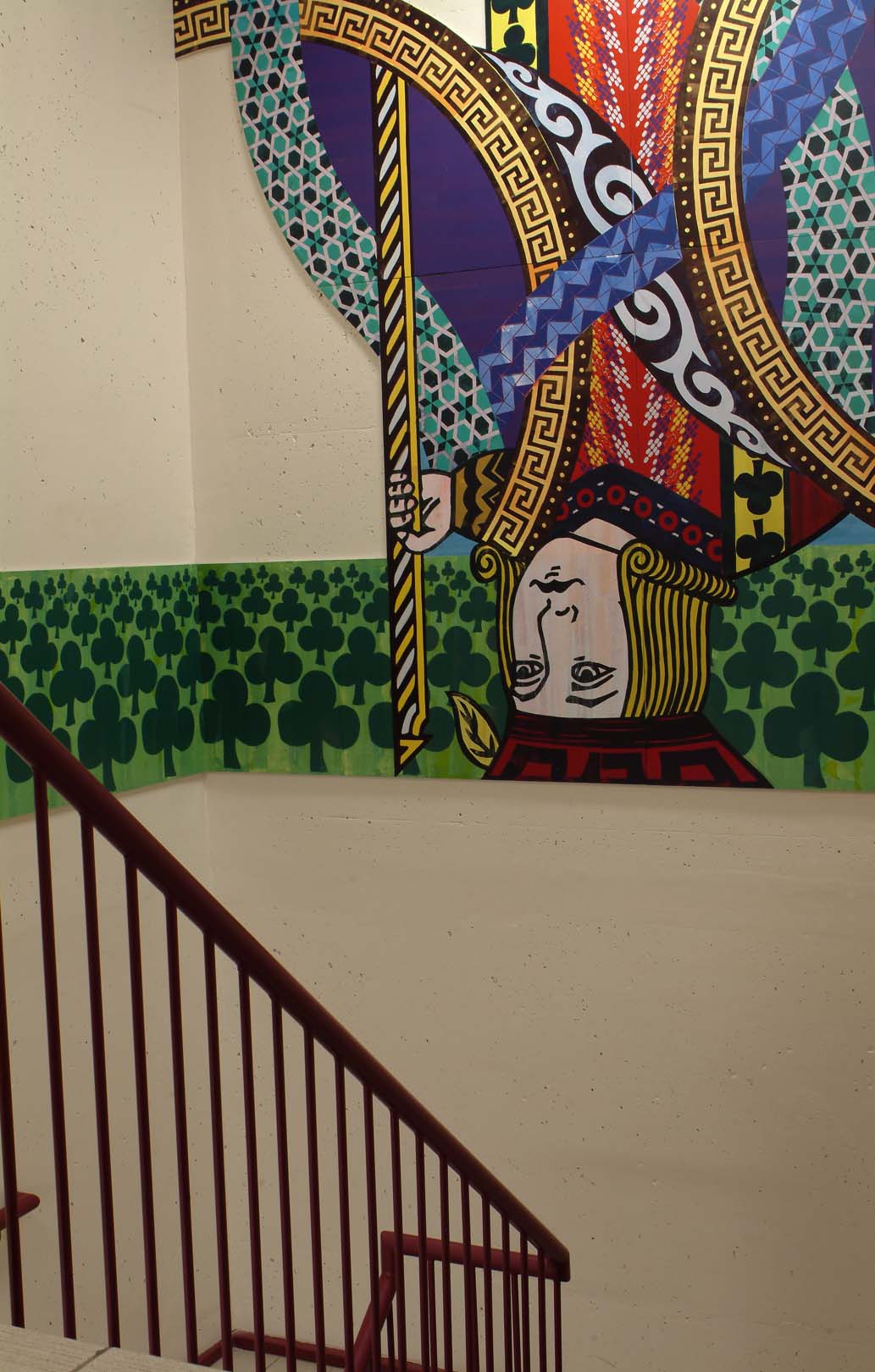 © Thomas Corriveau -
Crédit photo : Oriane Asselin-Van Coppenolle (2015)
Valet de trèfle
2007
Thomas Corriveau earned his BFA from Concordia University (1979–81) and his MFA from the same university (1988). He taught in the visual arts department of the University of Ottawa for 12 years. Since 2002, he has been a professor in the School of Visual and Media Arts at the Université du Québec à Montréal. Since the early 1980s, he has participated in numerous exhibitions, and his works are in multiple private and public collections. He has also created 15 works of art integrated with architecture in Québec.
Read more
Details
Acquisition mode
Public commission from the Ville de Montréal
Overall size
297.18 x 469.9 x 1.27 cm
Technique(s)
fireproofed, silkscreened, stencil
Location

Location
Location
Centre de loisirs de l'arrondissement de Saint-Laurent
Localization
On the wall of the staircase between the ground floor and first floor
Adress
1375, rue Grenet, Saint-Laurent QC H4L 5K3
Artwork description
Valet de trèfle is located in the central stairwell of the Centre des loisirs de Saint-Laurent. This serigraph on plywood is deployed on two walls and rises to the ceiling.
The work offers a stimulating pictorial experience thanks to the assemblage of printed fragments that form an image with many possible readings. The mural contains elements that are recognizable at a glance: brightly coloured moving figures invite a playful reading. The familiar figure of the jack of clubs in a deck of cards refers to loyalty, generosity, and mutual assistance. Like this figure, the green field symbolized by repeated clovers and alternating meander motifs, arrow sashes, and triangles evokes a number of symbolic and metaphoric connections to the place, its vocation, and its users. Visitors may see in it the themes of play and recreation or of multiculturalism.