{"title":"White supremacy is killing me | Art Public Montr\u00e9al","thisUrl":"https:\/\/artpublicmontreal.ca\/en\/oeuvre\/white-supremacy-is-killing-me\/","body_class":"apm_artwork-template-default single single-apm_artwork postid-64739 apm lang-en apm-full-js nav-env-filters","query_hud":null,"active_filter":null,"alternate_language_url":"https:\/\/artpublicmontreal.ca\/oeuvre\/white-supremacy-is-killing-me\/","clear_filter_collection":0,"clear_filter_tour":"clear","data_attributes":{"data-view-type":"apm_artwork"},"filter_root_url":"\/collection\/","artworkNav":false,"mapMarkers":[{"id":64739,"slug":"white-supremacy-is-killing-me","title":"White supremacy is killing me","permalink":"https:\/\/artpublicmontreal.ca\/en\/oeuvre\/white-supremacy-is-killing-me\/","year":"2017","loc":{"lat":"45.475368701226735","long":"-73.59296722453689"},"artist_names":"<span>Jessica<\/span> <strong>Sabogal<\/strong>","thumb":"https:\/\/artpublicmontreal.ca\/wp-content\/uploads\/2017\/11\/Sabogal_2017-2-150x150.jpg","infoBox":false,"cat_color":"#e50f09","env":"outdoor","singleArtwork":true}]}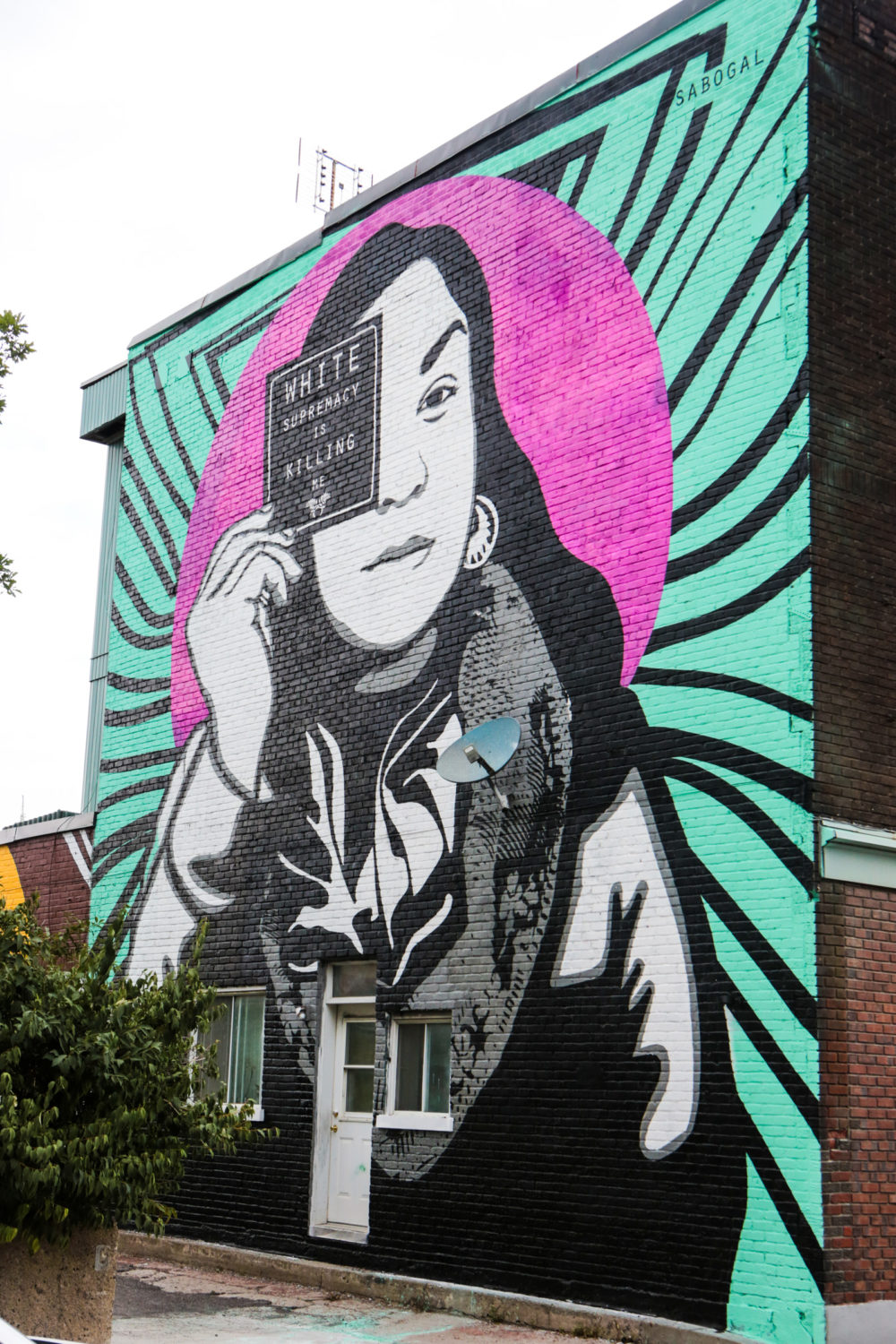 © Jessical Sabogal -
Crédit photo : Cecile Lopes, 2017
White supremacy is killing me
2017
For first generation Colombian American muralist, Jessica Sabogal, art serves as a haven, a tribute, a creative outlet of adoration and exaltation for women with stories often untold. Her pieces possess a vision of female identity that is revolutionary and powerful, brave and beautiful. By utilizing a spray can, she aims to color her canvas by unraveling stories she once heard, lived, struggled, and loved.
Throughout the years, Sabogal has consistently reinvented what it means to be a female muralist in a male-dominated medium. She has continuously pushed the boundaries as an artist by utilizing her medium for social change, action, and empowerment. In the past she's been inspired by literary works written by poets, authors, and women of color, and have utilized their experiences and their existence as the sole muse for her creations. But most recently, she has created a line of work that honors the woman and female body as perfect. Her newest campaign entitled, "Women Are Perfect (If You Let Them)" attempts to spread this simple but necessary notion worldwide.
Sabogal is an artist that continues to grow with resilience, prosper with purpose, and paint without fear. She seeks to connect the world around us with art that reminds all that women are to be valued, glorified, respected, and above all, loved.
Read more
Details
Technique(s)
painted, stencil
Mediums
acrylic, spray paint
Location

Location
Location
Parc des Hommes-Forts
Adress
4604, rue Saint-Antoine Ouest, Montréal, QC H4C 1E1
Artwork description
This mural is made with stencils and present the portrait of a friend and mentor of the artist, Lexx Valdez, holding a sticker in her hand with the sentence « White supremacy is killing me. » This sticker is part of an activist art campaign that Jessica Sabogal started in the United States a few years ago, denouncing racist social policies that affect racialized communities in this country, especially in the Latin American community.