{"title":"Public art vernissage at the Glen site | Art Public Montr\u00e9al","thisUrl":"https:\/\/artpublicmontreal.ca\/en\/2015\/10\/news-oct-9th-public-art-vernissage-at-the-glen-site\/","body_class":"post-template-default single single-post postid-56007 single-format-standard apm lang-en apm-full-js nav-env-classic","query_hud":null,"active_filter":null,"alternate_language_url":"https:\/\/artpublicmontreal.ca\/2015\/10\/quatrieme-actu-devoilement-de-la-collection-dart-public-sur-le-site-glen\/","clear_filter_collection":"clear","clear_filter_tour":"clear","data_attributes":{"data-view-type":"post"},"filter_root_url":"\/collection\/"}
Public art vernissage at the Glen site
October 9th 2015
Yesterday, October 8th, marked the official vernissage of the Glen site public art collection of the McGill University Health Centre (MUHC).
The Glen site is home to an impressive collection of eleven works of public art for patients, visitors, healthcare professionals, and the public to enjoy. While contributing to the healing environment at the new site, these pieces also serve to showcase the outstanding talents of the local Quebecois and Canadian artists who designed them. The monumental nature of these pieces also help new patients navigate the healthcare complex.
On display, in eleven architectural spaces around the site, this public art collection provides a diverse overview of current practices in Quebec visual arts and photography and embody the essence of a healing hospital environment. While they vary according to the conceptual and aesthetic approach of each creator, they all stem from one unified goal – to evoke feelings of optimism and hope. Together, these pieces add to the unique collection comprised of thousands of artefacts, including historical medical equipment and art works donated to the MUHC founding hospitals over the past 120 years.
Photo: The Artists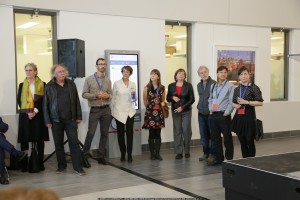 Photo credit top of page: Havre © Linda Covit, 2015 –
Crédit photo : Marc Cramer (2014)