{"title":"From La Voie lact\u00e9e to La Voix lact\u00e9e\u2026 | Art Public Montr\u00e9al","thisUrl":"https:\/\/artpublicmontreal.ca\/en\/2015\/11\/from-la-voie-lactee-to-la-voix-lactee\/","body_class":"post-template-default single single-post postid-56615 single-format-standard apm lang-en apm-full-js nav-env-classic","query_hud":null,"active_filter":null,"alternate_language_url":"https:\/\/artpublicmontreal.ca\/2015\/11\/de-la-voie-lactee-a-la-voix-lactee\/","clear_filter_collection":"clear","clear_filter_tour":"clear","data_attributes":{"data-view-type":"post"},"filter_root_url":"\/collection\/"}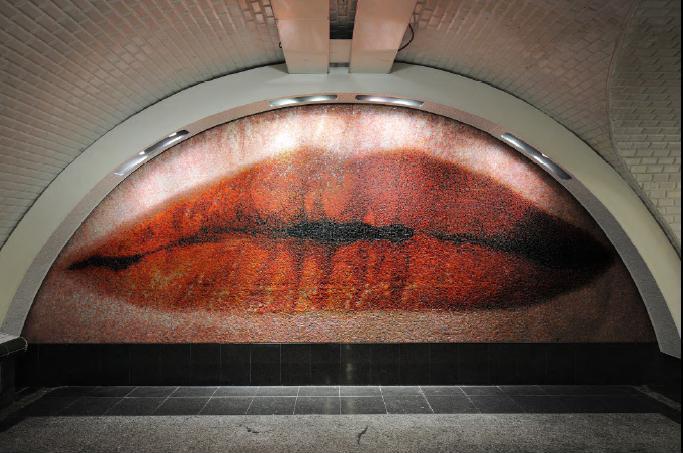 From La Voie lactée to La Voix lactée…
November 18th 2015
La Voie lactée, an illuminated art installation by Geneviève Cadieux, reflects modern life from Montréal to Paris.
This emblematic work, located on the roof of the Musée d'art contemporain (MAC), has been reprised in France. In 2011, a mosaic copy was installed in the underground passage linking the Saint-Augustin station of the Paris metro with the Saint-Lazare train station. The donation of the work by the Société de transport de Montréal to the Régie autonome des transports parisiens (RATP) commemorates the 50th anniversary of Montréal's metro system and the RATP's technical contribution to its construction. The gift is also a nod to the Entourage Guimard, the entrance portico of the Paris metro installed at Square-Victoria-OACI metro station in 1967.
La Voix lactée accompanies pedestrians on their daily commute, taking them out of the dreariness and projecting them into a poetic space: that of the body, mouth, voice, language and words. Beyond its artistic value, this gift is an expression of the spirit of cooperation and fraternity that unites Montréal and Paris.
Photo: RATP, Bruno Marguerite
© Geneviève Cadieux