{"title":"MAC Works on Loan | Maisonneuve-Rosemont Hospital | Art Public Montr\u00e9al","thisUrl":"https:\/\/artpublicmontreal.ca\/en\/2015\/11\/mac-works-on-loan-maisonneuve-rosemont-hospital\/","body_class":"post-template-default single single-post postid-56618 single-format-standard apm lang-en apm-full-js nav-env-classic","query_hud":null,"active_filter":null,"alternate_language_url":"https:\/\/artpublicmontreal.ca\/2015\/11\/oeuvres-du-mac-en-pret-hopital-maisonneuve-rosemont\/","clear_filter_collection":"clear","clear_filter_tour":"clear","data_attributes":{"data-view-type":"post"},"filter_root_url":"\/collection\/"}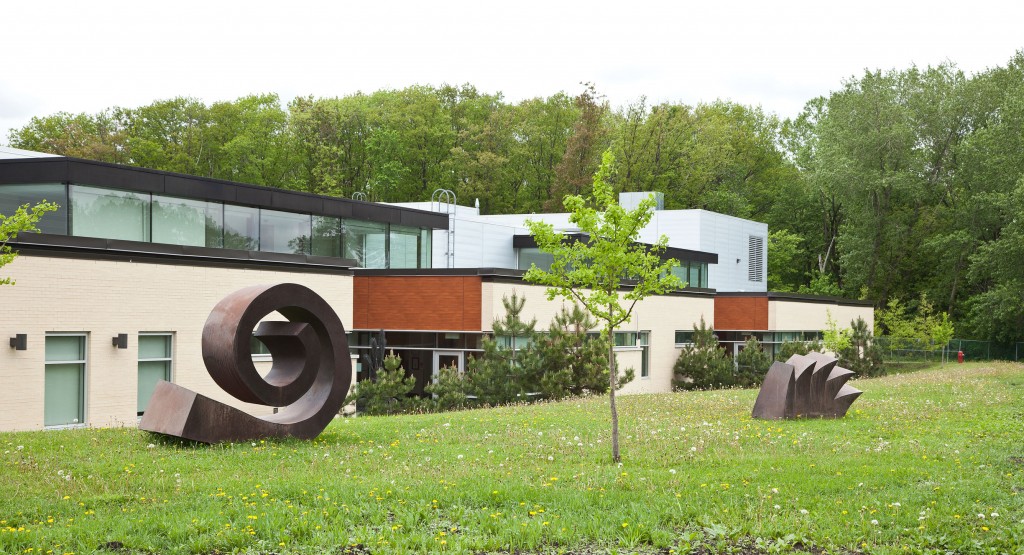 MAC Works on Loan | Maisonneuve-Rosemont Hospital
November 25th 2015
Since 2013, three works of art from the collection of the Musée d'art contemporain (MAC) have sat proudly outside Maisonneuve-Rosemont Hospital (HMR), near Rosemont and De l'Assomption boulevards. Through loans such as these, the MAC seeks to increase exposure to the work of artists across the Island of Montréal. This initiative goes hand in hand with the HMR Foundation's program of integrating a rich collection of contemporary works of art within the hospital's walls for the well-being of patients and visitors.
Sans titre by Ivanhoë Fortier
In 1965, to draw attention to the new Musée d'art contemporain, the Ministère des Affaires culturelles du Québec established the first Québec International Sculpture Symposium, a major event held in the gardens and workshops of the museum, which was then housed at Château Dufresne. Nine well-known sculptors were invited to create works, using die-cut and welded metal, to be integrated into the museum's collection. Ivanhoë Fortier created Sans titre based on the principle of "livable" sculpture, which he went on to develop in the early 1970s.
Study "CANADA SCREEN" Expo 67  by Gord Smith
This 1965 sculpture is a study for Canada Screen, a mural commissioned by the Canadian government for its pavilion at the 1967 World's Fair (Expo 67) in Montréal. Measuring 33 metres long by 3 metres high, this wall of sharp forms thrust against each other was the first impression that greeted visitors to the Expo site. The prototype of the work was created for the International Sculpture Symposium as well. The loan by the MAC enables Gord Smith's study and the work Sans titre to reconnect with where they were first exhibited in the eastern sector of Rosemont–La Petite-Patrie.
Vent by Jean-Pierre Morin
Since the early 1980s, Jean-Pierre Morin has centred his art on the advanced research of pure line and form and its relationship with space. The artist draws inspiration from the minimalist and conceptual ideologies defended by his American predecessors Donald Judd, Robert Morris and Sol LeWitt. The concept of instability plays an integral role in the artist's public works. In Vent, imbalance is created from two opposing elements: wind, represented by the spiral, and fire, represented by a mass of angular pointed spines illustrating flames. The playful nature of the work is evident in the unwieldiness of the steel elements, which contrasts with the light and airy theme. One could even imagine that these two elements, each weighing 400 pounds, landed there by chance, in the same way as meteorites.
Vent was exhibited for the first time in fall 1986 outside the Musée de Lachine. La pierre et le feu, a composition of sharp angles, is also on display in the museum's sculpture garden.
Cover photo title: Vent, Jean-Pierre Morin
© Jean-Pierre Morin (2015)

Photo : Richard-Max Tremblay (2014)