{"title":"\u00c0 TOUT HASARD, a documentary series on public art | Art Public Montr\u00e9al","thisUrl":"https:\/\/artpublicmontreal.ca\/en\/2016\/02\/a-tout-hasard-a-documentary-series-on-public-art\/","body_class":"post-template-default single single-post postid-56978 single-format-standard apm lang-en apm-full-js nav-env-classic","query_hud":null,"active_filter":null,"alternate_language_url":"https:\/\/artpublicmontreal.ca\/2016\/02\/a-tout-hasard-une-serie-documentaire-sur-lart-public\/","clear_filter_collection":"clear","clear_filter_tour":"clear","data_attributes":{"data-view-type":"post"},"filter_root_url":"\/collection\/"}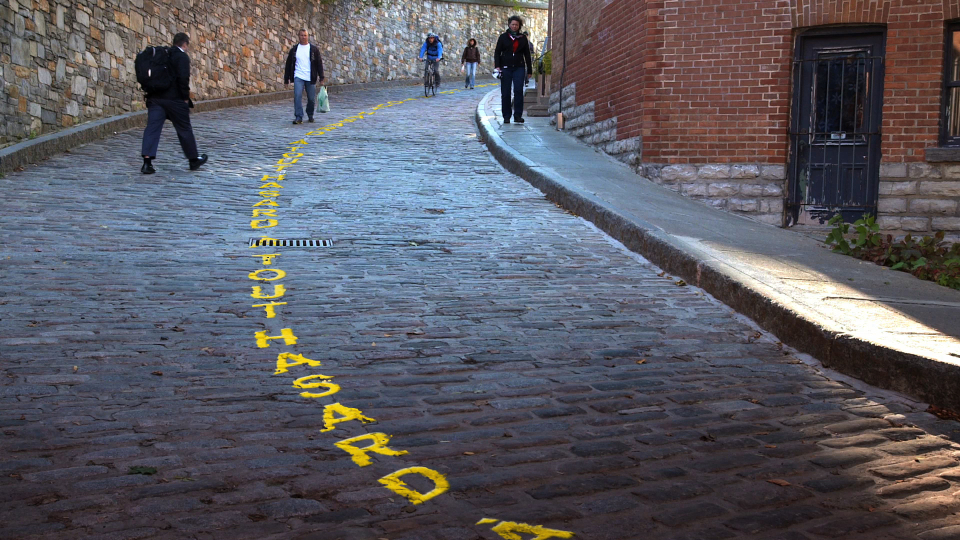 À TOUT HASARD, a documentary series on public art
February 5th 2016
The series is devoted to public art in Québec. It immerses viewers in the work of sixteen artists.
Each of eight episodes (in french) allows us to meet two creators and highlights the wealth of Québec public artwork. Creator and Director Suzanne Guy's ambition was to entice and move viewers, piquing their interest in public art, so they notice and appreciate this art work.
The title À tout hasard (which can be translated as 'Just by chance') refers to the relationship a visitor has with the art. Public art appears more or less discreetly in a public space, and asserts its formal, conceptual or temporal characteristics. Some visitors use an itinerary or map to discover art work, but more often, the encounter arises because of a happy accident. As Suzanne Guy emphasized: "…one day, you're walking more slowly, you're a bit more relaxed, and all of a sudden, you look up and notice something you'd never seen, even though it was always there. I think that makes the encounter—it's the randomness."
The series will have its Montréal premiere at the Montréal Museum of Fine Arts. Episodes will be presented in three sessions, i.e., February 11, 18 and 25, at 6 p.m. The series' director will attend, together with the artists.
Attendees will have the pleasure of meeting:
Patrick Beaulieu, Pierre Blanchette, Ludovic Boney, Pierre Bourgault, Sylvain Bouthillette, Marc-Antoine Côté, Lalie Douglas, Jean-Robert Drouillard, Fernande Forest, Yechel Gagnon, Yves Gendreau, Lise Labrie, Diane Landry, Jean-Pierre Morin, Josée Pedneault, Michel Saulnier.
(For details about the presentations: MMFA website)
This is the series' second season, the first Vu par hasard, was presented on ICI ARTV. The second season will be on the air in 2016.