{"title":"Inauguration of artwork on Jeanne-Mance Street | Art Public Montr\u00e9al","thisUrl":"https:\/\/artpublicmontreal.ca\/en\/2016\/05\/inauguration-of-artwork-on-jeanne-mance-street\/","body_class":"post-template-default single single-post postid-58632 single-format-standard apm lang-en apm-full-js nav-env-classic","query_hud":null,"active_filter":null,"alternate_language_url":"https:\/\/artpublicmontreal.ca\/2016\/05\/inauguration-de-loeuvre-sur-la-rue-jeanne-mance\/","clear_filter_collection":"clear","clear_filter_tour":"clear","data_attributes":{"data-view-type":"post"},"filter_root_url":"\/collection\/"}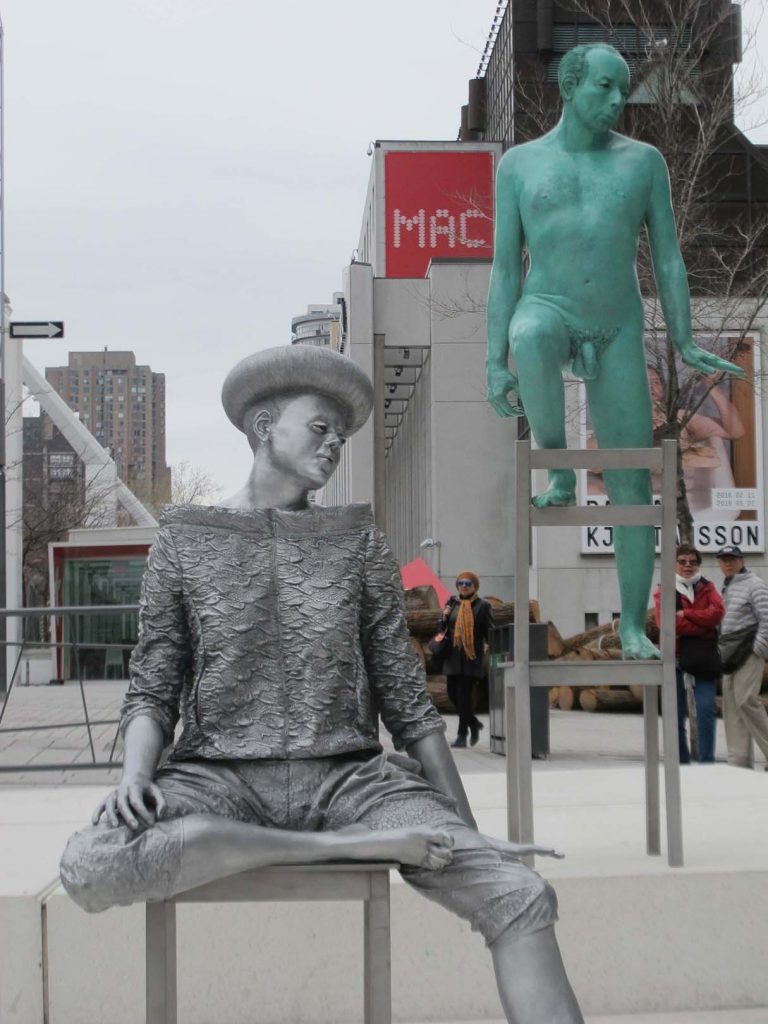 Inauguration of artwork on Jeanne-Mance Street
May 25th 2016
On May 25, Jeanne-Mance Street was reinvigorated by the installation of public art, Où boivent les loups, by Stephen Schofield.
The artist's proposal was selected in a competition organized by the Bureau d'art public de la Ville de Montréal in 2012. The commission was related to the Place-des-Arts node renewal project, financed by the Montréal municipal administration and the Québec and Canadian governments, partially under the Policy to integrate art in the architecture and environment of governmental and public buildings and sites (sometimes called the 1% for Art program).
This major artwork by Stephen Schofield was designed in five scenes. The progression of compositions creates a narrative referring to different performance disciplines.
Le figurant et celle qui regarde is composed of two bronze figures: the actor, standing in precarious balance on a steel chair, copying the gesture of the director, sitting on a second chair.
La procession is a composition of five bronze sculptures of children carrying a gigantic figure made of steel plates. The scene evokes allegorical processions during old-time festivals devoted to a hero or a tyrant.
La cadence offers a graphic form created from the découpaged composition of a hand in circular movement in space, reproduced on a large scale. The movement represented suggests the transition from two-dimensional to three-dimensional while referring to applause and the gestures of an orchestra conductor.
Le théâtre de l'intime presents two pairs of oversized cupped hands made of concrete, with pierced fingertips to let light pass through. The detail of children's hands is visible within the two shells.
Tenir en équilibre embodies, through sculpture, a female figure whose body is held horizontal in space, balancing on her hand at the top of an aluminum mast.
"Through the narrative of this artwork, my goal was to share the pleasure of exploring the material of the sculptural object by evincing my empathy for the human figure. The title, taken from a poem by Tristan Tzara, one of the first Dadaists, is a metaphor for challenge and risk, drawn from deep waters to create a strong artwork. The image of the river where the wolves come to drink corresponds to Jeanne-Mance Street, where the five sculptures are set."
– S. SCHOFIELD