{"title":"A major work of public art for the future Bonaventure gateway | Art Public Montr\u00e9al","thisUrl":"https:\/\/artpublicmontreal.ca\/en\/2016\/06\/a-major-work-of-public-art-at-the-future-bonaventure-gateway\/","body_class":"post-template-default single single-post postid-58281 single-format-standard apm lang-en apm-full-js nav-env-classic","query_hud":null,"active_filter":null,"alternate_language_url":"https:\/\/artpublicmontreal.ca\/2016\/06\/une-oeuvre-de-jaume-plensa-pour-lentree-du-centre-ville\/","clear_filter_collection":"clear","clear_filter_tour":"clear","data_attributes":{"data-view-type":"post"},"filter_root_url":"\/collection\/"}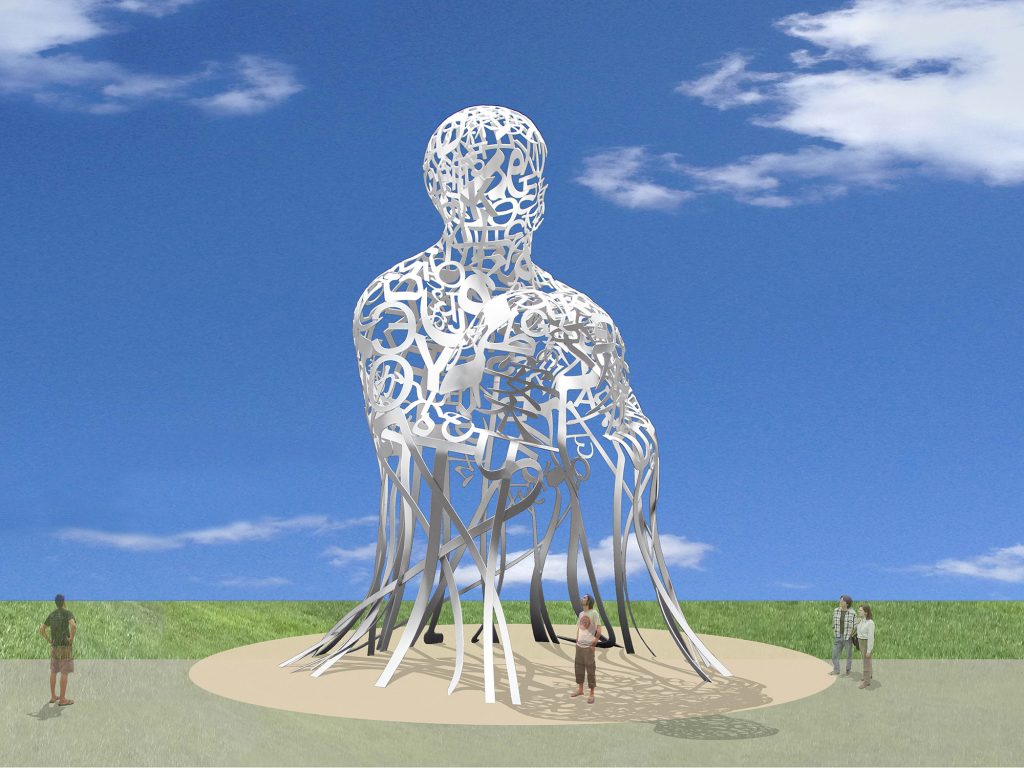 A major work of public art for the future Bonaventure gateway
June 8th 2016
Measuring approximately 10 metres in height, the sculpture Source, by artist Jaume Plensa, will enhance the Bonaventure gateway to downtown Montréal, acting as a landmark in the metropolis.
The work of art refers to the roots of a city's energy and vitality: the people and their origins. It is a reminder of the contribution of communities of diverse origins to Montréal's rich culture and symbolizes their unity. The artist will make reference to water as a source of life and as an element that marked the history and development of Montréal.
"I am very pleased that one of my works of art has found a home in Montréal, a major city of art and culture. All my work seeks to connect people and communities, which is the essence of Source. By its title, the artwork refers to the origin of a spring, but also represents the history of the city and its founders, the First Nations. It rises upward and gives shape to the Montréal of tomorrow, as envisioned by its inhabitants," added Jaume Plensa.
Montréal will receive this artwork for its 375th anniversary thanks to the contribution of two major patrons, France Chrétien Desmarais and André Desmarais. The announcement was made by the Mayor of Montréal, Denis Coderre, in the presence of the Desmarais and the artist, as well as several guests who were gathered at Montréal city hall.
"Montréal is certainly a creative city, and public art is its symbol and inspiration. Each work of art is another reason to love this city, which like all the other cities, needs the love of all those who call the city home. We must all contribute in our own way," said France Chrétien Desmarais and André Desmarais.
The agreement concluded between the patrons and Montréal, provides for the loan of the work of public art Source by the Catalan artist Jaume Plensa for a minimum duration of 25 years.
For more information: Public Art Bureau, Ville de Montréal
Source, Jaume Plensa (2015)
© : Jaume Plensa and Galerie Lelong