{"title":"The STM and art in the m\u00e9tro: the Snowdon station gate | Art Public Montr\u00e9al","thisUrl":"https:\/\/artpublicmontreal.ca\/en\/2016\/10\/the-stm-and-art-in-the-metro-the-snowdon-station-gate\/","body_class":"post-template-default single single-post postid-61086 single-format-standard apm lang-en apm-full-js nav-env-classic","query_hud":null,"active_filter":null,"alternate_language_url":"https:\/\/artpublicmontreal.ca\/2016\/10\/lart-dans-le-metro-la-grille-de-la-station-snowdon\/","clear_filter_collection":"clear","clear_filter_tour":"clear","data_attributes":{"data-view-type":"post"},"filter_root_url":"\/collection\/"}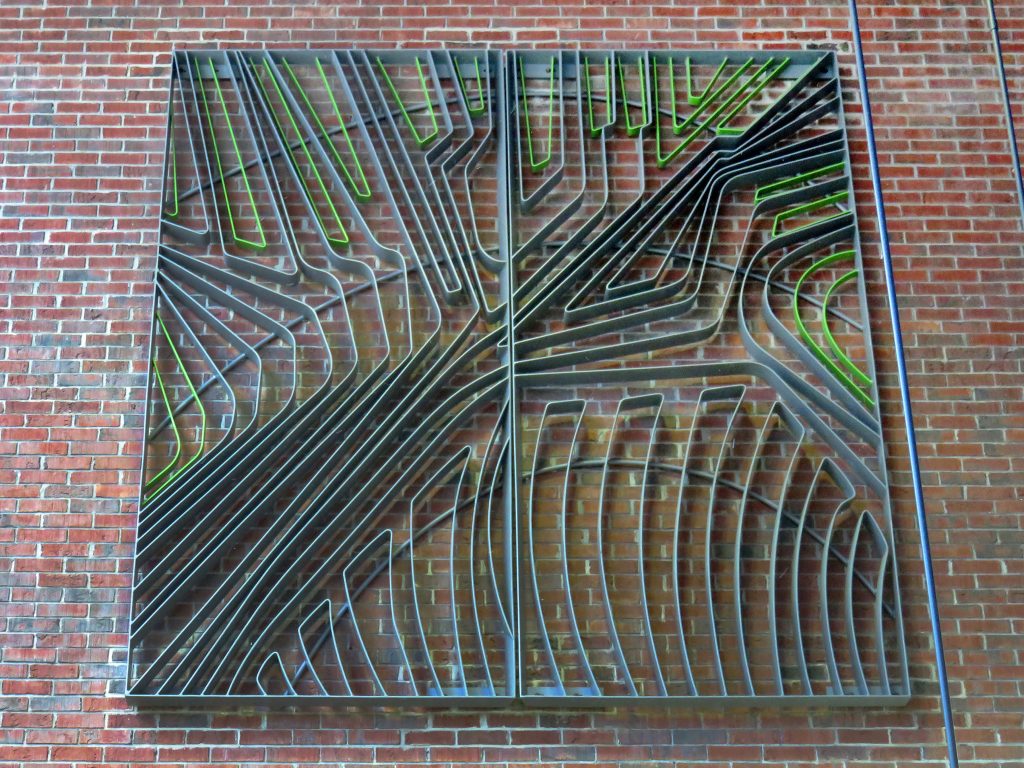 The STM and art in the métro: the Snowdon station gate
October 21st 2016
Sometimes, construction requires a work of art to be moved temporarily or permanently. This was the case for one of the sculptural gates created by architect Jean-Louis Beaulieu, at the Snowdon métro station. But the move allowed the public to better appreciate this little-known Montréal métro artwork.
The Snowdon station opened in September 1981, designed by Jean-Louis Beaulieu, who included two organic-shaped painted-steel gates. The first, located above the escalators connecting the mezzanine to the upper platform, decorates a natural-ventilation shaft. The second, installed outside the station on Dornal Avenue, served as the access way to an interior courtyard. Neither gate was particularly visible, and most commuters did not even know they existed.
It was decided, 30 years later, to add new electric power equipment to the Snowdon station and to enlarge the existing building, requiring elimination of the courtyard. The question was raised: what to do with the sculptural gate installed outside the station? For STM architects, there was no doubt about its preservation, and if possible, its placement somewhere else in the station. But where?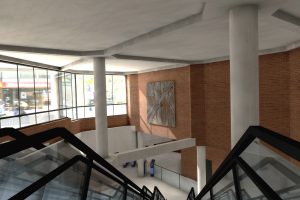 Since the station exterior did not offer other solutions, it was decided to move the gate inside, making it more visible and protecting it from harsh weather conditions. Two options were explored: attaching the work to a wall at the station entrance, or finding another spot where the steel piece could continue to serve as a gate.
The first option had undeniable advantages. Visibility of the work would be excellent, commuters would be able to admire as soon as they entered the station. Abundant natural light would also enhance appreciation of Beaulieu's art. However, the grillwork would lose its original purpose, as a gate.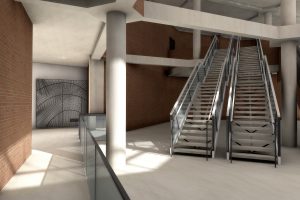 Another location was sought in the station so its original function could be maintained. Easier said than done, because its dimensions do not correspond to those of métro station doors! A location was finally found on the mezzanine level, near the new station elevators. The art piece would keep its function as a gate, but its visibility would be reduced and natural light less present.
Following the recommendation of the artists and the STM's art and heritage committee, and with the approval of Jean-Louis Beaulieu, the first option was chosen. Prior to being returned to Snowdon station, the gate was entirely repainted, more than necessary after all those years spent outdoors…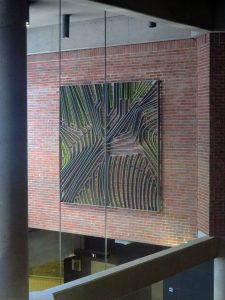 And that is how this green-accented sculptural grill, for many years hidden at the back of Snowdon station, was returned, and installed on the main wall at the station entrance. In this case we can speak of a successful transplant!
Photos credits:
1-2-3: Archives de la STM
4-5: Provencher Roy
6: Archives de la STM