{"title":"National Bank Unveils BLEU DE BLEU | Art Public Montr\u00e9al","thisUrl":"https:\/\/artpublicmontreal.ca\/en\/2016\/11\/national-bank-unveils-bleu-de-bleu\/","body_class":"post-template-default single single-post postid-61578 single-format-standard apm lang-en apm-full-js nav-env-classic","query_hud":null,"active_filter":null,"alternate_language_url":"https:\/\/artpublicmontreal.ca\/2016\/11\/la-banque-nationale-devoile-bleu-de-bleu\/","clear_filter_collection":"clear","clear_filter_tour":"clear","data_attributes":{"data-view-type":"post"},"filter_root_url":"\/collection\/"}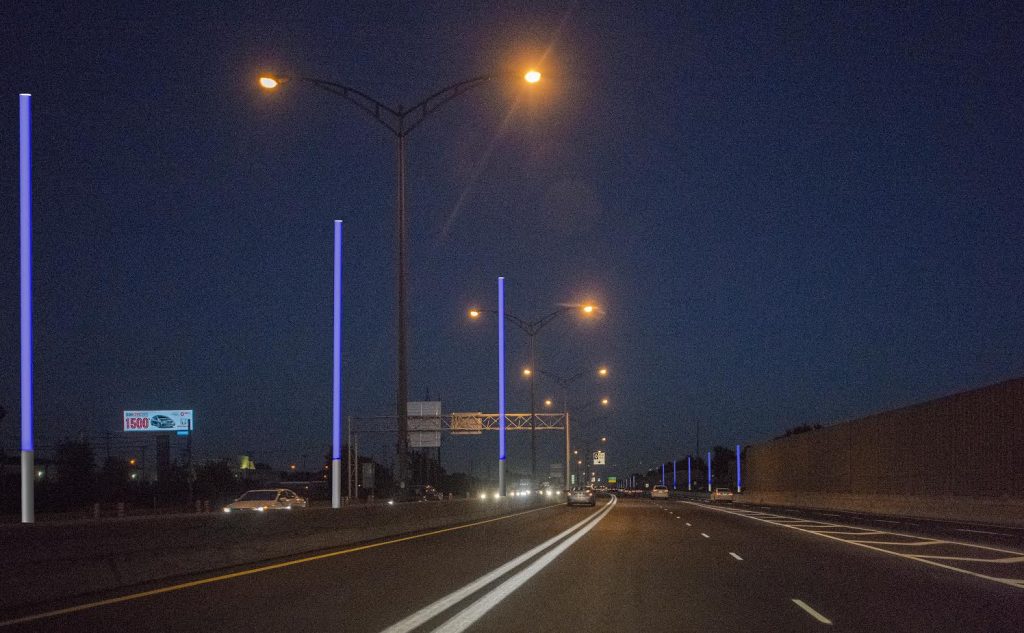 National Bank Unveils BLEU DE BLEU
November 25th 2016
This art installation will line a six-kilometre stretch of one of Montreal's main highways.
National Bank – Montreal, 25 November 2016 – BLEU DE BLEU was designed by artist Alain Paiement, under the production management of Sid Lee, to celebrate Montreal's 375th anniversary. It will be inaugurated during the festivities in summer 2017. Investments totalling $3.2 million, consisting entirely of private donations, will go into the creation and installation of the project.
The art installation will line a six-kilometre stretch of Autoroute 20 between the Dorval Circle and the 1st Avenue overpass, including a section of the noise barrier belonging to Quebec's Ministère des Transports, de la Mobilité durable et de l'Électrification des transports. The art will be displayed for three to five years.
"Every day, hundreds of thousands of people travel along the stretch of highway between the airport and downtown Montreal. This was an opportunity too good to be missed," said Louis Vachon, President and Chief Executive Officer of National Bank. "Montreal is a dynamic city with a reputation for innovation, and that's exactly what people will see as they drive into town."
Evoking the St. Lawrence River
BLEU DE BLEU is designed to evoke the shores of the St. Lawrence River. Travellers along the highway will see the installation change and grow more complex as it adapts to the changing cityscape that surrounds it. Some sections will pulse to their own rhythm, lit by blue LED lights.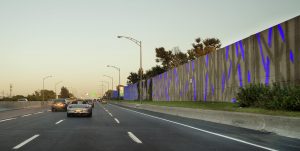 The Musée d'art contemporain de Montréal has played a key role in this initiative by supporting the artistic process behind the work. "BLEU DE BLEU is a way to bring art out of more traditional venues and make it accessible to Montrealers and visitors alike, while beautifying a key area of the city. I'm delighted to have played a part in this initiative and I applaud the trust and artistic freedom given to Alain Paiement," said John Zeppetelli, the museum's Director and Chief Curator.

Alain Paiement: A talented, multi-disciplinary artist
The artist for this project was chosen in December 2015. At the recommendation of the City of Montreal's Public Art Bureau, a selection committee composed of Mr. Zeppetelli, architect and philanthropist Phyllis Lambert, representatives from National Bank, Quebec art curator and historian Louise Déry, artist Stéphane La Rue, and Sandra Chartrand of the Fondation Sandra et Alain Bouchardselected Alain Paiement for his work which blends painting, photography, installations and architecture.
Alain Paiement has taught at the University of Ottawa, Université de Montréal, Concordia University and UQAM, and, in 1992, was the first Quebecer invited to the Whitney Museum in New York for the Power of the City/City of Power exhibition. His work was also shown at Fotofeis: Scottish International Festival of Photography in 1995, the Mois de la photographie in Paris in 1996, Austria's Kunsthalle Krems in 1998, the 3rd Tokyo International Photo-Biennale in 1999 and ARCOmadrid in 2004 and 2005. He was named Brussels' Cultural Ambassador in 1999 and was awarded the Prix Graff in 1997 and the Prix Louis-Comtois in 2002.
Source and information : National Bank.
Video presenting the project.