{"title":"Studio visit: \u201cAir de r\u00e9flexion\u201d by Karilee Fuglem | Art Public Montr\u00e9al","thisUrl":"https:\/\/artpublicmontreal.ca\/en\/2017\/02\/studio-visit-air-de-reflexion-by-karilee-fuglem\/","body_class":"post-template-default single single-post postid-62843 single-format-standard apm lang-en apm-full-js nav-env-classic","query_hud":null,"active_filter":null,"alternate_language_url":"https:\/\/artpublicmontreal.ca\/2017\/02\/visite-datelier-air-de-reflexion-de-karilee-fuglem\/","clear_filter_collection":"clear","clear_filter_tour":"clear","data_attributes":{"data-view-type":"post"},"filter_root_url":"\/collection\/"}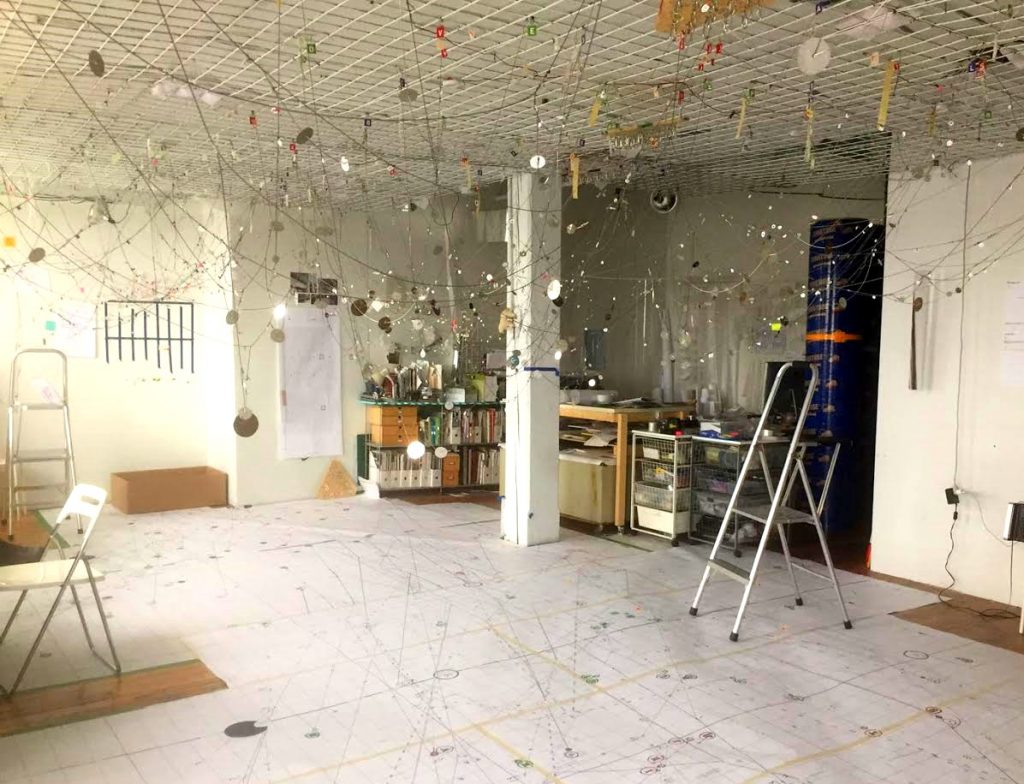 Studio visit: "Air de réflexion" by Karilee Fuglem
February 21st 2017
The new CHUM, which will welcome its first patients by the end of 2017, will be unveiling 10 new artworks during the next months, adding to the CHUM art collection. They include Air de réflexion. by Karilee Fuglem.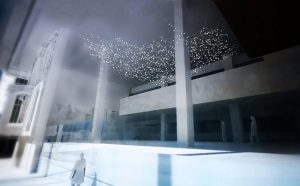 Air de réflexion is a sparkling work of art that will be suspended from the high ceiling of the interfact Saint-Denis, which will be the main eating area, to be located between Maison Garth and the meditation area. It will bring a poetic and contemplative element to the hospital, which tends to be cold and clinical in nature. The installation is comprised of steel wires that create networks of intersecting links, and stainless steel disks that reflect the light. Fuglem was inspired by the Montréal sky at the time of the winter solstice observed over a period of 10,000 years. When viewed, the steel disks become symbols of stars while the wires create imaginary lines that connect the stars, forming them into constellations.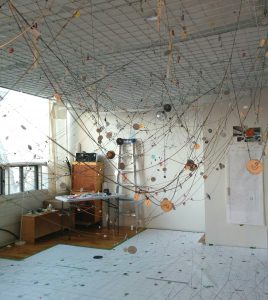 Many of Fuglem's artworks use recycled and industrial materials, and all can be identified by their delicate and handmade aspects. In this way, Air de réflexion is a perfectly consistent part of the artist's sculptural work. As Fuglem explains, rather than starting with a specific concept, she begins with ideas that she allows to develop and take shape. Beyond the idea that humans have always been in close connection with the stars, she has woven links, thin but tenacious, with steel wires, which can be read as a representation of our complex relationship with nature. This process, of allowing her work to evolve, is precisely what gives it its personal and intimate side, while the fact that they are created by hand provides an artisan aspect, dimensions that are both sources of the charm expressed by the artwork.
Fuglem was inspired by the stars and our relationship with them to create this delicate, even precise, work. Still, it remains open to any interpretation and allows spectators who contemplate it to submerge themselves into the networks and the connections they make visible.
The Air de réflexion installation will share the space with another artwork which will also be installed in the restaurant area, Ligne de vie by Nicolas Baier. Air de réflexion is Karilee Fuglem's first so-called "1% project", and the second permanent artwork integrated into architecture. Her first, The Weight of Light, was created for the Cirque du Soleil headquarters.