{"title":"Cit\u00e9 M\u00e9moire\u2019s Grand Tableau and three new tableaux unveiled | Art Public Montr\u00e9al","thisUrl":"https:\/\/artpublicmontreal.ca\/en\/2017\/05\/cite-memoires-grand-tableau-and-three-new-tableaux-unveiled\/","body_class":"post-template-default single single-post postid-63153 single-format-standard apm lang-en apm-full-js nav-env-classic","query_hud":null,"active_filter":null,"alternate_language_url":"https:\/\/artpublicmontreal.ca\/2017\/05\/cite-memoire-phase2\/","clear_filter_collection":"clear","clear_filter_tour":"clear","data_attributes":{"data-view-type":"post"},"filter_root_url":"\/collection\/"}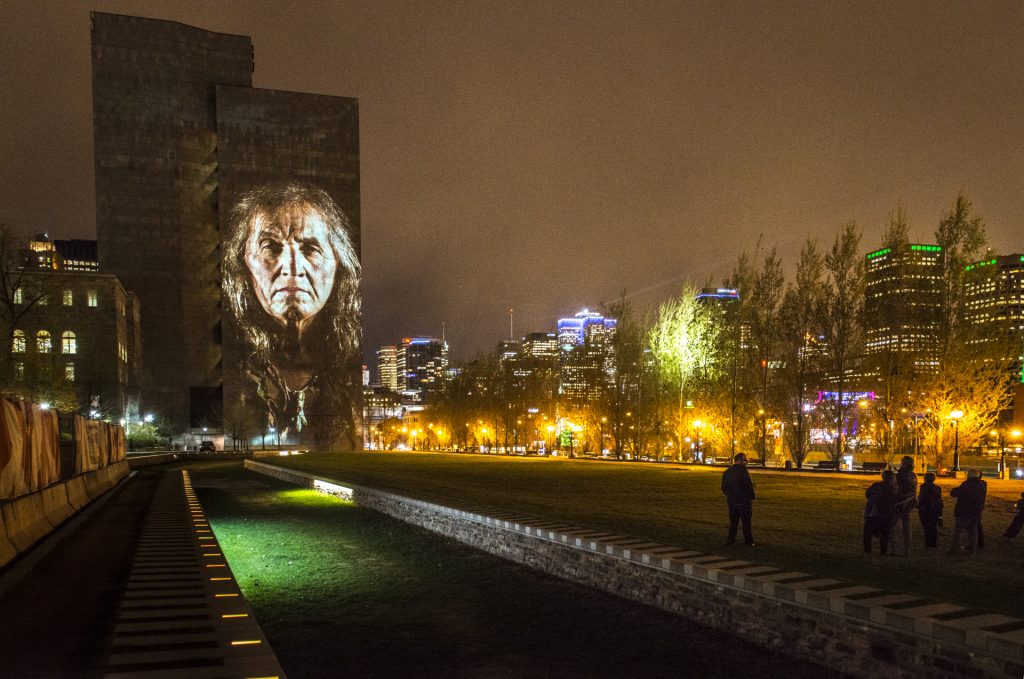 Cité Mémoire's Grand Tableau and three new tableaux unveiled
May 24th 2017
Four new tableaux, creation of Michel Lemieux and Victor Pilon, in collaboration with Michel Marc Bouchard, were unveiled tuesday evening in the Old Montréal.
Loosely inspired by people and events that marked the history of Montréal, Cité Mémoire offers a vision of the city that ranges from poetic to playful, through a series of approximately 20 tableaux that incorporate images, words, and music. One of the most impressive outdoor projections experience in the world, the artwork highlights the memory of Montréal by adding four last tableaux.
Cité Mémoire's Grand Tableau (Champ-de-Mars)
Cité Mémoire's Grand Tableau provides an overview of more than 375 years of Montréal's history, using music and images projected onto the imposing walls of the Montréal Courthouse. This 35-minute tableau will be projected at set times, available with surround sound.
The three other tableaux are inspired by key figures who lived through significant events in Montréal's history.
Jeanne Mance (St. Paul St., near the Bonsecours Market)
Ever since the deadly winter of 1651, a brave new call has been coming from Jeanne Mance in her fight for the survival of the outpost of Ville-Marie.
The Great Peace of Montréal (Close to the Pointe-à-Callière Museum)
Governor Callière remembers his friend, the great Huron chief Kondiaronk, and the success of the peace conference between the indigenous peoples and the North American French population in the summer of 1701.
The Expo 67 Hostess (On McGill St., at the intersection with Saint Maurice St.)
A former hostess remembers the 1967 World's Fair and reminds us that Montréal brought together the most innovative know-how in the world for the occasion.
In addition to updating Old Montréal's tourism offering, Cité Mémoire has made our historical heritage accessible to all and showcased Montréal's talent and creativity in multimedia.
Every night, Cité Mémoire populates the walls, ground, and trees of Old Montréal and the Old Port. The free mobile application Montréal en Histoires is the best way to optimize your experience of Cité Mémoire, with audio content offered in four languages: French, English, Spanish, and Mandarin. Users can connect to the free network MTLWiFi.
Photo credit : Jean-François Lemire / ShootStudio