{"title":"Lachine, 350 years of history | Art Public Montr\u00e9al","thisUrl":"https:\/\/artpublicmontreal.ca\/en\/2017\/05\/lachine-350-years-of-history\/","body_class":"post-template-default single single-post postid-63075 single-format-standard apm lang-en apm-full-js nav-env-classic","query_hud":null,"active_filter":null,"alternate_language_url":"https:\/\/artpublicmontreal.ca\/2017\/05\/lachine-350-ans-dhistoire\/","clear_filter_collection":"clear","clear_filter_tour":"clear","data_attributes":{"data-view-type":"post"},"filter_root_url":"\/collection\/"}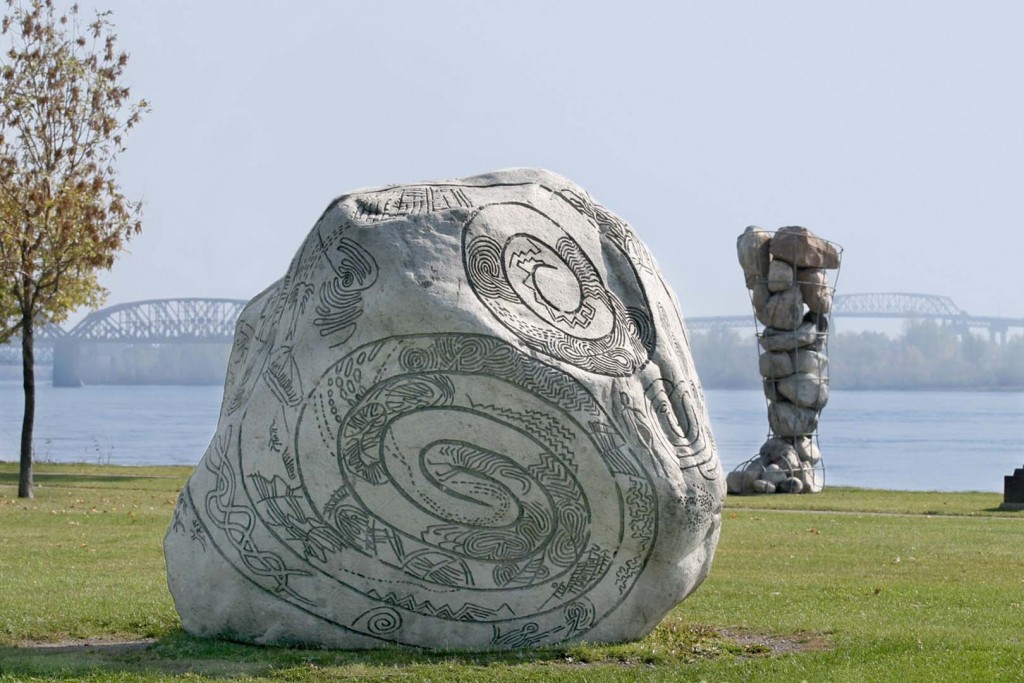 Lachine, 350 years of history
May 15th 2017
In 2017, for the 350th anniversary of Lachine and the 375th of Montréal, the Musée de Lachine and Art public Montréal present a new public art tour.
Lachine, 350 years of history highlights a selection of works of art that are fragments of Lachine's history: including the presence of First Nations, colonization of the area by new arrivals from Europe, and urban development of the 1950s. The artists have found evocative and mysterious symbols that recount the past. Examples include enigmatic inscriptions in stone, a beaver hide design etched in steel, and faces of explorers on the sails of a ship.
Sculp'tour – New 350th-375th Tour
Until October 1st 2017, the Musée de Lachine offers guided tours on reservation. Discover one of Canada's largest sculpture gardens with a knowledgeable guide. By bike or on foot, these unique tours are a delightful way to learn about contemporary sculpture.
Wednesday to Sunday between 9 am and 12 am.  Reservation required: 514-634-3478.
Photo : Story Rock (1986), Bill Vazan. Crédit – Mariana Dankova, 2003